Give to NFWF
A gift to the National Fish and Wildlife Foundation (NFWF) is a smart and powerful investment for conservation. Your tax-deductible gift to NFWF will support our mission to sustain restore and enhance the nation's fish wildlife plants and habitats for current and future generations.  
NFWF is a 501(c)(3) non-profit that was chartered by Congress in 1984. Today NFWF directs public conservation dollars to the most pressing environmental needs and matches those investments with private contributions. NFWF works with government nonprofit and corporate partners to find solutions for the most intractable conservation challenges. Over the last three decades NFWF has funded more than 4500 organizations and committed more than $4.8 billion to conservation projects.
Thank you for your support.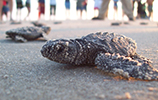 Read about NFWF's projects and results.
If you would prefer to donate via mail please make your check payable to "National Fish and Wildlife Foundation" and mail to:
National Fish and Wildlife Foundation
1133 15th Street NW
Suite 1000
Washington DC 20005
CFC
Electronic payment
Recurring gifts
Gifts of stock
Planned giving
Matching gifts
If you have any questions about donating to NFWF please contact us at
info@nfwf.org
or 202-857-0166.
NFWF is a proud member of EarthShare part of the Combined Federal Campaign for workplace giving.
Federal employees can designate the National Fish and Wildlife Foundation #10267 in CFC for their gift.