Image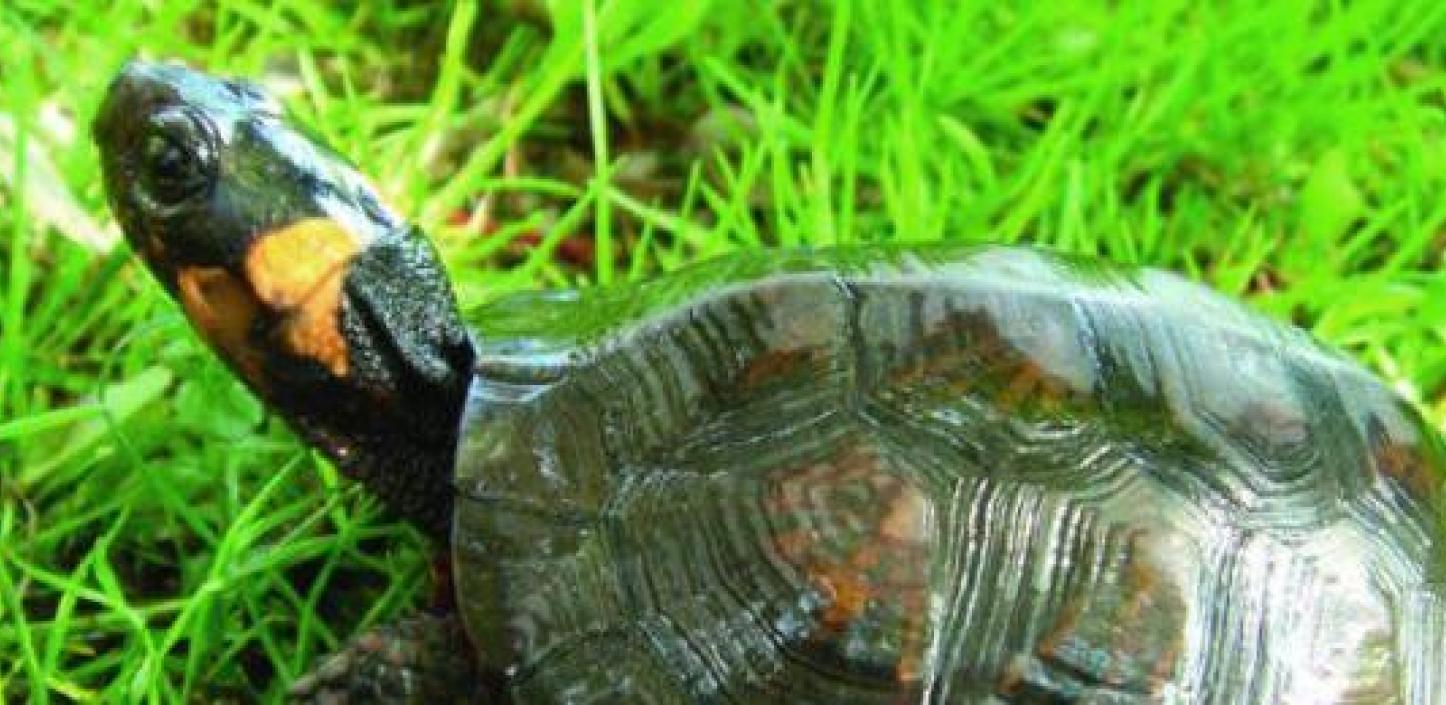 NFWF's Bog Turtle Conservation Program focuses on activities in the northeastern U.S to protect one of the smallest turtles in the world.
The bog turtle is the smallest turtle in North America and one of the smallest turtle species in the world. It is a threatened species that has, in the last 30 years, disappeared from more than 50 percent of the wetlands it once inhabited. The major reason for its decline is the loss of early successional wetlands, especially sunny areas of tussock grass and other vegetation necessary for successful nesting. Remaining suitable habitat continues to be lost or degraded by development, disruption of healthy wetlands, and invasion of non-native plants.
NFWF's Bog Turtle Conservation Program focuses on conservation activities for the bog turtle in the Hudson/Housatonic and Susquehanna/Delaware River recovery units. NFWF supports the FWS and other partners in identifying, managing, and protecting sites for bog turtles to enable successful recovery of the species. We have worked with state and federal agencies, academic experts and conservation groups to develop a Business Plan that, if fully implemented, will halt the decline of the bog turtle and allow populations to begin to rebound. These activities will benefit a host of other important wildlife species that are also in decline in the region.
Key conservation strategies for the bog turtle include:Restoring and managing early successional wetland habitat. Bog turtles need open, high-quality early successional wetland habitat for breeding and basking.Protecting and ensuring compatible management of adjacent uplands and wetlands. Uplands and wetlands surrounding wet meadow nesting areas are important as a source of groundwater and spring flow in wetlands, provide over-wintering sites for bog turtles, and, if managed appropriately, can help buffer and protect core habitat.Identifying site-specific buffer zones and mitigating threats within those zones. Incompatible land use activities within the buffer zone can seriously threaten the quality of core habitat and the health of populations.Providing incentives for local livestock agriculture. Long-term maintenance of many bog turtle wetlands will include light, managed grazing in those wetlands — the same activity that maintained the habitat over much of the 20th century.
In the first three years of this initiative, NFWF grants have supported protection of priority bog turtles sites on more than 35 properties encompassing over 400 acres. These sites all have active bog turtle management plans that will support the species for perpetuity and contribute towards species recovery as well as overall wetland functioning.
For more detail on priority activities, please see NFWF's Business Plan.