Longleaf Pine Growth And Yield Model Request for Proposals - DEADLINE EXTENDED
UPDATE: Full Proposal Due Date Extended to May 7, 2020 by 11:59pm.
Applicant Webinar: Thursday, April 9, 2020 at 3:00-4:00 PM ET
Full Proposal Due Date: Thursday, May 7, 2020 by 11:59 PM ET
OVERVIEW
The National Fish and Wildlife Foundation (NFWF), in partnership with the U.S. Department of Agriculture's Forest Service (USFS), is soliciting proposals to begin development of a new growth and yield model for longleaf pine. An improved growth and yield model for longleaf pine will provide an important decision support tool necessary to more fully engage institutional landowners, as well as other private forest owners, to consider longleaf pine versus other southern pine species.
NFWF is seeking proposals that address three components of developing a refined growth and yield model for longleaf pine:
    1.    Identification of sites for plot establishment, initial permanent plot measurements, and completion of data quality assurance/quality control. 
    2.    Completion of a third party audit for plot measurement integrity. 
    3.    Development of a first-iteration model and a plan for incorporation of additional data that will be collected through future remeasurements. 
A second future phase of this project will conduct two additional remeasurements three and six years after the initial measurements are taken. Additional funding for this final phase is anticipated, but has not yet been secured. 
Recognizing that the most qualified entity for each of three components listed above may not be the same, NFWF will consider proposals that address individual components. However, NFWF encourages applicants to partner with other qualified entities to address all three components under one comprehensive proposal. Funding is provided by the USFS, with up to $250,000 available. 
BACKGROUND
Restoring the longleaf pine ecosystem at a landscape scale necessitates engaging a broad suite of landowners, including large-acreage investment-driven forestland owners (institutional landowners), who manage millions of acres of forest within the historic longleaf pine range. Currently, only a small proportion of these lands are managed for longleaf pine. 
Over the years, institutional landowners have consistently highlighted the inadequacy of existing longleaf pine growth and yield (G&Y) models as a barrier to their consideration of longleaf as a management option. These landowners are accustomed to highly refined G&Y models that have been developed for other species of southern pine. These models have high levels of precision that allow more accurate predictions of product yield and revenue forecasts, and therefore investment return. In comparison, the levels of uncertainty associated with existing longleaf pine G&Y models are viewed as unacceptable. Improved G&Y modeling for longleaf pine will be a critical component for improving the decision support tools necessary to more fully engage institutional landowners, as well as other private forest owners, to consider longleaf pine as an option for part of their forestland portfolios.
Development of a longleaf pine growth and yield model is identified as a priority by the America's Longleaf Restoration Initiative (ALRI) and the Longleaf Partnership Council, and is outlined as a key strategy within ALRI's Range-wide Conservation Plan for Longleaf Pine and the most recent three-year Strategic Priorities and Actions document. NFWF's Longleaf Forests and Rivers Business Plan also identifies the development of a new growth and yield model for longleaf pine as a strategy to support and accelerate longleaf pine restoration on private lands. 
The primary goal for this funding opportunity is to develop equations to predict and project stand level estimates of basal area, dominant height and mortality. Within the context of prediction, the model should possess the ability to recover treelists at a given point in time using models which predict a diameter distribution and a static relationship between tree diameter and total height. Within the context of projection, the model should estimate individual tree growth rate using stand table or percentile projection equations. This will provide a decision support tool for improved precision for harvest planning and financial projections. The model will be based on data from stands established on cutover sites (of any species, not necessarily previous rotations of longleaf pine) using containerized seedlings that were established using modern silvicultural practices (e.g. site preparation and competition control). Plots should be restricted to these sites and first-generation stands from afforestation of former agricultural sites should not be used.
GEOGRAPHIC FOCUS
To be eligible for funding, projects must occur within the historic longleaf pine range as depicted on the map below. Initially, plot locations for this project should be on lands east of the Mississippi River and north of latitude 29ᵒN. Applicants are also encouraged to focus plots in areas with greater concentrations of corporate lands.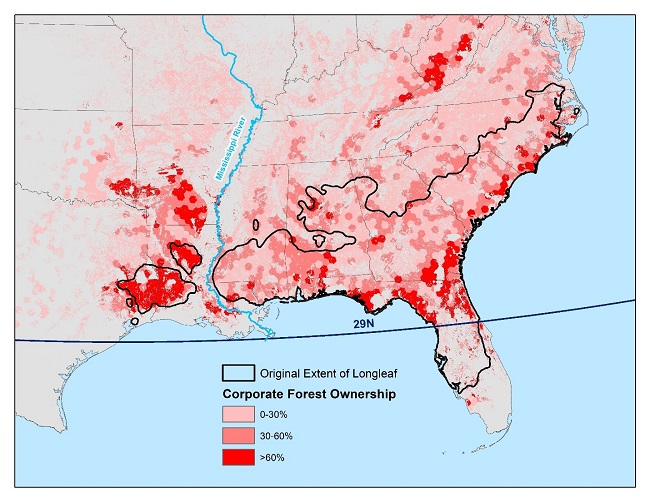 FUNDING PRIORITIES
Priority will be given to projects that effectively implement one or more of the components below to advance development of a refined growth and yield model for longleaf pine.
Because plot establishment, data collection, and model development are distinct and complex skillsets, NFWF encourages partnerships and subcontracting or subaward arrangements that maximize the qualifications of service providers in each of these individual areas. Applicants should provide documentation of expertise and experience in these areas as well as references.
    1.    Plot Identification, Establishment and Initial Measurements 
NFWF seeks proposals to identify and establish plots and complete initial measurements that can be used to develop a stand-level prediction and projection model. A minimum of 300 plots should be identified for data collection, though applicants are encouraged to propose more plots if feasible. Site selection should prioritize a history of consistent treatments between plots and minimize non-typical treatments for longleaf pine, such as fertilization and genetic improvement. The most common treatments for longleaf plantations in the last 20 years have been the use of containerized seedlings, and competition control using tools such as scalping or herbicide. Plots should be located in stands in which 1) seedlings have been in the ground for 5 years and have initiated height growth and 2) trees have not yet been thinned. 
Some support for identification of potential sites for plots can be expected from partners and contacts associated with the Longleaf Partnership Council, but the grantee has final responsibility for site identification, landowner contact, and coordination for plot establishment. To the degree possible, plots should be located in stands that will be in place for at least 10 years. Proposals must describe the plot sample design and measurement criteria that will be used. The following desired attributes and criteria are provided as guidance.
Because the primary purpose of the model is to provide decision support to large-acreage institutional landowners, plots should be limited to sites characteristic of this type of landowner. Desired attributes include:
Stands established under reforestation scenarios on cutover sites, regardless of tree species on the site in the previous rotation.
Afforestation scenarios on first-generation former agricultural sites should not be used.
Stands with documented establishment and management history.
Emphasis on sites of moderately low to moderately high productivity. Extremely low productivity xeric sites are already recognized as more suitable for longleaf pine. The highest productivity sites are very unlikely to even be considered for longleaf pine. 
To the degree possible, plots should be distributed evenly across the above range of site quality, as well as being representative of the range of soil characteristics based on Cooperative Research in Forest Fertilization (CRIFF) soil groups.
Plots should have sufficient geographic distribution to be accepted as applicable across the range of longleaf pine, but for this project must be on lands east of the Mississippi River and north of latitude 29ᵒN.
    All research plots should satisfy the criteria given below:
At least 0.1 to 0.125 acres in size
Stand is at least ≥ 5 years old
Buffer plots by two rows from edges
Plots permanently monumented to facilitate remeasurement
Plots MUST be installed and measured during the dormant season
Precise measurements of tree diameter (nearest 0.1''), total tree height (nearest 0.1'), and height to live crown (nearest 0.1')
Trees must be tagged to facilitate individual tree remeasurement over time
Applicants proposing variations from the above criteria must describe these variations and include justification in their proposal. Data collection protocols should prioritize foundational G&Y measurements. To the degree possible, data collection should be compatible with existing datasets1 to facilitate comparison. Trained, experienced personnel should be used for data collection as a high degree of precision is critical to minimize measurement and data recording variability and errors.
    2.    Plot Auditing and Data Quality Assurance/Quality Control
Proposals to identify and establish plots and complete initial measurements must also include a proposal to complete a third-party audit. Prior to establishing plots, the sample design and measurement criteria will be presented to NFWF for review and final approval. Plots and plot data must be collected in such a way that identification of plot location and individual tree data can be audited for quality control purposes by an independent third party. Plot auditing should include an initial audit early in the data collection process after 5 plots have been established and then a second round to achieve a total audit of at least 5% of the total number of plots established. To the extent possible, applicants should identify in their proposal the third party that will complete the auditing. 
Proposals should address initial measurement data quality assurance/quality control in preparation for analysis and model development and applicants should describe their ability and willingness to engage in long-term stewardship of the data to guide future refinement. While new technology and approaches may be included as value-added components of a proposal, the core of the proposal should be based on standard approaches and foundational measurements for growth and yield modeling.  
Because this will be a long-lived dataset, applicants should provide a data management plan with their proposals. These plans will be included in the evaluation process for grant proposals. While beyond the scope of this request for proposals to prescribe the exact details of this plan, guidance can be found at the following NSF website
https://lternet.edu/writing-a-data-management-plan-for-your-nsf-proposal/ 
This webpage also provides additional examples in the embedded links. 
Any and all data, including but not limited to, uncompiled plot level information, growth model equations, compiled data, and the model will be publicly available and open access.  Open access should be facilitated by hosting data and model equations on Github (www.github.com). It is preferable if the modelers develop the growth and yield system as a package in R, allowing distribution using CRAN (https://cran.r-project.org).
    3.    First-Iteration Model Development
Proposals to develop a first-iteration model must address and provide details on the following aspects of model development: 
Modeling techniques and approach that will be used
Programming language to be used
Model documentation (manuals, etc.)
Validation techniques to be used (model fitness criteria, biological realism testing, etc.)
The software platform that will be used for code control, documentation, and to provide open access to the model
Project(s) selected for funding will be expected to submit all data to NFWF, including but not limited to, uncompiled plot level information, compiled data, and the model, which will be publicly available and open access. Upon completion of the model, a peer-reviewed journal article will be developed, submitted, and published in an appropriate journal in the forest sciences.
PROJECT METRICS
To better gauge progress on individual grants and to ensure greater consistency of project data, NFWF has provided the following metric in Easygrants for grantees to report on and measure project progress. Please contact Jon Scott (jonathan.scott@nfwf.org) if you have questions about this metric.
| | |
| --- | --- |
| Easygrants Metric | Additional Guidance |
| # of studies used to inform management | Enter the number of studies completed whose findings will inform forest management decisions. |
ELIGIBILITY
Eligible and Ineligible Entities

Eligible applicants include non-profit 501(c) organizations, state government agencies, local governments, municipal governments, Indian tribes, educational institutions or commercial (for profit) organizations. For-profit applicants: please note that this is a request for grant proposals, not a procurement of goods and services; see the Budget section below for specific cost considerations.
Ineligible applicants include U.S. Federal government agencies, unincorporated individuals, and international organizations. U.S. Federal agencies and unincorporated individuals may partner with applicants, but are not eligible to submit an application.

Ineligible Uses of Grant Funds 

NFWF funds and matching contributions may not be used to support political advocacy, fundraising, lobbying, litigation, terrorist activities or Foreign Corrupt Practices Act violations.
NFWF funds may not be used to support ongoing efforts to comply with legal requirements, including permit conditions, mitigation and settlement agreements. However, grant funds may be used to support projects that enhance or improve upon existing baseline compliance efforts.
FUNDING AVAILABILITY AND MATCH
Up to $250,000 is available for plot establishment, a first round of data collection, auditing services, and model development in the first phase of this project. Projects should start plan to start as soon as possible after the award date. Plot establishment and data collection should occur in the dormant season of 2020/2021 and 2021/2022 and model development and publication should be complete by the end 2022. It is anticipated that a second round of funding may become available in the future for two additional remeasurements of plots and further development and refinement of the model based on these remeasurements. A 1:1 non-federal match in cash and/or in-kind services is not required, but is strongly encouraged, and projects providing match will be more competitive. 
EVALUATION CRITERIA
All proposals will be screened for relevance, accuracy, completeness and compliance with NFWF and funding source policies. Proposals will then be evaluated based on the extent to which they meet the following criteria.
Technical Expertise, Capacity and Commitment – Forest biometrics and G&Y modeling are specialized fields. Preference will be given to proposals from entities with a proven track record in these areas. Qualified, experienced personnel are required for plot establishment, data collection and data management, auditing, model development, and publication of a peer-reviewed journal article. Preference will be given to entities with a demonstrated history of data quality assurance/quality control, data stewardship, and model development. Because the value of this work will only grow through time with subsequent remeasurements and model refinement, institutional capacity and commitment to building this project beyond the terms of this grant (pending additional future funding) is preferred. Please articulate proposed plans for long-term stewardship of the model and data in your proposal. NFWF acknowledges that this may necessitate additional funding beyond this project as currently described.
Cost-Effectiveness – Evaluation of proposals will include consideration of the cost-effectiveness of project budget that balances performance risk and efficient use of funds. Cost-effectiveness evaluation may include, but is not limited to, an assessment of either or both direct and indirect costs in the proposed budget. The federal government has determined that a de minimis 10% indirect rate is an acceptable minimum for organizations without a NICRA, as such NFWF reserves the right to scrutinize ALL proposals with indirect rates above 10% for cost-effectiveness.
Budget – Costs are allowable, reasonable and budgeted in accordance with NFWF's Budget Instructions cost categories. Federally-funded projects must be in compliance with OMB Uniform Guidance as applicable. While for-profit entities are eligible applicants, charges to a potential award may include actual costs only; recipients may not apply loaded rates or realize profit from an award of federal financial assistance funds.
Matching Contributions – Matching Contributions consist of cash, contributed goods and services, volunteer hours, and/or property raised and spent for the Project during the Period of Performance. Larger match ratios and matching fund contributions from a diversity of partners are encouraged and will be more competitive during application review. Applicants are encouraged to describe federal partner contributions as well in the proposal narrative.
Review – Proposals will be reviewed by NFWF staff, representatives from the Longleaf Partnership Council, and an advisory team. The advisory team includes biometricians and representatives of institutional forestland owners.
OTHER  
Procurement – If the applicant chooses to specifically identify proposed Contractor(s) for Services, an award by NFWF to the applicant does not constitute NFWF's express written authorization for the applicant to procure such specific services noncompetitively. When procuring goods and services, NFWF recipients must follow documented procurement procedures which reflect applicable laws and regulations.  
Publicity and Acknowledgement of Support – Award recipients will be required to grant NFWF the right and authority to publicize the project and NFWF's financial support for the grant in press releases, publications and other public communications. Recipients may also be asked by NFWF to provide high-resolution (minimum 300 dpi) photographs depicting the project.
Receiving Award Funds – Award payments are primarily reimbursable. Projects may request funds for reimbursement at any time after completing a signed agreement with NFWF. A request of an advance of funds must be due to an imminent need of expenditure and must detail how the funds will be used and provide justification and a timeline for expected disbursement of these funds.
Compliance Requirements – Projects selected may be subject to requirements under the National Environmental Policy Act, Endangered Species Act (state and federal), and National Historic Preservation Act. Documentation of compliance with these regulations must be approved prior to initiating activities that disturb or alter habitat or other features of the project site(s). Applicants should budget time and resources to obtain the needed approvals. As may be applicable, successful applicants may be required to comply with additional Federal, state or local requirements and obtain all necessary permits and clearances.
Permits – Successful applicants will be required to provide sufficient documentation that the project expects to receive or has received all necessary permits and clearances to comply with any Federal, state or local requirements. Where projects involve work in the waters of the United States, NFWF strongly encourages applicants to conduct a permit pre-application meeting with the Army Corps of Engineers prior to submitting their proposal. In some cases, if a permit pre-application meeting has not been completed, NFWF may require successful applicants to complete such a meeting prior to grant award.
Federal Funding – The availability of federal funds estimated in this solicitation is contingent upon the federal appropriations process. Funding decisions will be made based on level of funding and timing of when it is received by NFWF.
TIMELINE
| | | |
| --- | --- | --- |
|   | Applicant Webinar: | April 9, 2020 at 3:00-4:00 PM Easter Time |
|   | Full Proposal Due Date: | May 7, 2020 by 11:59 PM Eastern Time |
|   | Review Period:  | April – August 2020 |
|   | Award Announced: | August 2020 |
HOW TO APPLY
All application materials must be submitted online through National Fish and Wildlife
Foundation's Easygrants system.
1.  Go to easygrants.nfwf.org to register in our Easygrants online system. New users to the system will be prompted to register before starting the application (if you already are a registered user, use your existing login).  Enter your applicant information. Please disable the pop-up blocker on your internet browser prior to beginning the application process. 
2.  Once on your homepage, click the "Apply for Funding" button and select this RFP's "Funding Opportunity" from the list of options.
3.  Follow the instructions in Easygrants to complete your application. Once an application has been started, it may be saved and returned to at a later time for completion and submission.
APPLICATION ASSISTANCE 
A Tip Sheet is available for quick reference while you are working through your application. This document can be downloaded here.
Additional information to support the application process can be accessed on the NFWF website's Applicant Information page.
For more information or questions about this RFP, please contact: 
Jon Scott, Southern Forests Program Director
Jonathan.scott@nfwf.org 
For issues or assistance with our online Easygrants system, please contact:
Easygrants Helpdesk
Email:  Easygrants@nfwf.org
Voicemail:  202-595-2497
Hours:  9:00 am to 5:00 pm ET, Monday-Friday. 
Include:  your name, proposal ID #, e-mail address, phone number, program you are applying to, and a description of the issue.
________________________________
1Applicants should be familiar with and reference existing datasets, such as the Regional Longleaf Pine Growth Study (RLGS) in the Gulf States (e.g. https://www.fs.usda.gov/treesearch/pubs/1589) and the USFS' Laboratory at Pineville, LA (e.g. https://www.fs.usda.gov/treesearch/pubs/2210).