Request for Qualifications: Shared Stewardship Advisors
Requesting Organization: National Fish and Wildlife Foundation, 90 New Montgomery Street, San Francisco, CA 94105 / Jonathan.Birdsong@nfwf.org
 
1.    OVERVIEW
The National Fish and Wildlife Foundation (NFWF) seeks four (4) qualified contractors to submit proposals to provide field support as shared stewardship advisors in California for NFWF's Western Regional Office.  NFWF will select 1 qualified contractor in each of the U.S. Forest Service's Pacific Southwest Region's zones in California.  The contractor will provide support to NFWF and their partnership with the U.S. Forest Service for three years and will report to Jonathan Birdsong, Director of the Western Regional Office, or to one of his direct reports. 
2.    PROGRAM BACKGROUND
NFWF is the country's largest private conservation grant maker and manages a variety of grant programs across California through its Western Regional Office.  Annual programs under NFWF's Western Region include the Northern California Forests and Watersheds; Klamath River Coho Enhancement Fund; Pacific Southwest Fuels Management; Russian River Coho, and the Southern California Forests and Watersheds program.  Over time, the funding levels, projects, scope, reach and audience of these programs have grown significantly.  The need for effective field support has grown as well, to assist potential grantees and partners in developing proposals that are aligned with NFWF's priorities, to coordinate and troubleshoot project implementation, and to help form networks among and partnerships to facilitate shared learning.
NFWF's largest federal partner in California is the U.S. Forest Service (USFS).  The purpose of this contemplated contract is to hire 4 Shared Stewardship Advisors (S2) to work directly with NFWF, USFS and the California Department of Forestry and Fire Protection (CAL FIRE).
3.    CONTRACT SCOPE
Four (4) third-party Shared Stewardship (S2) Advisors will be located strategically across the state to support Implementation Partnerships toward strategic forest health projects in each U.S. Forest Service (USFS) zone (Figure 1).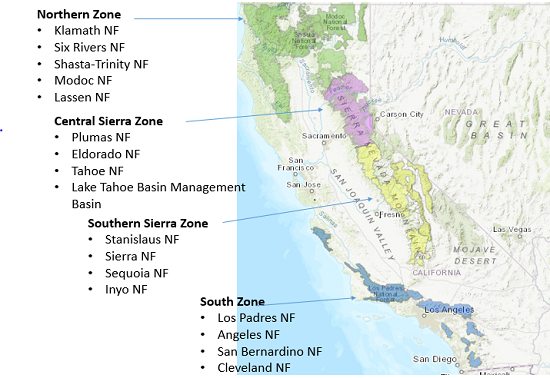 The S2 Advisors will be located in each USFS zone, preferably sitting in a USFS office through December 2023. The S2 Advisors will work closely with NFWF as well as USFS and CAL FIRE zone staff to achieve the following objectives:
Create new and advise existing implementation partnerships on effective on-the-ground project implementation using Shared Stewardship tools (e.g. Stewardship and Good Neighbor Agreements, third-party NEPA/CEQA, etc.).  
 
Advise National Forests, USFS Zones, and CAL FIRE units on partnership strategies. The S2 Advisors will support the strategic engagement of field units with appropriate partners; in particular, support the cross-boundary aspects of USFS five-year plans and CAL FIRE unit plans.
 
Develop a list of cross-boundary projects for each zone. Identify priority projects, updated annually based on scenario and other planning, that align with USFS five-year plans, Community Wildfire Protection Plans (CWPPs), CAL FIRE unit plans and other key partner priorities. 
 
Coordinate and support funding opportunities. The S2 Advisors will track key State/Federal funding opportunities and provide support for grant proposal submissions in a strategic and coordinated manner across each zone.
 
Educate. The S2 Advisors will organize and lead trainings and outreach to USFS field offices, CAL FIRE units, and key local partners on relevant Shared Stewardship tools and programs that support the development of cross-boundary and inter-organizational partnerships.

 
4.    ANTICIPATED DELIVERABLES
The contract deliverables will include: 
Semiannual written and ongoing verbal progress reports detailing activity across the five main objectives
Final report summarizing achievements and lessons learned at contract completion
Comprehensive written reviews of grant proposals
Compile database/file structure containing contact, projects, and other relevant information developed over the course of the program
These deliverables may be expanded or refined during the contract negotiation.
In addition, the contractors will be required to: 
Regularly engage with NFWF, USFS units, CAL FIRE units and other key partners;
Develop a highlighted list of cross-boundary projects for each zone and update the list by March of each year;
Give at least one training or presentation per zone to build capacity and understanding around key Shared Stewardship tools to local USFS and CAL FIRE units, partners and collaboratives;
Create at least two (2) new Implementation Partnerships for each zone. New Implementation Partnerships will initiate at minimum one project per year for first two years;
Create at least one (1) new Good Neighbor Authority Agreement created in each zone via USFS and CAL FIRE.
Compile annual data for Shared Stewardship accomplishment reporting with brief narratives. Specific metrics will be determined by leadership but could include acres accomplished in categories (fuels reduction, Rx fire, timber sales, etc), funded partnerships, cost/acre, and authorities used.
Write at least one (1) Shared Stewardship success story submitted to the FS Regional Office each quarter for each zone;
At least four grant cross-boundary proposals to State and Federal programs will be supported by each zonal S2 advisor annually and as within the National Forest, CAL FIRE unit, and local partner capability;
Key Desirable Qualifications of S2 Advisors
Good working relationships with FS and CAL FIRE in state and zone
Experience implementing forest restoration projects
Direct experience in implementing one or more of the Shared Stewardship Tools
Trusted unbiased resource in zone area
Ready access and location to all relevant units in zone
Understanding of partnership strategies and defining roles and responsibilities
Effective trainers / educators
Familiarity with key State and Federal funding programs (can learn)
Familiarity with key cross-boundary Shared Stewardship tools in CA (can learn).

 
5.    SUMBISSION REQUIREMENTS
Proposals must be submitted under the same cover at the same time, in three distinct and separate documents:  1) Technical Proposal, 2) Cost Proposal, and 3) Evidence of Financial Stability.  Interested parties should submit proposals electronically to NFWF (Jonathan Birdsong, Jonathan.Birdsong@nfwf.org) as Word documents or PDF attachments following the requirements below:
6.    CRITERIA FOR COMPETITIVE APPLICATIONS
Statements of Qualifications will be evaluated on the following criteria.  Statements should be single-spaced in Word format or a searchable PDF, with a minimum 11 point font, and not to exceed the indicated page or word limits. Offerors should organize their Statement based on these sections:
Understanding of the Scope of Work.  A statement of no more than one page demonstrating an understanding of the challenges faced by the program(s) with which the offeror purports to work, including a comprehension of the geography, communities, partners and their dynamics.
 
Technical Approach.  A description of no more than one page of a proposed technical approach for facilitating the success of grant investments and overall program strategy and improvement.
 
Qualifications of Proposed Personnel.  Resumes and/or Vitae of the principal investigator(s), including any subcontractors, describing relevant professional experience in the following areas:  (a) experience working with federal, state, and local governmental agencies, national and local NGOs involved with conservation and forest management; (b) any experience with Foundations and grants management; (c) fuels management implementation experience (d) experience with stream or other restoration projects. There is no page limit associated with this element of the Statement of Qualifications.
 
Record of Past Performance/References.  The Statement of Qualifications should identify at least three past engagements conducting similar work for NFWF or other organizations, identifying the offeror's quality of work, timeliness, and cost control. The statement should also include communication experience writing reports, conducting webinars and delivering presentations to different types of audiences. The cumulative statement of past performances should not exceed 1 page. The Statement should include names, email addresses, and telephone numbers of points of contact for the referenced engagements.  If the offeror anticipates retaining subcontractors for this task, information should be provided that demonstrates their past performance as well. 
 
Corporate Capability. The offeror shall provide proof of financial stability in the form of an income statement and balance sheet.
 
Cost Proposal. The Cost Proposal includes the proposal budget and budget justification. The cost proposal must be submitted using the attached budget template. The cost proposal budget should be cost effective and should maximize the value for monies requested in the Offeror's budget. Please break various tasks into separate line items. Profit/profit margin must be separately itemized in the budget.
 
7.    ELIGIBLE OFFERORS/CONFLICT OF INTEREST
Eligible offerors are institutions of higher education, other nonprofits, commercial organizations, international organizations, and local, state, and Indian tribal governments.  More than one award may be made for this project.  If multiple institutions are involved in a single application, they should be handled through sub-contracts.
By submitting a Statement of Qualifications in response to this solicitation, the offeror warrants and represents that it does not currently have any apparent or actual conflict of interest, as described herein.  In the event an offeror currently has, will have during the life of the contemplated contract, or becomes aware of an apparent or actual conflict of interest, in the event an award is made, the offeror must notify NFWF in writing in the Statement of Qualifications, or in subsequent correspondence (if the issue becomes known after the submission of the Statement of Qualifications) of such apparent or actual conflicts of interest, including organizational conflicts of interest.  Conflicts of interest include any relationship or matter which might place the contractor, the contractor's employees, or the contractor's subcontractors in a position of conflict, real or apparent, between their responsibilities under the award and any other outside interests, or otherwise.  Conflicts of interest may also include, but are not limited to, direct or indirect financial interests, close personal relationships, positions of trust in outside organizations, consideration of future employment arrangements with a different organization, or decision-making affecting the award that would cause a reasonable person with knowledge of the relevant facts to question the impartiality of the offeror, the offeror's employees, or the offeror's future subcontractors in the matter.  Upon receipt of such a notice, the NFWF Contracting Officer will determine if a conflict of interest exists and, if so, if there are any possible actions to be taken by the offeror to reduce or resolve the conflict.  Failure to resolve conflicts of interest in a manner that satisfies NFWF may result in the proposal not being selected for award.  
By submitting a Statement of Qualifications in response to this solicitation, the offeror warrants and represents that it is eligible for award of a contract resulting from this solicitation and that it is not subject to any of the below circumstances:
Has any unpaid Federal tax liability that has been assessed, for which all judicial and administrative remedies have been exhausted or have lapsed, and that is not being paid in a timely manner pursuant to an agreement with the authority responsible for collecting the tax liability, where the awarding agency is aware of the unpaid tax liability, unless the agency has considered suspension or debarment of the corporation and made a determination that this further action is not necessary to protect the interests of the Government; or
Was convicted (or had an officer or agent of such corporation acting on behalf of the corporation convicted) of a felony criminal violation under any Federal or State law within the preceding 24 months, where the awarding agency is aware of the conviction, unless the agency has considered suspension or debarment of the corporation and made a determination that this further action is not necessary to protect the interests of the Government; or
Is listed on the General Services Administration's, government-wide System for Award Management Exclusions (SAM Exclusions), in accordance with the OMB guidelines at 2 C.F.R Part 180 that implement E.O.s 12549 (3 C.F.R., 1986 Comp., p. 189) and 12689 (3 C.F.R., 1989 Comp., p. 235), "Debarment and Suspension, " or intends to enter into any subaward, contract or other contract using funds provided by NFWF with any party listed on the SAM Exclusions in accordance with Executive Orders 12549 and 12689. The SAM Exclusions can be found at https://www.sam.gov/SAM/pages/public/index.jsf.

8.     STATEMENT OF QUALIFICATIONS SUBMISSION REQUIREMENTS AND RFQ/RFP DEADLINES (SUBJECT TO CHANGE)
8/31/2020  
Request for Qualifications (RFQ) released. Q&A period begins. All questions of general interest will be answered publicly and must be received by September 3rd.
 
9/3/2020  
Deadline for Questions. FAQ will be posted to this site within 24 hours.
 
9/24/2020  
Statements of Qualifications must be received electronically as an email attachment by Jonathan Birdsong (Jonathan.Birdsong@nfwf.org) by 11:00 PM PDT.
Statements must be provided in Word format or searchable PDF with a font size no smaller than 11 pt.
 
10/14/2020  
NFWF will notify all RFQ offerors of their status and successful offerors will be either invited to interview or to complete a scope of work and budget.
 
11/15/2020  
Contractors' anticipated start date.