Image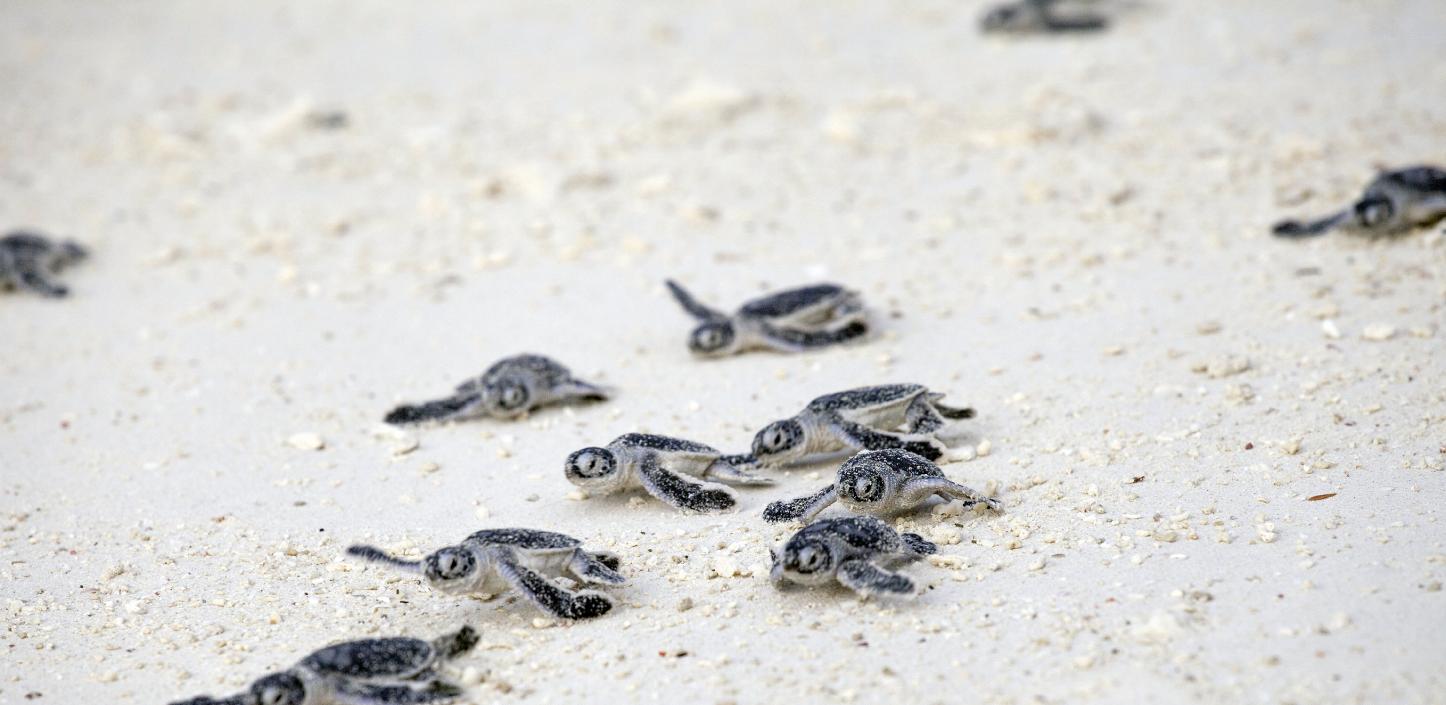 Gulf Environmental Benefit Fund Awards
---
2020 Conservation Investments
In the wake of the 2010 Deepwater Horizon explosion and oil spill in the Gulf of Mexico, BP Exploration and Production, Inc. and Transocean Deepwater, Inc. each pled guilty to criminal violations of federal law. The plea agreements in those cases require BP and Transocean, among other things, to make certain monetary payments to NFWF that are designated to fund projects benefiting Gulf Coast natural resources injured as a result of the spill. NFWF has established the Gulf Environmental Benefit Fund to receive and administer these funds. Funding was committed to the following projects under the Gulf Environmental Benefit Fund during Fiscal Year 2020 in accordance with the terms of the plea agreements. Since its inception in 2013, NFWF has awarded nearly $1.5 billion to projects in the Gulf States.
Mobile Bay National Estuary Program, Marine Environmental Sciences Consortium
Lower Fish River Watershed Restoration
Address sediment and nutrient issues in the lower Fish River Watershed, a priority coastal watershed draining into Weeks Bay. Project activities will consist of planning, engineering and design, and permitting efforts to identify solutions for six tributaries. In addition, the project includes engineering and design, permitting, and construction of a tributary to the Fish River near the community of Marlow.
$6,554,000
Mobile Bay National Estuary Program, Marine Environmental Sciences Consortium
Fowl River Watershed Restoration: Coastal Spits and Wetlands Project — I (Amendment)
Restore important coastal spits and wetlands within the lower reaches of Fowl River, which is a significant priority action identified in the recently completed Fowl River Watershed Management Plan, funded under a prior GEBF award.  This project will fund engineering and design studies to develop a solution to stabilize and protect four priority in-river wetland spits and restore marshland throughout the intertidal portions of lower Fowl River. Amendment to add an adjacent 50-acre wetland area to the scope of work.
$513,611
The Conservation Fund
Blackwater River South Tract Acquisition
Acquire and permanently protect 2,300 acres of coastal habitat at the confluence of the Blackwater and Perdido rivers. The subject tract includes four miles of frontage along both rivers, over 1,200 acres of wetlands, and a 90+ acre lake. Protection of the subject property will maintain water quality in the Perdido estuary and the living coastal and marine resources it supports.
$5,212,000
Town of Dauphin Island
Restoration of the North Side of Dauphin Island — I (Amendment)
Complete engineering and design plans to fill borrow pits previously excavated for emergency barriers during the Deepwater Horizon response. The project will restore beach and marsh habitat on the north side of Dauphin Island to enhance the barrier island's resilience to future storms. Amendment to include engineering and design for marsh restoration in Graveline Bay.
$575,000
United States Army Corps of Engineers, Mobile District
Little Dauphin Island Restoration Assessment
Study both nearshore and onshore restoration options for a future project to enhance and protect Little Dauphin Island. Included in the Bon Secour National Wildlife Refuge managed by the U.S. Fish and Wildlife Service, Little Dauphin Island is an important nesting and foraging area for several coastal bird species, including several imperiled shorebird species.
$1,481,500
Apalachee Regional Planning Council
Franklin County Living Shoreline
Create 20 acres of estuarine reef and facilitate the natural restoration of approximately 30 acres of intertidal marsh along Highway 98 in an effort to restore and protect this shoreline from erosion.  This section of shoreline is vulnerable to damage from major storms and was damaged by Hurricane Michael in 2018.
$8,312,000
Apalachicola Riverkeeper
Apalachicola River Slough Restoration — I
Restore the connection of three slough systems in the Apalachicola River watershed. River sloughs are important for transporting freshwater to floodplains and controlling the storage and release of freshwater and nutrients into the river and ultimately to Apalachicola Bay.  In addition to restoring hydrologic connectivity on three sloughs, the project will also develop an Apalachicola River Slough Restoration Plan to further assess current conditions and quantify the benefits of implementing large-scale slough restoration in the lower Apalachicola River system.
$5,357,000
Ducks Unlimited
MK Ranch Hydrologic Restoration
Restore wetland structure and function to the MK Ranch within the Apalachicola River Wildlife Environmental Area (ARWEA). MK Ranch comprises approximately 6,400 acres of expansive historic tidal marsh in the lower Apalachicola River Basin and acts as a filter and storage area for water flowing from upland sites to the tributaries of Lake Wimico and Apalachicola Bay.  Previous unpermitted excavation activity severed the river from its floodplain, resulting in extensive loss and degradation of wetland habitat, resulting in diminished water quality and adverse ecological impacts in Apalachicola Bay.
$21,997,000
Florida Fish and Wildlife Conservation Commission
Apalachicola Bay Oyster Reef Restoration — II
Implement up to 1,000 acres of oyster reef restoration in Apalachicola Bay. Restoration of oyster reefs in Apalachicola Bay is a priority conservation goal for the state of Florida, and this project will enhance resiliency in a fishery that once included more than 10,000 acres of reefs.  This project also includes the development of oyster harvest management strategies for Apalachicola Bay and Suwanee Sound to ensure sustainability of the restored reefs.
$20,057,000
Florida Fish and Wildlife Conservation Commission
Lake Wimico Acquisition and Management
Manage a 20,161 acre parcel that surrounds Lake Wimico, a shallow natural lake in southern Gulf County, that was acquired with GEBF funds in 2019.  Preservation and management of the Lake Wimico parcel will protect water quality and freshwater flows into the Apalachicola River and Apalachicola Bay, enhancing the historic Apalachicola Bay oyster fishery.
$1,500,632
Florida Fish and Wildlife Conservation Commission
Panhandle Dune Restoration
Restore and enhance up to 21 miles of degraded dune habitats across the Florida Panhandle. In areas where disturbance has created gaps, restoring the dunes will improve habitat functionality and resiliency.
$2,310,000
Florida Fish and Wildlife Conservation Commission
St. Marks National Wildlife Refuge Saltmarsh Restoration — I
Complete engineering and design plans to restore up to 28 acres of saltmarsh habitat along the St. Marks River within the St. Marks National Wildlife Refuge and Wilderness Area. The project will restore saltmarsh habitat by removing remnant dredge spoil islands that consist of large crushed limestone piles. Permitting, design, and planning will evaluate beneficial use alternatives for crushed limestone, including the construction of bird nesting, artificial reefs, and oyster reef restoration in the St. Marks River and Apalachee Bay.
$806,000
The Conservation Fund
Archie Carr National Wildlife Refuge Acquisitions
Acquire priority inholdings in the Archie Carr National Wildlife Refuge to protect critical sea turtle nesting habitat. The targeted tracts contain undeveloped beach and dune habitats that are utilized by the largest nesting population of loggerhead and green sea turtles in North America. Conservation of these tracts will protect available nesting habitat for use by sea turtles and will minimize fragmentation, address protected landscape gaps, and reduce the risk of additional coastal armoring.
$4,507,000
There were no new investments in Louisiana in fiscal year 2020. To date, the number of awards from the GEBF in the state of Louisiana stands at 13, with a total current value of more than $606 million. These projects were selected after extensive consultation with the Louisiana Coastal Protection and Restoration Authority, FWS and NOAA. 
The state of Louisiana continues to make significant progress in advancing previously approved GEBF awards, which advance fundamental components of the state's comprehensive Coastal Master Plan.
Mississippi Department of Environmental Quality
Invasive Species Management on Coastal State Land — II
Develop invasive species management activities to control and/or eradicate the invasive Amazonian Apple Snail in the lower Pascagoula estuary.
$837,000
Mississippi Department of Environmental Quality
Oyster Restoration and Management — II
Deploy cultch material in several locations throughout the western Mississippi Sound as a pilot study to assess factors influencing oyster survivability.  Oyster production and growth will be monitored to confirm the viability of identified locations for future large-scale oyster restoration efforts.
$3,393,000
Mississippi Department of Environmental Quality
Reef Fish Assessment for Mississippi Coastal and Nearshore Waters: Restoration through Improved Data Collection and Management — IV
Complete the final phase of data collection efforts to assess reef fish populations in coastal Mississippi and nearshore Gulf of Mexico waters through biological, environmental, and fishery-dependent components that will provide necessary data to reduce scientific uncertainty around factors influencing red snapper and reef fish population structures.
$3,622,000
Coastal Bend Bays and Estuaries Program
Mission River Land Acquisition
Acquire and permanently protect 375 acres of critical coastal marsh habitat in the Mission River Delta, an estuary adjacent to Copano and Aransas Bays in the mid-coast of Texas.  Acquisition of the proposed tract will expand and connect existing conservation areas to create a nearly 6,000 acre intact corridor for wildlife, including the endangered whooping crane and other coastal waterbirds.
$600,000
Coastal Bend Bays and Estuaries Program
Nueces Delta Shoreline Erosion Protection
Construct 3,900 linear feet of breakwater to protect 650 acres of marsh habitat along the face of the Nueces Delta shoreline.  The Nueces Delta is also important habitat for many bird species impacted by the spill, such as white pelicans, brown pelicans, reddish egrets, black skimmers, least terns, snowy plovers, and piping plovers. Construction of a living shoreline will enhance the bay and estuarine habitat and contribute to the protection and restoration of a large contiguous area of salt marsh which will benefit these estuarine species.
$3,328,000
Ducks Unlimited
Mad Island Marsh Shoreline Protection
Strengthen and protect nearly 2 miles of the rapidly eroding banks of the Gulf Intracoastal Waterway within the Mad Island Wildlife Management Area. Construction of a 9,800-foot riprap breakwater will provide critical protection for nearly 370 acres of vulnerable coastal habitats including a freshwater lake, palustrine emergent wetlands, and coastal high marsh and prairie. The breakwaters will reduce rates of land loss from erosion and serve as a barrier and buffer from storm surge.
$3,041,000
Galveston Bay Foundation
Chocolate Bay Wetland Habitat Acquisition
Acquire and permanently protect nearly 5,000 acres of coastal habitat on West Galveston Bay in Galveston and Brazoria counties. The subject property, the former Alatar Ranch, contains a wide array of coastal habitats: extensive coastal wetlands, tidal flats, and rare coastal prairie habitats, as well as 13 miles of frontage along coastal waterways. Permanent protection of this pristine stretch of Texas coast will preserve water quality and provide habitat for estuarine fisheries and wetland dependent wildlife including numerous coastal birds.
$10,500,000
Galveston Bay Foundation
Matagorda Peninsula Acquisition
Acquire and permanently protect 1,100 acres along 1.4 miles of critical barrier island habitat on Matagorda Peninsula for inclusion in the newly established Matagorda Peninsula Coastal Management Area, owned and managed by Texas Parks and Wildlife Department.
$2,426,000
Texas Agricultural Land Trust
East Matagorda Bay Land Conservation 
Conserve 3,547 acres of coastal working lands in the mid coast of Texas through a perpetual conservation easement. The property has frontage along the Gulf Intracoastal Waterway near East Matagorda Bay and is composed of a suite of coastal marsh, prairie, and freshwater wetland habitats.
$3,981,500
Texas General Land Office
Salt Bayou (McFaddin NWR) Beach and Ridge Restoration (Amendment)
Restore the beach ridge system along the Gulf Coast within the McFaddin National Wildlife Refuge, between High Island and Sea Rim State Park on the Texas upper coast. This 17-mile beach ridge restoration project will complete restoration of 20 miles of coastline, protecting from erosion and salt water intrusion the largest estuarine marsh system in Texas. Amendment to cover pre-construction surveys and construction oversight.
$676,883
Texas General Land Office
Swan Lake Marsh Restoration
Restore nearly 80 acres of coastal marsh within Swan Lake, an embayment within the Galveston Bay system near Texas City.  Restoration of the marsh complex within Swan Lake will provide an important aquatic nursery and wildlife habitat, protecting hundreds of acres of adjacent coastal marsh and prairie habitat for fishes, crabs, shrimp, and coastal birds.
$5,000,000
Texas Parks and Wildlife Department
Dagger Island Restoration Project (Amendment)
Construct a half-mile, nearshore breakwater and beneficially use dredge material to restore an island in order to protect approximately 5,236 acres of coastal habitat, including 2,630 acres of seagrass in Redfish Bay, an area adjacent to Corpus Christi Bay. Project also will restore approximately 28 acres of coastal wetland habitat and create oyster, invertebrate and fisheries habitat. Amendment to cover increased cost of construction.
$98,118
Texas Parks and Wildlife Department
Enhancement of Buffalo Lake Marsh Complex
Enhance management of nearly 2,000 acres of freshwater wetland habitat in the Buffalo Lake Marsh Complex to support migratory waterfowl, shorebirds, and waterbirds. Repairing damaged water control structures will prevent saltwater intrusion into the marsh complex and allow refuge staff to manage water levels. Additionally, construction of a new overflow spillway and an 850-foot levee will help protect the wetlands against flood events and allow for independent management of the wetland units which is key to providing appropriate habitat for shorebirds and waterbirds during the spring migration and breeding season.
$450,000