Image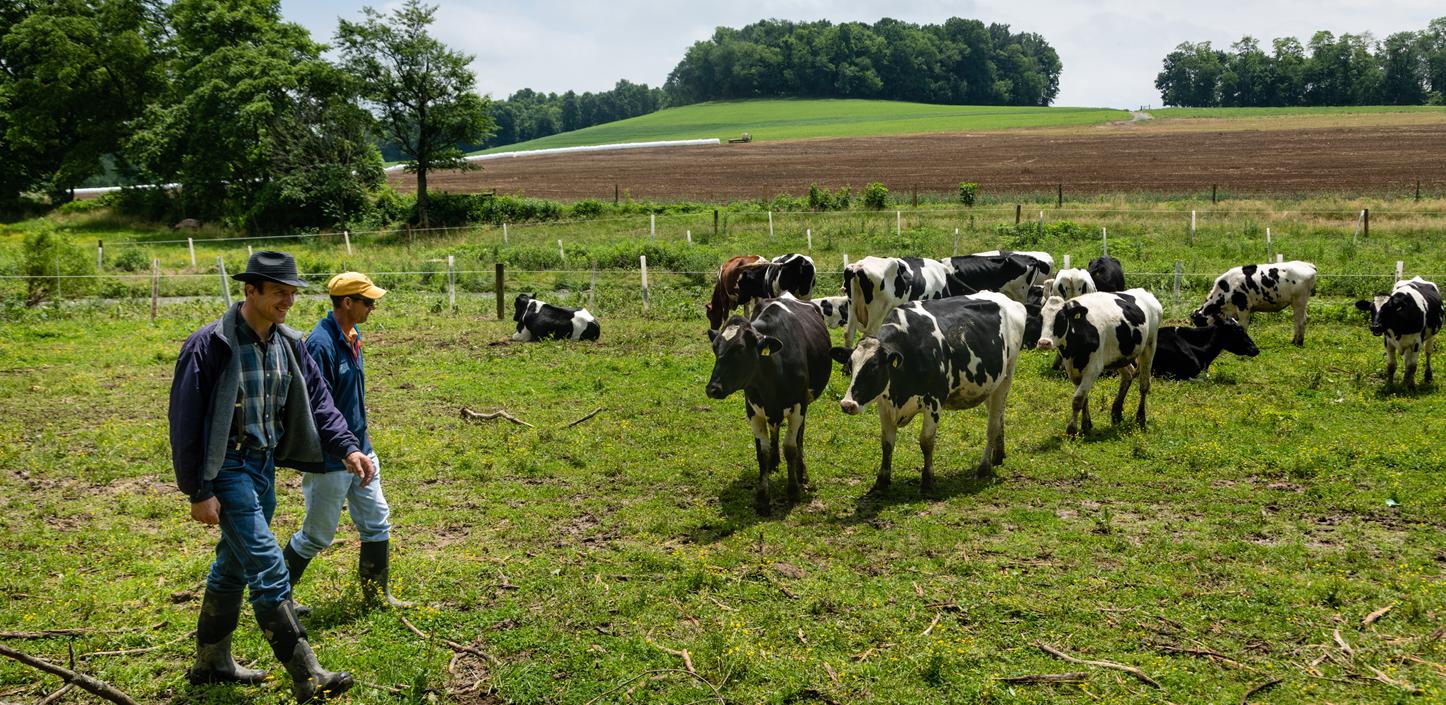 Diverse Partnerships for Clean Water
---
A market-driven approach provides innovative incentives for dairy farmers implementing conservation practices
The Turkey Hill Clean Water Partnership is a collaborative effort comprised of private and nonprofit entities working together towards a common goal. It is coordinated by the Alliance for the Chesapeake Bay, in partnership with Turkey Hill and the Maryland and Virginia Milk Producers Cooperative Association, to motivate greater conservation efforts on farms in Lancaster County, Pennsylvania.
The county is one of the most agriculturally productive areas in the country, but agriculture has contributed to the impairment of nearly half of Lancaster's 1,400 miles of streams. The many small dairy operations found in the county have the opportunity to significantly reduce pollutant loads to local waterways and ultimately the Chesapeake Bay. Turkey Hill Dairy is the largest buyer of milk in Lancaster County and sources milk from over 100 Maryland & Virginia Milk Producers Cooperative Association (MDVA) farms within a 50-mile radius of their manufacturing facility in Conestoga, Pennsylvania.
As part of their 2018 contract renewal with MDVA, Turkey Hill has required that all producers have conservation plans in place to reduce nutrient-laden runoff from their farms and will implement on-the-ground practices to be in compliance with their plan. Once MDVA's member farms supplying milk to Turkey Hill Dairy are in compliance, Turkey Hill will pay the farmers a premium for their milk. This economic incentive for implementing practices is critical to achieve conservation goals in the difficult dairy economy.
NFWF's Innovative Nutrient and Sediment Reduction grant program will take the existing Turkey Hill Clean Water partnership to the next level and accelerate conservation planning and best management practice implementation from dairy farmers.
Grant funding will help the ACB provide farmers with the technical and financial assistance necessary to meet Turkey Hill's commitments for sustainable milk production. This assistance will help increase the rate and magnitude of BMP implementation while leveraging existing cost-share programs to allow for the strategic and timely deployment of assistance to the producers that need it most. The effort to support all of Turkey Hill's farmers within the cooperative will result in large pollutant load reductions once all the planned conservation practices are put in place. Cover crops, forested buffers, animal waste storage systems, barnyard stabilization, and other best management practices will contribute to reducing an estimated 421,000 pounds. of nitrogen, 7,000 pounds of phosphorus, and over 2.9 million tons of sediment each year.
This market-driven approach is applicable to many other agricultural sectors, with the potential to yield dramatic acceleration in the rate of conservation practice adoption. The Turkey Hill Clean Water Partnership hopes to serve as a model for this approach to other organizations and businesses across the watershed, resulting in a paradigm shift to attaining voluntary conservation action across the watershed.