Image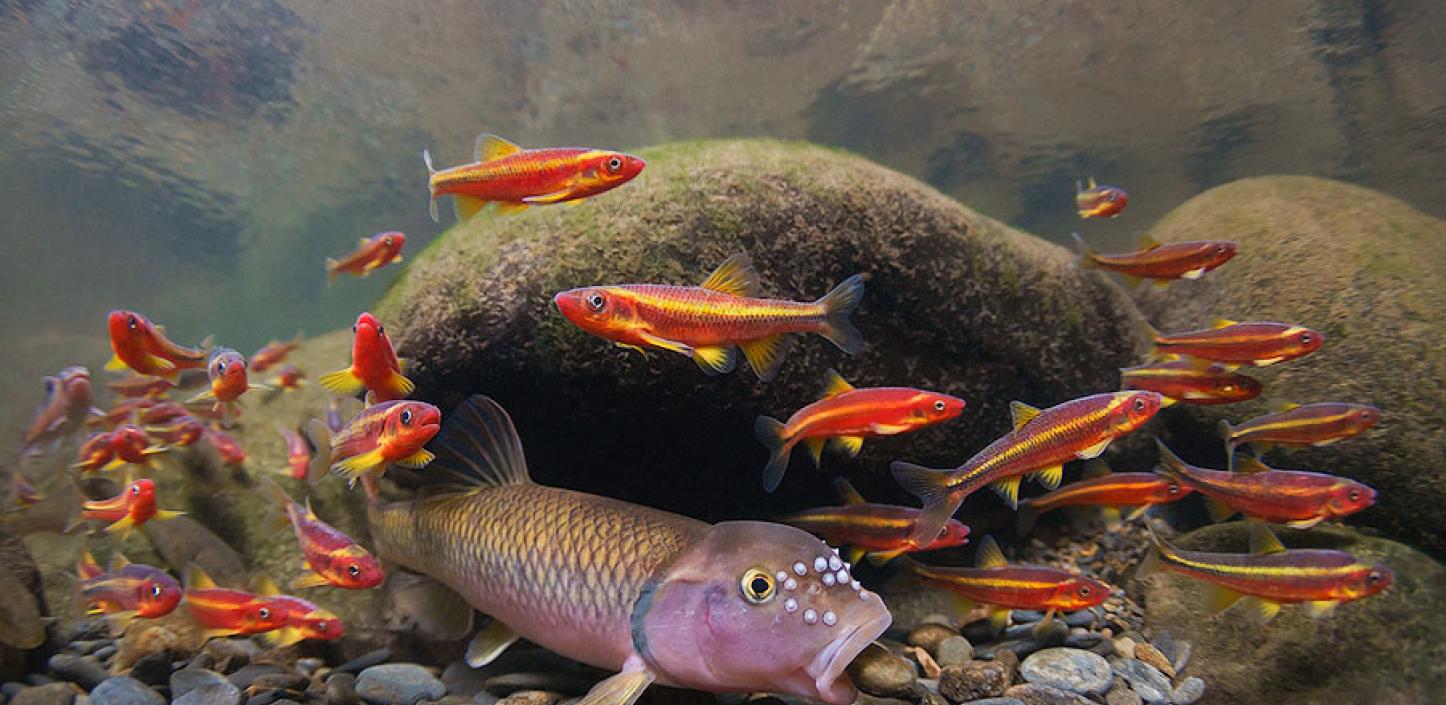 Empowering private landowners to safeguard aquatic biodiversity
Few rivers in the United States, or even the world, can match the biodiversity found in the Elk and Duck rivers of Tennessee.
Here, among the farms and foothills of the Cumberland Plateau, fishermen chase smallmouth bass while snorkeling scientists study at-risk species such as boulder darters and barrens topminnows. More than 150 species of fish swim in these watersheds – some stretches of these waterways host more fish varieties per mile than any other river in North America.
Children wading in streams might discover an orange-foot pimpleback, Cumberland monkeyface or any other of 60 species of freshwater mussels. Especially observant youngsters might even catch a glimpse of a hellbender, North America's largest salamander, perfectly camouflaged amid the stones and pebbles of the streambed.
As is the case with many of the country's ecological treasures, these fascinating but fragile waterways face growing challenges affecting both the quality and quantity of fresh water. Residential construction, farming, timbering and livestock operations all take a toll, siphoning off water and sending more and more sediment and excess nutrients into these vital freshwater flows. The loss of streamside woodlands degrades natural filtering systems and exposes streams to full sunlight, delivering the one-two punch of increased pollution and higher temperatures.
In 2018, NFWF's grant-making continued to restore habitats and improve water quality throughout the Cumberland Plateau, a biologically rich landscape stretching from northwest Alabama to northeast Kentucky. The Foundation worked with conservation nonprofits, private landowners, local governments and federal agencies to restore vital habitats, improve land management practices and boost water quality.​
The U.S. Department of Agriculture's Natural Resources Conservation Service (NRCS) in Tennessee partnered with NFWF through the Cumberland Plateau Stewardship Fund to support forest conservation on private lands, including a grant to The Nature Conservancy and partners to restore and protect riparian buffers in the Elk River watershed.
One grant award of $215,000 enabled the Lincoln County Soil Conservation District to work with private landowners to restore 450 acres of forested buffers and establish 300 acres of shortleaf pine forest along degraded streams feeding the Elk and Duck rivers. The project also developed forest management plans for 6,000 acres of family forest land and built increased awareness of sustainable practices throughout the watershed.
"The enthusiastic support of private landowners is key to producing real-world results for wildlife in this part of the country," said Sheldon Hightower, Tennessee NRCS state conservationist. "Feeder streams run through a patchwork of properties, making it important to address sources of nutrients and sedimentation wherever possible. The good news is that projects done through partnerships such as this one with NFWF help restore habitat and improve water quality, whether by developing long-term forest management plans or helping to plant native trees along streams that run through a private landowner's property."
​Contributing Partners: Alcoa Foundation, Altria, International Paper, U.S. Department of Agriculture's Natural Resources Conservation Service
Contact: Matt Winter 202-857-0166