Image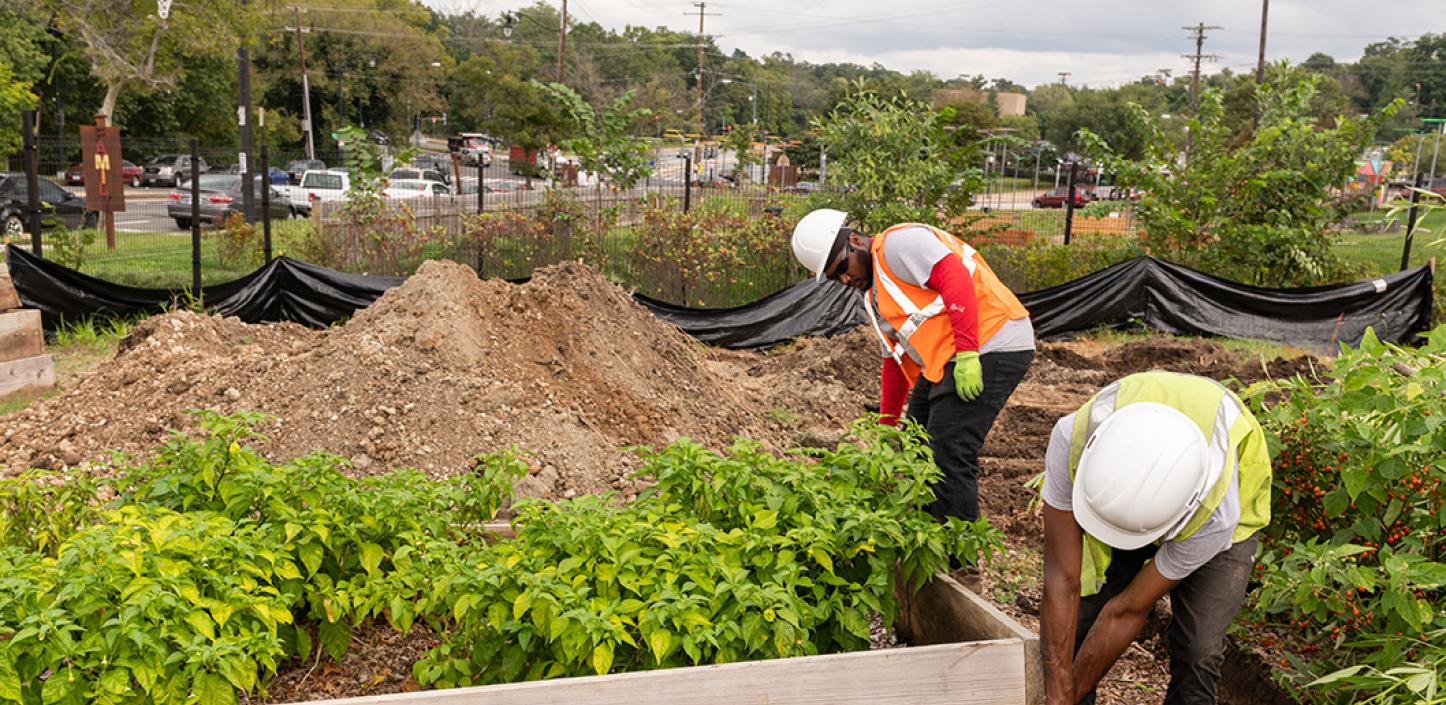 Integrated and Innovative Stormwater Solutions
---
A creative project works to meet the fresh produce needs of the Anacostia community while simultaneously addressing stormwater runoff and providing job training for local residents
Supported by a 2017 Small Watersheds Grant from NFWF, the Low Impact Development (LID) Center, in partnership with the University of the District of Columbia's (UDC) College of Agriculture, Urban Sustainability and Environmental Sciences (CAUSES), spearheaded an innovative effort to integrate green infrastructure best management practices (BMPs) with urban agriculture.
The project included the design and implementation of three stormwater control BMPs in planted farming spaces within food deserts the university identified in the District of Columbia. Suzy Cho, landscape architect at the center, believes this is the first time, at least in her design experience, that crops will be used to create a buffer to mitigate runoff into city storm drains. "This garden work in Anacostia may be one of the only such projects that uses food crops for stormwater management," said Cho.
The location of one of the project's BMP installations is the East Capitol Street Urban Farm in Ward 7, one of several urban food hubs created by CAUSES to improve food security and sustainability in the District. Transformed as a result of a major local, federal, public and private collaborative effort, the once vacant lot is now the city's largest urban farm of its type.
The raingarden constructed at the East Capitol Farm as part of the nearly $200,000 NFWF award will minimize stormwater runoff into the Anacostia River coming from the site. Food crops including kale, lettuce, and chard will replace the typical raingarden planting palette and increase rainwater infiltration on the farm.
The lessons learned from the three pilot sites contribute to the project's comprehensive approach to investigating how urban agriculture and stormwater management can coexist. The center, the university, and other project partners are developing garden templates, trainings, outreach activities, and an Urban Agriculture BMP manual that can be implemented in other cities throughout the Chesapeake Bay region.
Sites of BMP implementation also serve as training locations for local residents participating in the Maya Angelou Public Charter School's workforce development program, Seeds for Success. Adult students in the program receive a mix of classroom and hands-on instruction as they work towards becoming landscapers certified by the National Garden Industry. The experience students gain through the program lays the groundwork for their future pursuits. "It is great to teach my class how their skills can move to a job in the community for gardening and landscape construction work" said Kerry Harrington, with Seeds for Success.