Image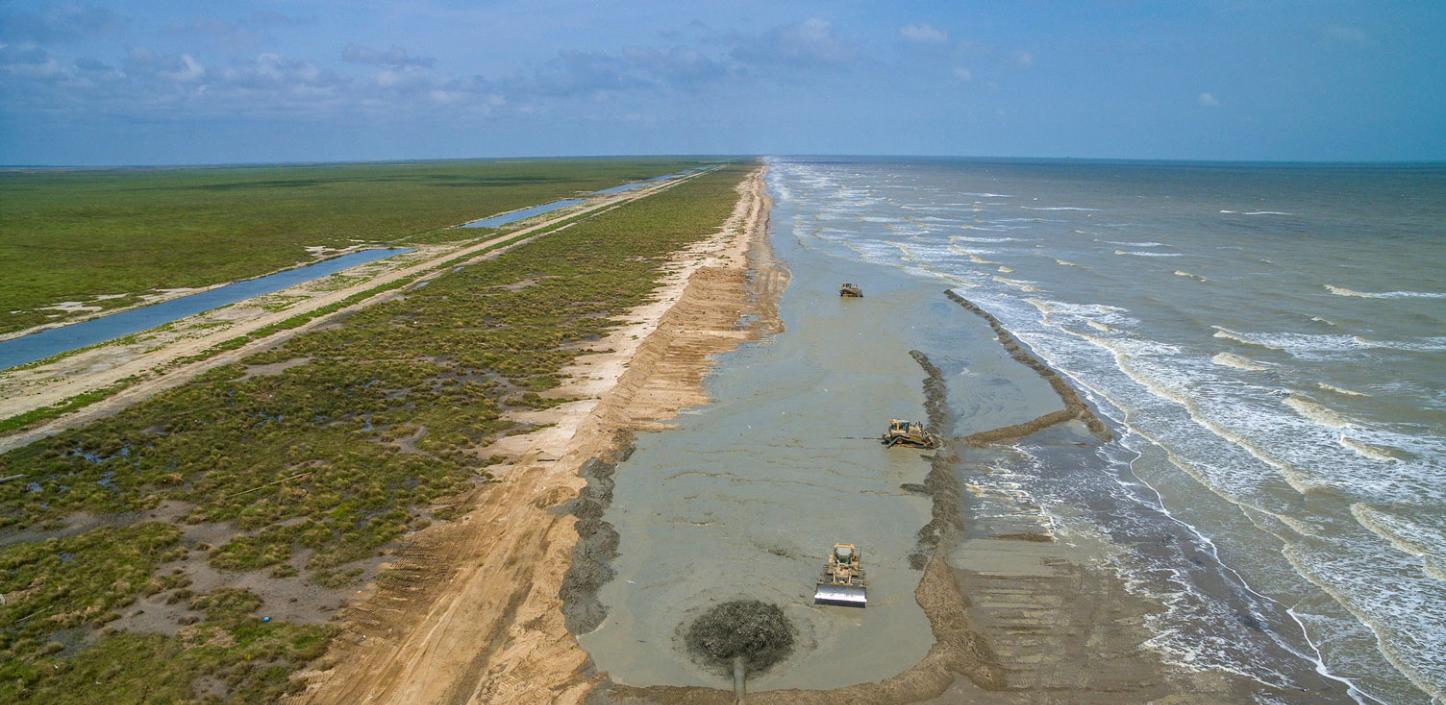 Landscape-scale project restores 17 miles of beaches and dunes
Beaches and dunes provide front-line protection from hurricanes to the delicate but highly productive coastal marshes along the Upper Coast of Texas. These marsh systems, in turn, provide protection from storm surge to some of the nation's most important petrochemical facilities; the Port Arthur-Beaumont area alone produces 12 percent of the United States' gasoline, 20 percent of its diesel fuel, 50 percent of its commercial aviation fuel and 70 percent of its military aviation fuel.
Unfortunately, such natural defenses are weakening along the Gulf of Mexico. Man-made changes to landscapes and hydrology have stemmed the flow of fresh water and sediment into coastal ecosystems. Erosion along beaches has allowed saltwater to surge inshore. The resulting increase in salinity has wiped out native marsh vegetation, replacing vast areas of marsh grass and tidal creeks with open expanses of water less able to absorb the fury of storms.
Local community leaders are fighting back, determined to undo the damage to their beloved natural landscapes and stop the vicious cycle of coastal land loss.
"It's something we should care about, and care about deeply," said Judge Jeff Branick, a county executive for Jefferson County and a Port Arthur native who fondly remembers a childhood spent fishing, crabbing and duck hunting with his grandfather. "Living in an area like this, it's easy to fall in love with it. It's a gorgeous place with abundant natural resources."
In addition to his administrative and judicial duties, Branick also serves as emergency management director for his county, calling for evacuations during natural disasters and playing a leading role in protecting petrochemical facilities from the worst effects of hurricanes. In 2017, the area saw unprecedented flooding from Hurricane Harvey.
"Protecting our natural resources, specifically the Salt Bayou marsh system and the Chenier Plain, is part and parcel to protecting industry from storm surge," he explained.
Branick and other leaders in Texas have partnered with NFWF on an ambitious project to restore and replenish 17 miles of beaches and dunes fronting the McFaddin National Wildlife Refuge, one of the last remaining strongholds of the Salt Bayou marsh system and home to a rich array of waterfowl, wading birds and marine fish. In 2018, NFWF awarded $26.5 million to the effort through its Gulf Environmental Benefit Fund, which was created to benefit the natural resources of the Gulf Coast that were impacted by the 2010 Deepwater Horizon explosion and oil spill.
An earlier pilot program already has improved habitats for wildlife along 3 additional miles of refuge coastline. Crews there built a clay berm as a backstop to support a new dune system, then rebuilt a massive beach with sand dredged from an ancient, submerged riverbed a mile and a half offshore. 
"We hadn't had any least terns nesting there since 2005, when Hurricane Rita removed all the sand from the beach," Branick said. "Within three weeks of this pilot project being completed, we had more than 600 nests on the beach. It's a fantastic project. We're reclaiming our coast from 100 years ago."
Contact: Matt Winter 202-857-0166