Image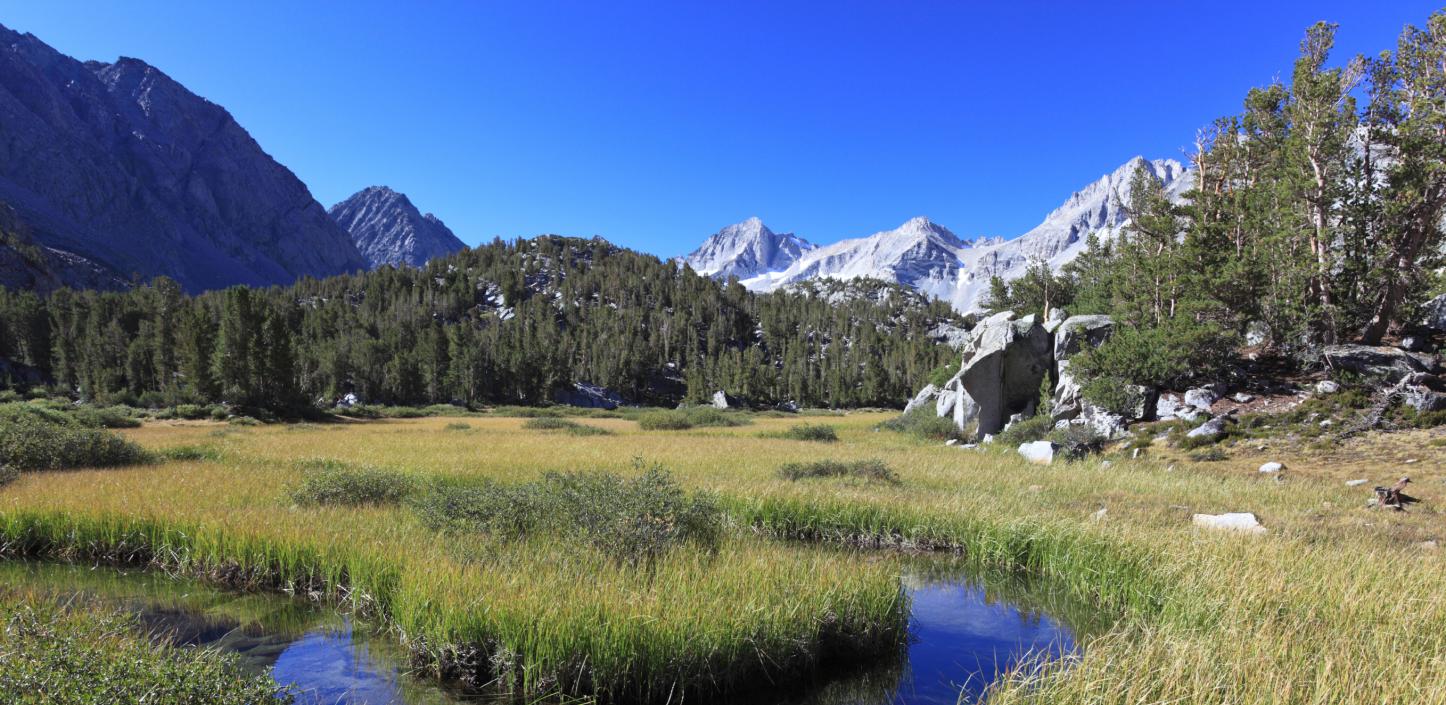 Leading the Effort to Restore Wet Meadows
In 2015, intense drought conditions and contentious water-related issues dominated the news in California and many other western states.
But state leaders and federal forestry officials found new cause for optimism high in the Sierra Nevada. There, in the Eldorado National Forest's Indian Valley, NFWF's early investments in the restoration of alpine meadows were paying dividends.
Degraded by a long history of legacy mining, road building and overgrazing, this "wet meadow" had essentially turned dry. Water from rain and snowmelt no longer meandered through the valley but instead ran quickly downhill, causing erosion and worsening water quality for people and wildlife downstream. Such deterioration can be found at the majority of the 10,000 meadows in the Sierra Nevada.
"Meadows are an important part of California's water infrastructure," said Luke Hunt, director of headwaters conservation for American Rivers and the project lead for the heralded Indian Valley meadow restoration project. "Meadows save water, they provide incredible habitat for wildlife, and they do both at the same time."
Using a restoration technique designed to reroute streamflow, Hunt's group worked with the U.S. Forest Service, corporate partners and a host of volunteers to create a series of small wetlands throughout Indian Valley. The project, which began in 2012 and underwent major construction in 2013, restored the meadow's natural functions, allowing water to seep into the ground.
With 2015 funding from NFWF, Hunt's group continued to replant willows along the slowed-down stream while scientists monitored and documented the results of the restoration project. What they have found so far captured the attention of state and federal officials.
"The meadow really is working like a sponge, storing water for use late in the summer," Hunt said. "It's wet in the worst drought that any of us could imagine."
Before the project, the stream would go dry by midsummer. Now it flows year-round. As a result, improved habitats now provide forage and cover for wildlife ranging from mule deer and yellow warblers to imperiled species such as the Yosemite toad and willow flycatcher.
In 2015, California incorporated wet meadow restoration into its State Water Plan.
"NFWF helped prove that meadow restoration works," Hunt said. "They addressed the bottlenecks — prioritization, design and permitting — and set the stage for state investment in shovel-ready meadow restoration. Now meadow restoration is happening across the Sierra."
Contributing partner: U.S. Department of Agriculture's U.S. Forest Service, U.S. Department of the Interior's U.S. Fish and Wildlife Service