Image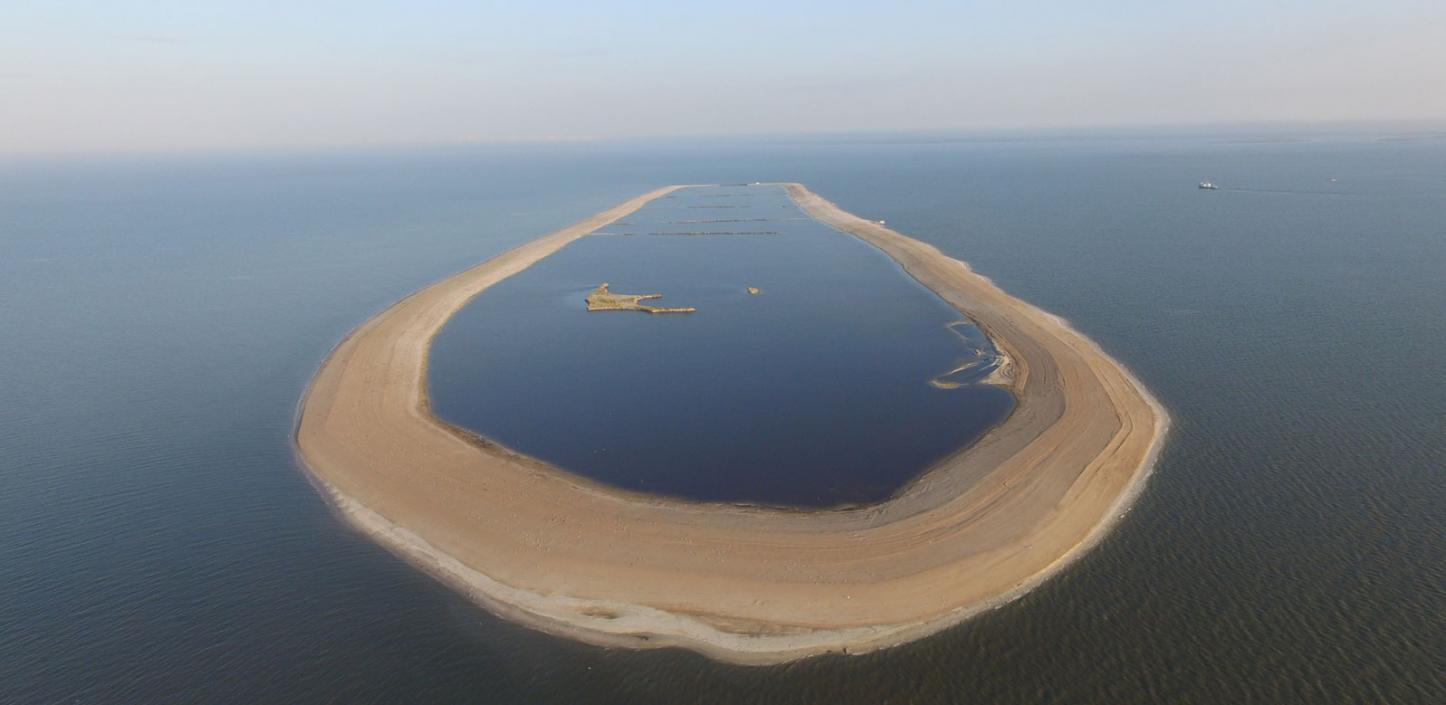 Thinking Big to Restore the Gulf of Mexico
New land rises from the sea in just a few places around the world, hot spots of regeneration such as Hawaii, Iceland, Japan … and Pascagoula, Mississippi.
There, just a few miles off the thin ribbon of beach, an eroding speck of a barrier island is regrowing out of the Gulf of Mexico, thanks to an $11 million berm project and 3 million cubic yards of sand.
In 2016, the state of Mississippi marked the completion of the berm and the beginning of an effort by U.S. Army Corps of Engineers to beneficially use sand dredged from the Pascagoula Channel to create 200 acres of marsh, beach and dune habitat at the Round Island Coastal Preserve.
The mammoth project is part of an even larger effort, supported by NFWF's Gulf Environmental Benefit Fund (GEBF), to use dredge material to restore coastal marsh habitat in three bay systems along the Mississippi Coast: St. Louis Bay, Back Bay of Biloxi, and the Pascagoula/Escatawpa systems.
"These salt marshes serve as an ideal habitat for many species, including game fish, migratory birds and shorebirds," said Gary Rikard, executive director of the Mississippi Department of Environmental Quality. "They also provide vital ecological services by producing biomass that strengthens the food chain, purifying air and water, and mitigating the effects of future storms on Mississippi's mainland."
NFWF established the GEBF after the 2010 Deepwater Horizon oil spill caused catastrophic damage to the ecosystems and coastal communities of the Gulf of Mexico. Throughout 2016, the GEBF continued to support and guide landscape-scale recovery and restoration projects across the five states directly affected by the spill: Alabama, Florida, Louisiana, Mississippi and Texas.
The fund awarded $100.6 million in fiscal year 2016, bringing the GEBF's total cumulative investment since its creation in 2013 to nearly $500 million.
Projects underway in 2016 already are benefiting an array of wildlife and habitats directly impacted by the spill. Beach and dune restoration projects provide critical nesting, wintering and migratory stopover habitat for many species of shorebirds and coastal seabirds. The elimination of light pollution improves nesting success rates for sea turtles. New scientific research improves management of red snapper and other culturally and economically important fish. And once-in-a-lifetime opportunities for land conservation preserve enormous swaths of the coast for future generations of wildlife and people.
Contact: Matt Winter 202-857-0166