Image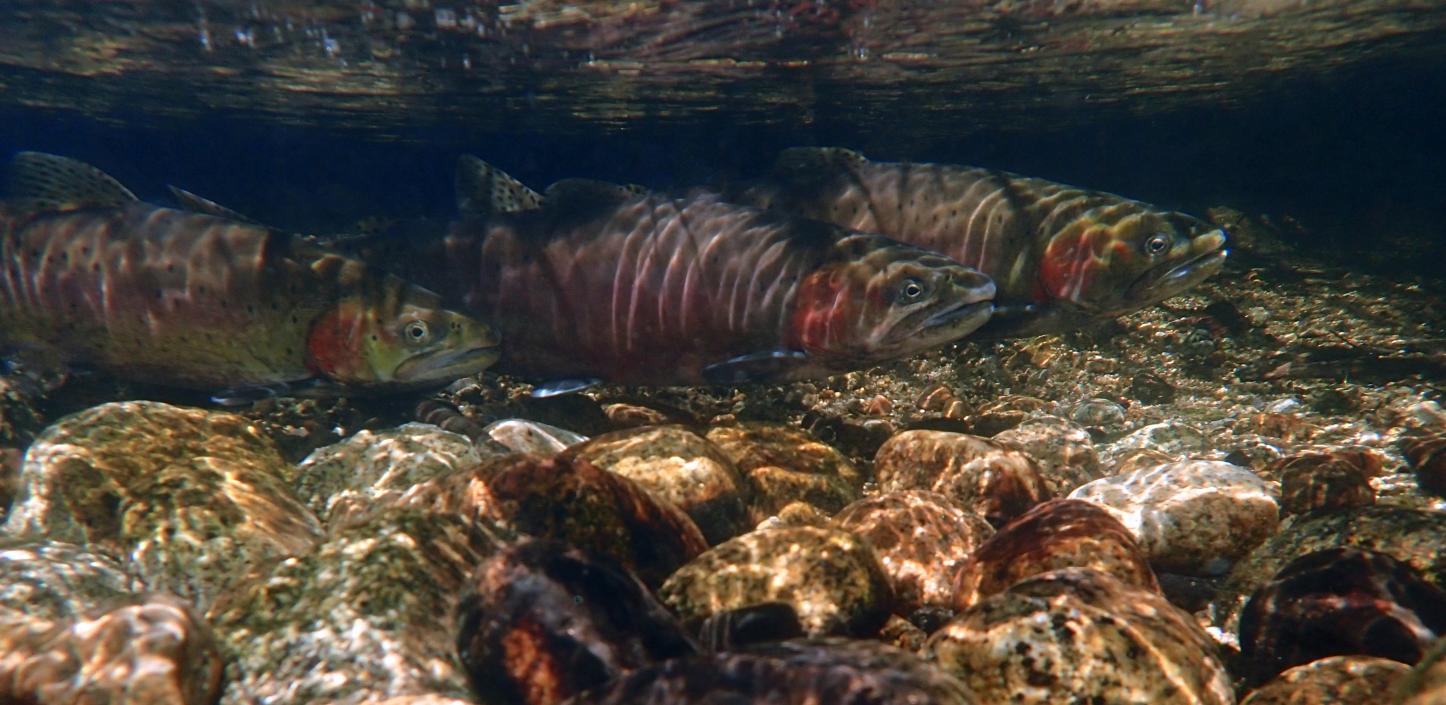 National Fish and Wildlife Foundation Awards $580,000 to Trout Unlimited to Help Conserve Lahontan Cutthroat Trout
---
Grant will support a basin-wide strategy t​o recover threatened native trout populations in California, Nevada and Oregon
​SAN FRANCISCO (November 13, 2019) –The National Fish and Wildlife Foundation (NFWF) today awarded a $582,733 grant to Trout Unlimited to recover Lahontan cutthroat trout in eastern California, northern Nevada and southern Oregon. The grant will generate $582,733 in matching contributions for a total conservation impact of more than $1.16 million.
The grant was awarded to Trout Unlimited through the Lahontan Cutthroat Trout​ (LCT) program, a partnership between NFWF and the Bureau of Reclamation, the U.S. Forest Service, the U.S. Fish and Wildlife Service, and the Bureau of Land Management. The LCT program launched in 2010 and seeks to create large interconnected strongholds of Lahontan cutthroat trout that are resilient to drought, fire, and stream warming, while protecting populations from non-native trout that compete or hybridize with them. This year marks the final round of solicitation for the LCT program.
"For the better part of a decade, our Lahontan Cutthroat Trout program partners working in the Great Basin have reported gains as they have methodically secured population after population of trout," said Femke Freiberg, manager of California water programs for NFWF. "The partnership has laid the groundwork for long-term sustainability of Lahontan cutthroat trout recovery by developing management strategies supported by science and adaptable to shifting environmental conditions."
Trout Unlimited will utilize their grant to reduce the threat of non-native and hybridized fish in occupied and historic Lahontan cutthroat trout habitats, conduct genetic and population monitoring to evaluate the species' overall health, and support key capacity needs of partners working throughout the Lahontan cutthroat trout range. Results of this work will inform future recovery strategies.
Lahontan cutthroat trout are the only native trout in the Great Basin. Following decades of decline, the species was listed under the Endangered Species Act in 1973. Since the LCT program began, nine populations of Lahontan cutthroat trout have been secured through a combination of reintroduction and barrier placement protecting from non-native trout invading recovery streams. Nearly 300 miles of stream have restored habitat and program partners have established well over 100 monitoring sites to ensure progress. 
About the National Fish and Wildlife Foundation
Chartered by Congress in 1984, the National Fish and Wildlife Foundation (NFWF) protects and restores the nation's fish, wildlife, plants and habitats. Working with federal, corporate and individual partners, NFWF has funded more than 4,500 organizations and generated a conservation impact of more than $5.3 billion. Learn more at www.nfwf.org​.
###