Image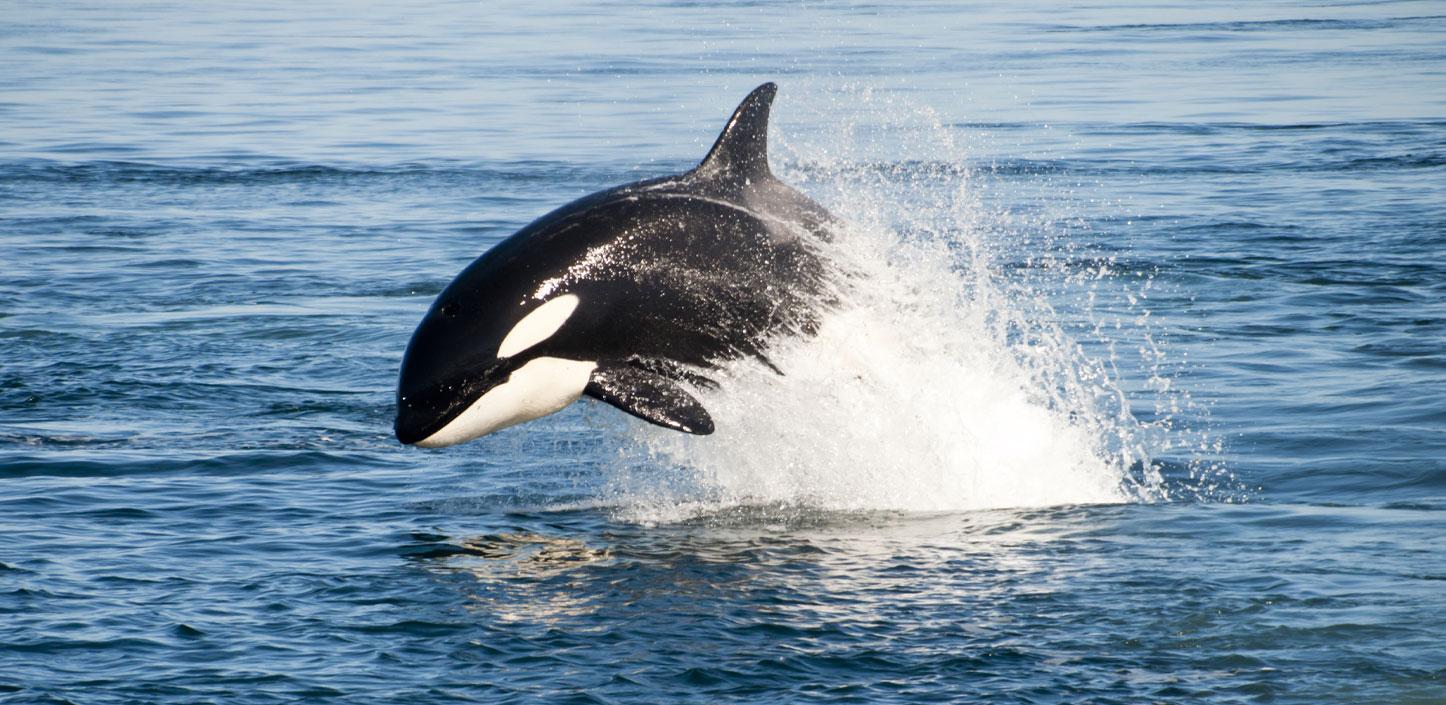 NFWF Announces $1.1 Million in Grants from the Killer Whale Research and Conservation Program
---
To date, the KWRCP has awarded 55 grants totaling $6.5 million for a total conservation investment of more than $17.6 million
Washington, D.C. - (April 3, 2023) –The National Fish and Wildlife Foundation (NFWF), together with program partners SeaWorld, BNSF Railway, the U.S. Navy, the U.S. Fish and Wildlife Service and NOAA today announced $1,129,000 in grants to increase the availability of priority prey (Chinook salmon), reduce sound and vessel disturbance in killer whale habitat, and to monitor the health of Southern Resident killer whales in the coastal waters of Washington. The grants will generate $1,327,000 in matching contributions for a total conservation impact of more than $2.4 million. 
The grants were awarded through the Killer Whale Research and Conservation Program (KWRCP). This competitive grant program supports efforts to advance the knowledge and conservation of killer whales with a primary focus on activities that aid in the recovery of the Southern Resident killer whale Distinct Population Segment. 
Since its inception eight years ago, the KWRCP has awarded 55 grants totaling $6.5 million, drawing an additional $11.1 million in grantee match for a total conservation investment of more than $17.6 million. As a result of these investments, more than 8.5 million people have been reached, and volunteers have contributed more than 8,000 hours of work in support of the grants.
"We are very fortunate to have such a diverse group of funding partners that bring a variety of expertise and interests to the conservation and recovery of this iconic population," said Jeff Trandahl, executive director and CEO of NFWF. "This collaborative effort provides new opportunities for our grantees to address complex challenges throughout the killer whale's food web."
In addition to ongoing monitoring efforts, the projects supported by the seven grants announced today also address two prioritized threat categories: reduced access to Chinook salmon, the preferred prey of Southern Resident killer whales, and reducing human-caused sounds that impact both their ability to hunt and their social behaviors. 
"Now in its eighth year, this program that we worked with NFWF to establish is vitally important to the conservation of endangered killer whale populations and we are honored to work alongside our esteemed partners in this important mission. Southern Resident killer whales are a majestic ecotype culturally significant to the region and critically important to our ocean's ecosystem. These grants are intended to address the many factors necessary to help this struggling population rebound and hopefully one day return to a state of healthy abundance off our Northwestern coastline," said Dr. Chris Dold, Chief Zoological Officer of SeaWorld. 
The 73 remaining Southern Resident killer whales depend on the availability of various fish species as a primary food source, but particularly prefer Chinook salmon – the largest of the species. Three of the announced grants support projects working to enhance habitat, increase abundance, and bolster early life-stage survival of these migrating kings of the salmon community. The other four grants focus on monitoring whale body condition and compliance with regulations in place to increase the whale's ability to hunt while in the Salish Sea and education to local students and boaters on why these efforts are important. 
"The Navy values community partnerships that allow us to meet our national defense mission while being good stewards of the environment," said Commander, Navy Region Northwest Rear Adm. Mark Sucato. "We are proud to partner with NFWF as we work toward our shared goals to aid in the conservation and recovery of endangered Southern Resident killer whales."
The KWRCP supports efforts to increase partnerships and tools for killer whale conservation and management. Many of the projects awarded in 2023 are being implemented in direct partnership with the managing agencies that are working to recover the population and are coordinated across state, federal and tribal efforts.  
A complete list of the 2023 grants made through the Killer Whale Research and Conservation Program is available here.    
About the National Fish and Wildlife Foundation
Chartered by Congress in 1984, the National Fish and Wildlife Foundation (NFWF) protects and restores the nation's fish, wildlife, plants and habitats. Working with federal, corporate and individual partners, NFWF has funded more than 6,000 organizations and generated a conservation impact of $8.1 billion. Learn more at www.nfwf.org.
About SeaWorld
SeaWorld Parks and Entertainment is a leading theme park and entertainment company providing experiences that matter, and inspiring guests to protect animals and the wild wonders of our world. The Company is one of the world's foremost zoological organizations and a global leader in animal welfare, training, husbandry, and veterinary care. The Company collectively cares for what it believes is one of the largest zoological collections in the world and has helped lead advances in the care of animals. The Company also rescues and rehabilitates marine and terrestrial animals that are ill, injured, orphaned, or abandoned, with the goal of returning them to the wild. The SeaWorld® rescue team has helped more than 40,000 animals in need over the Company's history.  SeaWorld Entertainment, Inc. owns or licenses a portfolio of recognized brands including SeaWorld®, Busch Gardens®, Aquatica®, Sesame Place® and Sea Rescue®. Over its more than 60-year history, the Company has built a diversified portfolio of 12 destination and regional theme parks that are grouped in key markets across the United States, many of which showcase its one-of-a-kind zoological collection. The Company's theme parks feature a diverse array of rides, shows and other attractions with broad demographic appeal which deliver memorable experiences and a strong value proposition for its guests.
###
Contact:
Rob Blumenthal, 202-857-0166, rob.blumenthal@nfwf.org