Image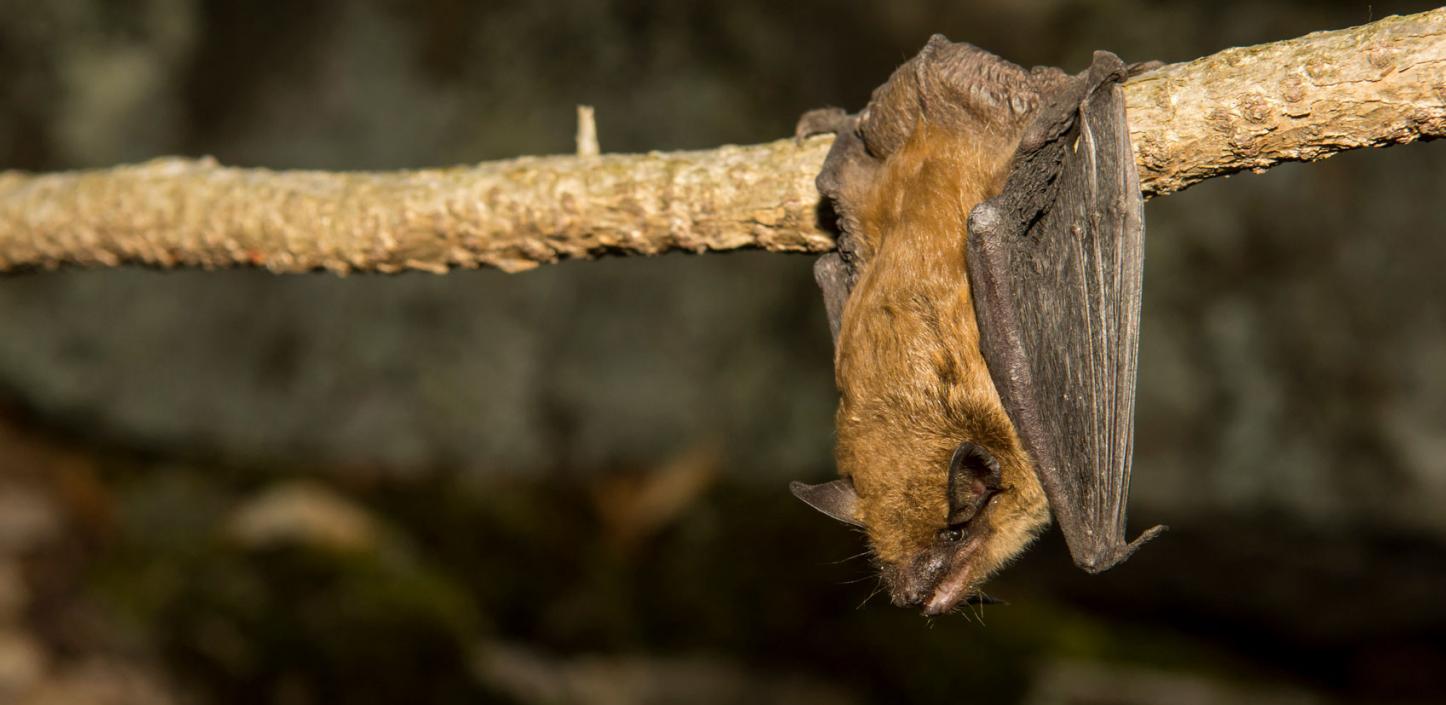 NFWF Announces $478,000 in Grants from Bats for the Future Fund
---
 Three grants will test new methods to reduce the impacts of white-nose syndrome
WASHINGTON, D.C. (OCTOBER 25, 2022) – The National Fish and Wildlife Foundation (NFWF) today announced $478,000 in grants to slow or halt the impacts of white-nose syndrome disease (WNS) and promote the survival and recovery of WNS-affected bat populations and species. The grants will leverage nearly $126,000 in matching contributions to generate a total conservation impact of $604,000.
The grants were awarded through the Bats for the Future Fund (BFF), a partnership among NFWF and the U.S. Fish and Wildlife Service, the Bureau of Land Management, Avangrid Foundation and Southern Company.
The BFF has three program objectives: 
Advance field treatments and management tools that provide the greatest potential to improve bat survival by preventing exposure to Pseudogymnoascus destructans (Pd), the fungal pathogen that causes WNS, and/or enhancing bats' ability to withstand the disease.
Implement field treatments, management tools, and habitat conservation strategies that help WNS-affected bat populations recover from the impacts of WNS.
Support innovative and collaborative research leading directly to development and deployment of treatments and management tools or strategies for WNS that will perpetuate viable populations of bats.
"White-nose syndrome is a challenge that requires novel and innovative strategies to improve survival and recovery of North American bat species," said Jeff Trandahl, executive director and CEO of NFWF. "With the support of our federal and corporate partners, the grants we announce today will advance new findings to combat this devastating disease."
"The Bats for the Future Fund is another important example of the value of partnerships to address modern conservation challenges like those posed by emerging wildlife disease," said Dr. Jeremy Coleman, national white-nose syndrome coordinator for the U.S. Fish and Wildlife Service. "These new grants continue in the tradition of the BFF by supporting innovative research to advance development of the tools we need to conserve our native bats."
This year's BFF recipients include:
Southern Illinois University Carbondale will investigate the process used to invade host tissue by the fungus causing WNS to develop preventative interventions for bats.
Michigan Technological University will test the effects of utilizing two methods to create cooler temperatures in bat hibernacula (mines) to slow the growth of the fungus and improve the over-winter survival of bats.
Bat Conservation International will develop a novel tool using RNA interference (RNAi) to target and disable key cellular functions in the fungus that causes WNS in bats.
The projects supported by the three grants announced today will test novel chemical treatments and genetic modifications to interfere with key cellular functions in the fungus that causes WNS and determine whether cooling hibernacula can slow the growth of the causal fungus.
"We need creative solutions to fight white-nose syndrome. Bats for the Future grants make creative research possible that takes action to improve bat habitat," said Jesalyn McCurry, environmental stewardship manager at Southern Company. "Southern Company is proud to fund this innovative conservation fund throughout North America." 
"We know that combatting white-nose syndrome in bats is critical to protecting biodiversity and the ecosystems at the heart of the sustainable communities where we live and work," said AVANGRID Vice President of Sustainability, Laney Brown. "Over the past five years as a partner to the BFF fund, we have collectively deepened our understanding of importance of this funding for research and programs, particularly as we experience a rapidly changing climate."
Since its inception in 2017, the Bats for the Future Fund has awarded more than $4.4 million in grants to support research and implement management strategies that slow the spread of WNS  and improve survival of bats across the U.S. and Canada. Grants are supporting collaborations among federal and state agencies, universities, non-governmental organizations and for-profit corporations, who have joined forces to prevent potential bat extinctions caused by this spreading wildlife disease.
More information about the 2022 grants made through the Bats for the Future Fund is available here: www.nfwf.org/bats   
About the National Fish and Wildlife Foundation
Chartered by Congress in 1984, the National Fish and Wildlife Foundation (NFWF) protects and restores the nation's fish, wildlife, plants and habitats. Working with federal, corporate, foundation and individual partners, NFWF has funded more than 6,000 organizations and generated a total conservation impact of $7.4 billion. Learn more at www.nfwf.org.
About the U.S. Fish and Wildlife Service
The U.S. Fish and Wildlife Service works with others to conserve, protect, and enhance fish, wildlife, plants, and their habitats for the continuing benefit of the American people. For more information about our work and the people who make it happen, visit www.fws.gov. The public can also connect with our Facebook page, follow our tweets, watch our YouTube channel and download photos from our Flickr page.
About the U.S. Bureau of Land Management
The Bureau of Land Management's mission is to sustain the health, diversity, and productivity of public lands for the use and enjoyment of present and future generations. BLM management occurs under FLPMA (Federal land Policy and Management Act) which directs in part the sustainable use and protection of ecological and environmental values for future generations.
About Avangrid Foundation
The Avangrid Foundation is an independent, nonprofit organization that funds philanthropic investments that primarily impact communities where AVANGRID, Inc. and its subsidiaries operate. Since 2001, the Avangrid Foundation and its predecessors have invested more than $32 million in partnerships that focus on building sustainable, vital and healthy communities; preserving cultural and artistic heritage; advancing education; and improving people's lives. The Avangrid Foundation is committed to advancing the United Nations Sustainable Development Goals in the United States. For more information, please visit www.avangridfoundation.org.  
 
About AVANGRID
AVANGRID, Inc. (NYSE: AGR) aspires to be the leading sustainable energy company in the United States. Headquartered in Orange, CT with approximately $40 billion in assets and operations in 24 U.S. states, AVANGRID has two primary lines of business: Avangrid Networks and Avangrid Renewables. Avangrid Networks owns and operates eight electric and natural gas utilities, serving more than 3.3 million customers in New York and New England. Avangrid Renewables owns and operates a portfolio of renewable energy generation facilities across the United States. AVANGRID employs more than 7,000 people and has been recognized by JUST Capital in 2021 and 2022 as one of the JUST 100 companies – a ranking of America's best corporate citizens. In 2022, AVANGRID ranked second within the utility sector for its commitment to the environment and the communities it serves. The company supports the U.N.'s Sustainable Development Goals and was named among the World's Most Ethical Companies in 2022 for the fourth consecutive year by the Ethisphere Institute. AVANGRID is a member of the group of companies controlled by Iberdrola, S.A. For more information, visit www.avangrid.com.                  
About Southern Company 
Southern Company (NYSE:SO) is a leading energy company serving 9 million customers through its subsidiaries. The company provides clean, safe, reliable and affordable energy through electric operating companies in three states, natural gas distribution companies in four states, a competitive generation company serving wholesale customers across America, a leading distributed energy infrastructure company, a fiber optics network and telecommunications services. Southern Company brands are known for excellent customer service, high reliability and affordable prices below the national average. For more than a century, we have been building the future of energy and developing the full portfolio of energy resources, including carbon-free nuclear, advanced carbon capture technologies, natural gas, renewables, energy efficiency and storage technology. Through an industry-leading commitment to innovation and a low-carbon future, Southern Company and its subsidiaries develop the customized energy solutions our customers and communities require to drive growth and prosperity. Our uncompromising values ensure we put the needs of those we serve at the center of everything we do and govern our business to the benefit of our world. Our corporate culture and hiring practices have been recognized nationally by the U.S. Department of Defense, G.I. Jobs magazine, DiversityInc, Black Enterprise, Forbes and the Women's Choice Award. To learn more, visit www.southerncompany.com.
###
Contact:
Rob Blumenthal, 202-857-0166, rob.blumenthal@nfwf.org