Image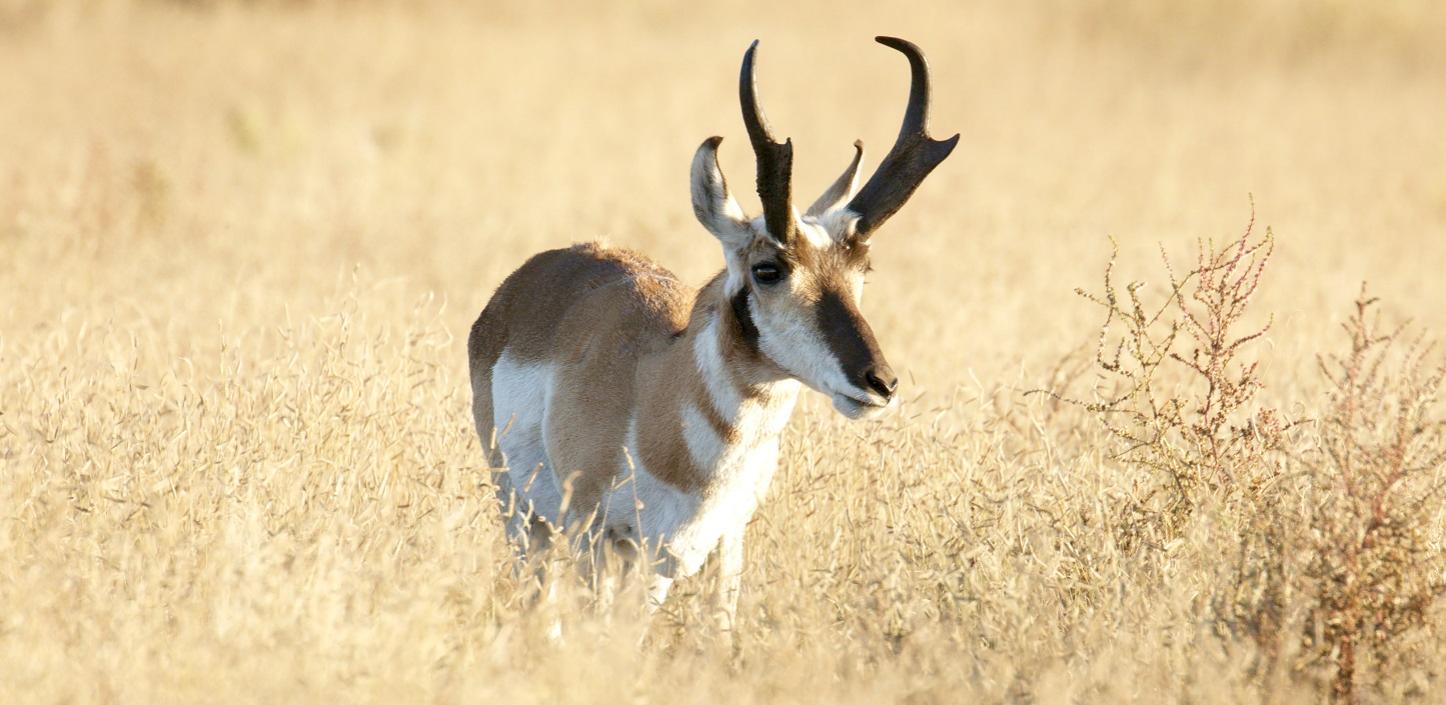 Rivers and Grasslands in Pecos River Watershed to Benefit from $1.5 Million in Conservation Grants
WASHINGTON, D.C. (May 10, 2022) – The National Fish and Wildlife Foundation (NFWF) today announced $1.5 million in grants to help restore and sustain healthy rivers, streams and grassland systems that provide important wildlife habitat in the Pecos Watershed and adjacent areas of New Mexico and Texas.
The Pecos Watershed Conservation Initiative (PWCI), established in 2017 and celebrating its fifth anniversary this year, is an innovative public-private partnership that leverages resources from corporate partners, including Apache Corporation, Chevron, ConocoPhillips, Occidental, Shell USA, LLC and XTO Energy, an ExxonMobil subsidiary, as well as from federal agencies, including the U.S. Fish and Wildlife Service and the U.S. Bureau of Land Management. 
The nine grants announced today will be matched by $3.8 million from the organizations receiving funding for a total conservation impact of more than $5.3 million.
"The Pecos Watershed Conservation Initiative continues to demonstrate the multiplying effects of public-private partnerships in conservation," said Jeff Trandahl, executive director and CEO of NFWF. "The ongoing commitment of our industry, federal and state partners in the Trans-Pecos region will promote healthier grasslands, springs and rivers, and directly benefit the fish and wildlife that depend on these habitats."
The projects supported by the nine grants announced today will address key conservation opportunities, including grassland and riparian habitat restoration in the region that will directly benefit species of conservation concern. Projects that have a grassland focus seek to improve the quality and connectivity of native Chihuahuan Desert grasslands by improving habitat for pronghorn and migratory grassland bird species. 
In a joint statement, the six corporate members supporting this grant slate said: "Over the past five years, we've seen the capacity and ingenuity of the PWCI's grantees grow and contribute significantly to conservation efforts in the region. From developing native seed banks to maintaining freshwater flows for endangered species, these grantees are at the forefront of applying advanced conservation techniques to benefit fish and wildlife. We have no doubt that the projects announced today will support vital ecosystems and benefit local communities in the Permian Basin."
The program also seeks to improve the quality and connectivity of stream and riparian habitat by restoring aquatic connectivity, naturalizing stream channel configuration, controlling invasive species, and improving in-stream and riparian habitat. These projects will improve habitat for Pecos pupfish, Pecos gambusia and other native aquatic species. 
The nine projects on the 2022 award slate fund large-scale, cross-jurisdictional habitat restoration, expansion and improvement projects that will: 
Restore more than 1,300 acres of riparian habitat 
Restore 44,290 acres of Chihuahuan Desert grasslands
Improve management on more than 104,560 acres of grasslands
Improve 78 miles of pronghorn-friendly fencing
The initiative's long-term goals include:
Strengthening the health of existing habitats along the Pecos River and its tributaries
Improving the management and function of native grasslands
Addressing water quality and scarcity concerns for wildlife and agricultural uses
Identifying opportunities to re-establish species to areas of their range where they have been lost or to bolster small remnant populations
Since its inception in 2017, the PWCI has invested a total of $8 million into 43 projects. Examples of projects funded this year include:
Carlsbad Soil and Water Conservation District will remove invasive salt cedar and Russian olive trees in and around the riparian area of Blue Springs and mesquite in adjacent upland areas. The project will enhance soil, water, vegetation and wildlife habitat along the springs and wetlands.
The Texas Parks and Wildlife Foundation will restore 6,000–9,000 acres of brush-invaded dry mixed prairie in northern Hudspeth County, Texas. The project builds on previous efforts and will strategically expand the existing grassland for the greatest net gain of contiguous, usable habitat for grassland obligate species like pronghorn.
Chaves Soil and Water Conservation District will enhance grassland habitat and improve landscape connectivity for pronghorn across ranches and pastures in Chaves County, New Mexico. The project will restore nearly 5,000 acres of grassland habitat through mesquite brush control and install at least five miles of pronghorn-friendly fencing.
Eastern New Mexico University will conduct high trap intensity Rio Grande cooter (Pseudemys gorzugi) surveys along the Delaware River and compare findings to capture data on the Black River. The project will enhance knowledge of overall species occupancy, distribution and habitat preferences, which are essential to implementing sound management practices for species protection.
A complete list of the 2022 grants made through the initiative is available here, and a complete list of the 2021 grants is available here. More about the Pecos Watershed Conservation Initiative is available here.
About the National Fish and Wildlife Foundation
Chartered by Congress in 1984, the National Fish and Wildlife Foundation (NFWF) protects and restores the nation's fish, wildlife, plants and habitats. Working with federal, corporate and individual partners, NFWF has funded more than 6,000 organizations and generated a total conservation impact of $7.4 billion. Learn more at www.nfwf.org.    
About Apache Corporation
Apache Corporation is an oil and gas exploration and production company with operations in the United States, Egypt and the United Kingdom. Apache is a wholly-owned subsidiary of APA Corporation. APA posts announcements, operational updates, investor information and press releases on its website, www.apacorp.com.
About the Bureau of Land Management 
The BLM manages approximately 245 million acres of public land located primarily in 12 Western states, including Alaska. The BLM also administers 700 million acres of sub-surface mineral estate throughout the nation. The agency's mission is to sustain the health, diversity, and productivity of America's public lands for the use and enjoyment of present and future generations.
About Chevron
Chevron and its legacy companies have been a fixture in the Permian Basin since the early 1920s. In 2011, Chevron produced its 5 billionth barrel from the Permian, and today we are among the largest producers of oil and natural gas in the basin. With approximately 2 million net acres of resources, Chevron is the Permian Basin's largest net acreage holder. Chevron's drilling program is expected to grow oil and natural gas production over the next several years as technology enables greater success in finding and developing energy. Chevron is committed to responsible practices that conserve fresh water and protect land, air and species unique to the Permian region. More information about Chevron's practices can be found at https://www.chevron.com/projects/permian.
About ConocoPhillips
Headquartered in Houston, Texas, ConocoPhillips had operations and activities in 15 countries, $63 billion of total assets, and approximately 9,700 employees at Dec. 31, 2020. Production excluding Libya averaged 1,118 MBOED for 2020, and proved reserves were 4.5 BBOE as of Dec. 31, 2020. For more information, go to www.conocophillips.com.
About Occidental
Occidental is an international energy company with assets primarily in the United States, the Middle East and North Africa. We are one of the largest oil producers in the U.S., including a leading producer in the Permian and DJ basins, and offshore Gulf of Mexico. Our midstream and marketing segment provides flow assurance and maximizes the value of our oil and gas. Our chemical subsidiary OxyChem manufactures the building blocks for life-enhancing products. Our Oxy Low Carbon Ventures subsidiary is advancing leading-edge technologies and business solutions that economically grow our business while reducing emissions. We are committed to using our global leadership in carbon management to advance a lower-carbon world. Visit oxy.com for more information.
About Shell
Shell companies have operations in more than 70 countries and territories with businesses including oil and gas exploration and production; production and marketing of liquefied natural gas and gas to liquids; manufacturing, marketing and shipping of oil products and chemicals and renewable energy projects. Over the past 100 years, Shell has helped preserve and protect habitat and species through hundreds of conservation projects and initiatives. Collaborating with key organizations and environmental NGOs has enabled Shell to leverage its efforts to ensure the highest possible impact – including the protection of more than 13million acres of wetlands.
About the U.S. Fish and Wildlife Service
The mission of the U.S. Fish and Wildlife Service is working with others to conserve, protect, and enhance fish, wildlife, plants, and their habitats for the continuing benefit of the American people. We are both a leader and trusted partner in fish and wildlife conservation, known for our scientific excellence, stewardship of lands and natural resources, dedicated professionals, and commitment to public service. For more information on our work and the people who make it happen, visit http://www.fws.gov/.
About XTO Energy
A subsidiary of ExxonMobil, XTO Energy is a leading oil and natural gas producer in North America with expertise in developing tight gas, shale gas, coal-bed methane and unconventional oil resources. XTO Energy or its affiliates operate in all of the major U.S. unconventional producing regions and Western Canada. XTO Energy also provides support and technical services to ExxonMobil's operations in Argentina. 
###
 
Contact: 
Rob Blumenthal, 202-857-0166, rob.blumenthal@nfwf.org