Image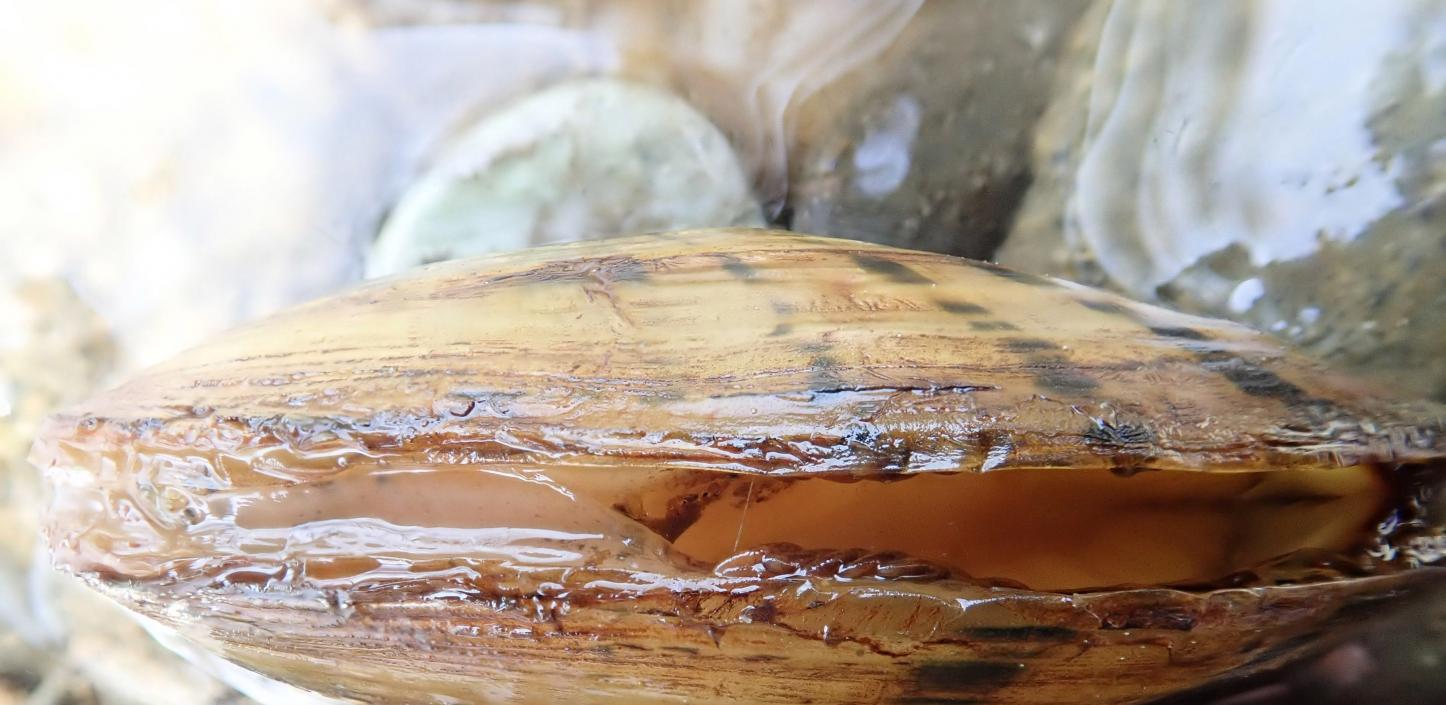 Living Rocks
---
The National Fish and Wildlife Foundation works with public and private partners to improve water quality for freshwater mussels.
View an interactive version of this story here.
NFWF launched its Southeast Aquatics Fund to support watershed-based restoration projects to improve the health of aquatic systems and secure populations of native freshwater aquatic species in the southeastern United States.
The Southeast harbors a diversity of freshwater species unparalleled anywhere else in the nation. At the same time, the number of at-risk species of fish, amphibians and freshwater mussels is greater in this region than anywhere else in the country, rising 125 percent in the past 20 years.
Major factors impacting these species include land-use changes, habitat fragmentation, declines in water quality and availability, and invasive species introductions.
The Southeast Aquatics Fund is a public-private partnership between NFWF and the USDA Forest Service and Natural Resources Conservation Service, U.S. Fish and Wildlife Service, and Southern Company.​
Struggling to survive
North America has the highest diversity of freshwater mussels in the world, with more than 300 species. Unfortunately, about 70 percent of these species are extinct or imperiled.
​Freshwater mussels are filter feeders. Some can filter up to 10 gallons of water per day, improving water quality for wildlife and people. Mussels also provide structural habitat for fish and serve as food for wildlife such as fish, muskrats, otters and raccoons.
When it comes to colorfully descriptive names few other types of wildlife can compare to freshwater mussels. Here are a few:
Purple Pimpleback
Turgid Blossom
Snuffbox
Rock Pocketbook
Purple Wartyback
Southern Pigtoe
Carolina Heelsplitter
Monkeyface
Rough Fatmucket
Woebegone Floater
Sad Elliptio
Purple Bankclimber
Freshwater mussels trick fish to disperse young
Many freshwater mussels employ relatively complex reproductive strategies that involve tricking fish into feeding and disbersing young mussels.
Some mussels deploy mantle flaps that closely resemble minnows and crayfish to lure fish in close. The mussels then eject a cloud of larvae, called glochidia, which latch onto the fish's gills.
These parasitic spawn hitch a ride while drawing nutrients from the fish. After a period of development, these young mussels drop off, leaving their fish hosts free to encounter another mussel ready to disperse its young.
For this reason, efforts to save rare mussels often dovetail with efforts to conserve populations of native fish, including various types of bass, darters and minnows.
Ani Popp, Coosa River aquatic biologist for the Georgia Department of Natural Resources, explains how freshwater mussels use mantle tissues that mimic crawfish and other potential prey items to trick darters and other fish into dispersing their young.
Southeast Aquatics 2018 grant awards
In late 2018, NFWF announced $940,000 in grants through the Southeast Aquatics Fund to conserve and restore habitats for native freshwater aquatic species in focal watersheds within Alabama, Florida and Georgia. The grants leverage $1.1 million in matching contributions to generate a total conservation impact of about $2 million.
"The Southeast is home to the greatest diversity of freshwater species in the country many of which are becoming increasingly rare," said Jeff Trandahl executive director and CEO of NFWF. "Generating measurable results for the wildlife of Southeastern streams and rivers requires collaboration between the public and private sectors both in terms of funding and also the ability to coordinate efforts across public and private lands."
Jeff Burleson, Southern Company's environmental and system planning vice president, said Southern Company remains committed to supporting initiatives that enrich the communities we serve by protecting our natural resources for current and future generations. "It's a privilege to sponsor projects recovering native aquatic species and restoring critical watersheds in the Southeast."
Projects awarded grants in 2018 include:
Fish and Mussel Population Monitoring at Holly Creek (GA): The Georgia Department of Natural Resources will build on an initial year of sampling to conduct two annual surveys of mussels and fish and collect basic water quality data within Holly Creek in northwest Georgia a hotspot for aquatic biodiversity. Project surveys will provide a baseline understanding of aquatic community composition including spatial and temporal variability to help evaluate the potential effects of management interventions. $65,000
Reversing and Preventing Declines in Native Mussel Populations in Holly Creek (GA): The Nature Conservancy will improve populations of Alabama rainbow and Coosa creekshell mussels through propagation and augmention of populations in the Holly Creek watershed. In addition a comprehensive barrier assessment of 200 road crossings for aquatic organism passage will be conducted. Project actions will help slow a regional decline of aquatic biodiversity and provide a basis for implementing future conservation actions in the watershed. $75,000
Understanding the Distribution and Range of the Trispot Darter in the Middle Coosa Watershed (AL GA): The Cawaco Resource Conservation and Development Council will collect stream water samples and conduct field visits in the Middle Coosa watershed to enhance knowledge of the distribution and range of the trispot darter a species listed as threatened under the Endangered Species Act. Project will collect information that will help focus conservation actions into smaller more manageable areas and introduce new conservation opportunities for the species. $150,000
Improving Fish Passage for Species Endemic to the Conasauga River (GA): The Nature Conservancy will remove and replace a collapsed set of pipe culverts to restore connectivity within Mill Creek a major tributary to the Conasauga River in the Chattahoochee National Forest in Georgia. The project will provide fish passage to an additional 6 miles of stream habitat for as many as 20 native endemic species including the blue shiner trispot darter southern pigtoe and Coosa creekshell and restore access for adjacent land management. $100,000
Farmer to Farmer Marketing for Water Conservation (GA FL): The Southeastern Association of Fish and Wildlife will conduct a targeted outreach and marketing campaign to increase the number of landowners adopting water conservation practices in the southern portion of the Apalachicola-Chattahoochee-Flint River basin. Project will produce materials explaining the costs and benefits behind adoption and appeal to farmers through various marketing techniques. The effort is expected to reach over 229000 people and identify 50 producers interested in adopting conservation practices. $300,000
Watershed Assessment Habitat Restoration and Landowner Engagement at Locust Fork (AL): The Nature Conservancy will create a Watershed Coordinator position focused on landowner engagement data collection and project management within the Locust Fork and Big Canoe Creek watersheds in Alabama. Project will involve the completion of a full-scale watershed assessment to prioritize sites for future restoration and project implementation within the Locust Fork watershed. This project will engage 30 landowners in cost-share programs and prioritize sites for improved management along 25 miles of stream. $250,000