Image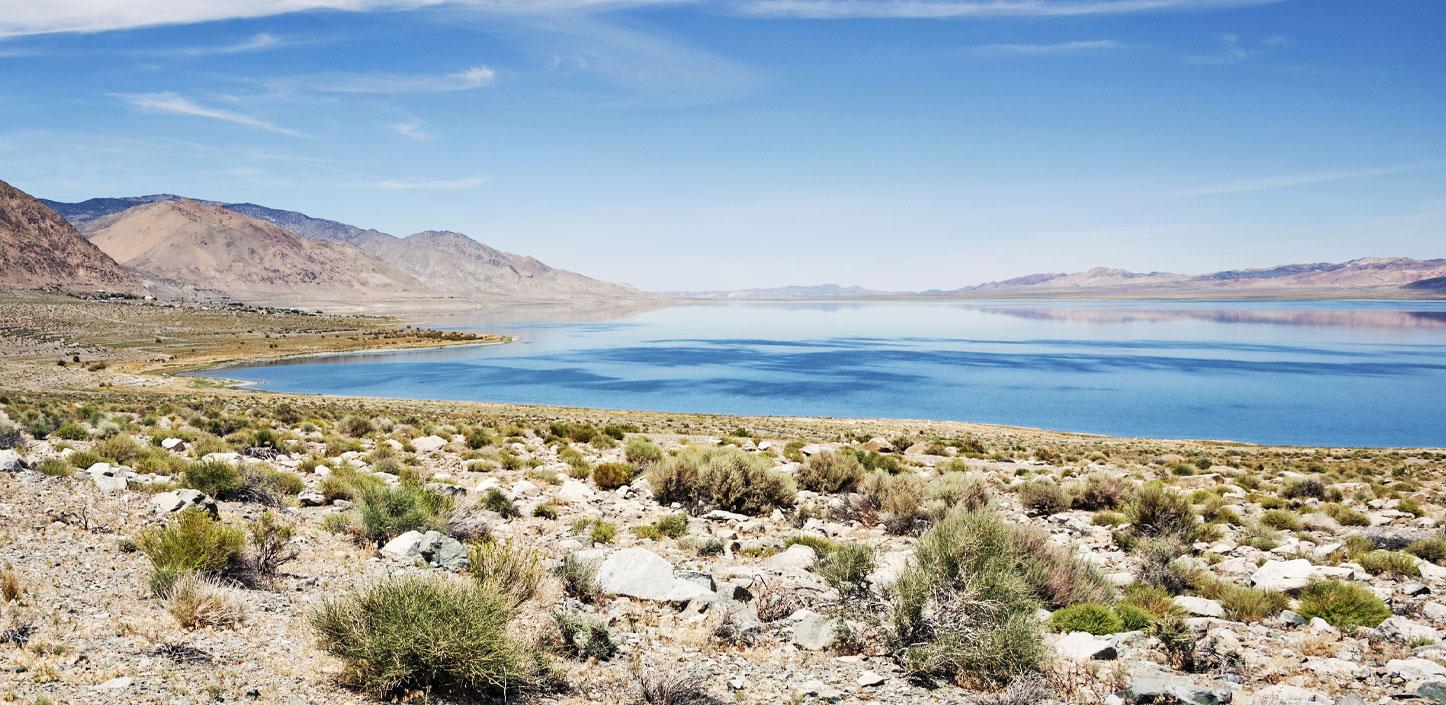 NFWF Announces $1.21 Million in Grants to Help Restore Desert Terminal Lakes
---
Six grants will restore flows and improve ecosystem health in California and Nevada lakes
WASHINGTON, D.C. (March 25, 2021) – The National Fish and Wildlife Foundation (NFWF) today announced $1.21 million in grants to restore, protect and enhance riparian and watershed resources in the greater Desert Terminal Lakes (DTL) geography in California and Nevada. The grants will generate nearly $1 million in matching contributions for a total conservation impact of $2.15 million.
The grants were awarded through the Walker Basin Restoration Program, under a DTL grant awarded to NFWF by the Bureau of Reclamation.  
"Reclamation is pleased to partner with NFWF to address desert terminal lake ecosystems," said Ernest Conant, regional director for the Bureau of Reclamation's California Great Basin Region. "Reclamation and NFWF have worked together on this program since 2010. NFWF has provided on-the-ground support for local partners within a framework of strategic initiatives to realize impactful benefits."
The six grants announced today will improve flows and ecosystem health in at-risk natural desert terminal lakes. Priority strategies under this funding partnership include land purchases from willing sellers, water leasing from willing participants and conservation of fish, wildlife, plant and habitat resources in the at-risk natural desert terminal lakes region.
"We are thrilled to work with local partners in the Walker Basin, Summit Lake, Carson River and Truckee River to address water and habitat concerns," said Jonathan Birdsong, director of NFWF's western regional office. "These projects will provide significant benefits to these unique and important freshwater ecosystems." 
Mason Valley Conservation District, one of this year's grant recipients, will continue their existing efforts to inventory, map, treat and control Nevada state-listed noxious weeds on 70 miles of the Walker River Corridor and associated floodplains. Continued weed management is critical to restoring this ecosystem. Treating the area every year is vital, as a few untreated plants in the watershed can result in numerous infestations and re-infestations downstream, which degrades the quality of wildlife habitat, alters natural fuel loads and reduces economic viability of agricultural crops.
"For the last 14 years, Mason Valley Conservation District has coordinated an extremely successful watershed-scale program addressing all State of Nevada recognized noxious weeds on both private and federally managed lands located on the East, West, and main stems of the Walker River," said District Manager Ed Ryan.  
"This extraordinary project is unlike any other, in that, our stakeholders understand we must have a comprehensive strategy for the entire riparian corridor because weeds use the river as a vector for establishment and, most critically, are not stopped by borders. The NFWF grant will enable us to continue this important work in conjunction with other federal, state and private partners in our quest to eradicate noxious weeds in the Walker River system," said Ryan.
The National Audubon Society, another grant recipient, will develop operational species-habitat profiles for shorebirds, assess baseline habitat conditions, and establish a coordinated monitoring program for habitat management to benefit priority shorebird species at Carson Lake and Pasture and Stillwater National Wildlife Refuge in the Lahontan Valley, Nevada.
"The Lahontan Wetlands in the Carson River Basin provide internationally-important habitat for hundreds of thousands of shorebirds – including American Avocet, Long-billed Dowitcher, and Wilson's Phalarope – in their annual migration," said Karyn Stockdale of the National Audubon Society. "This award speaks highly of the partnerships that have grown to conserve shorebirds and their important habitats. We're grateful for the support from the National Fish and Wildlife Foundation who share our goals of investing in the management and monitoring of these birds, as well as how to ensure healthy habitats continue in the arid West."
A terminal lake is a unique ecosystem formed at the end-point of an enclosed watershed basin. These lakes have no outlets and, therefore, are greatly affected by variations in water flows. These lakes provide habitat to myriad fish and wildlife species and function as oases in the desert environment of the Great Basin.
A complete list of the 2021 grants made through the Desert Terminal Lakes Restoration Fund is available here.    
About the National Fish and Wildlife Foundation
Chartered by Congress in 1984, the National Fish and Wildlife Foundation (NFWF) protects and restores the nation's fish, wildlife, plants and habitats. Working with federal, corporate and individual partners, NFWF has funded more than 5,000 organizations and generated a conservation impact of $6.8 billion. Learn more at www.nfwf.org.
About the Bureau of Reclamation
Reclamation is the largest wholesale water supplier and the second largest producer of hydroelectric power in the United States, with operations and facilities in the 17 Western States. Its facilities also provide substantial flood risk reduction, recreation, and fish and wildlife benefits. Visit our website at www.usbr.gov.
###
Contact: Rob Blumenthal, NFWF, 202-857-0166