Image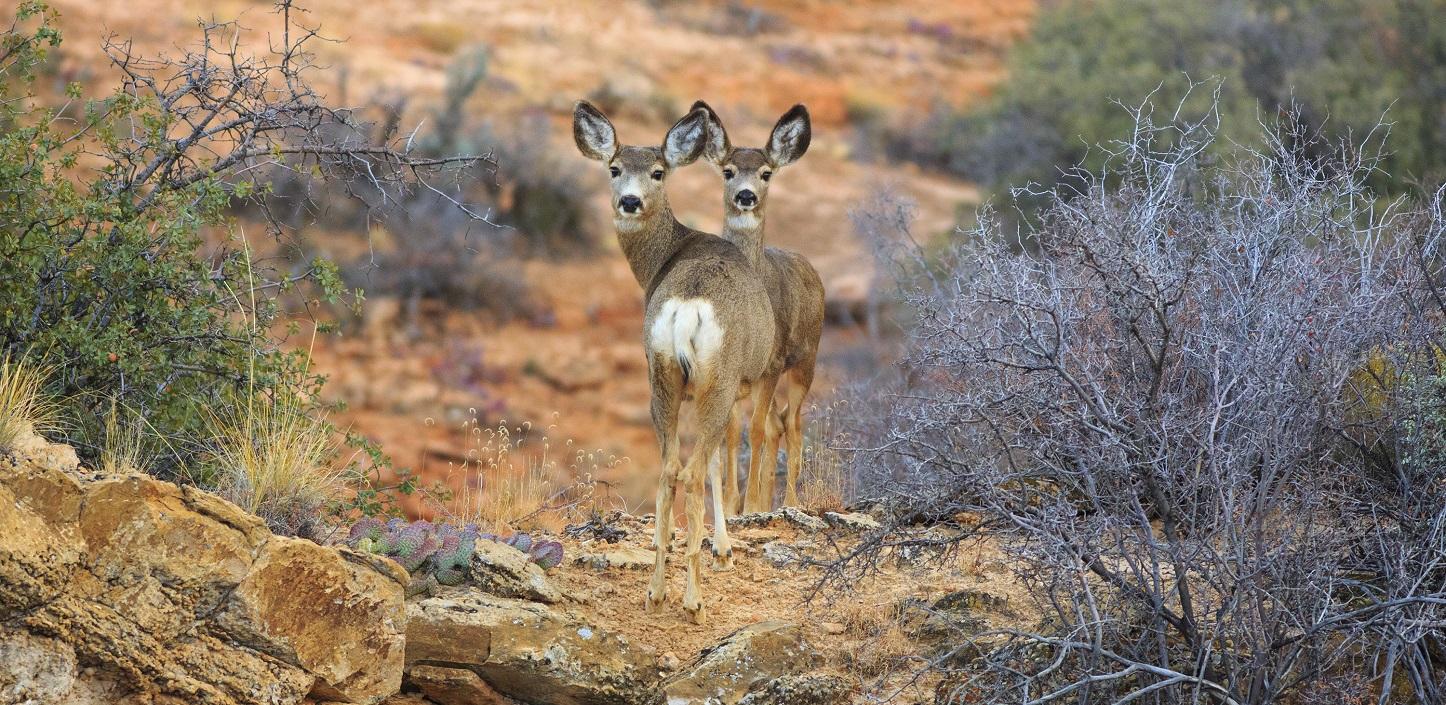 NFWF Announces $2.5 Million in Conservation Grants to Support Migration Corridors Across the West
---
Public-private partnership benefits habitat quality and connectivity for migratory wildlife in 11 western states
WASHINGTON, D.C. (April 7, 2022) – The National Fish and Wildlife Foundation (NFWF) today announced $2.5 million in grant funding for habitat projects on public, tribal and public lands in Arizona, California, Idaho, Montana, New Mexico, Oregon, Utah, Washington and Wyoming to conserve cross-jurisdictional migration corridors and seasonal habitat for elk, mule deer, pronghorn and other iconic wildlife. The grants will leverage $7 million in matching contributions to generate a total conservation impact of $9.5 million.
The grants were awarded through the Western Big Game Seasonal Habitat and Migration Corridors Fund (Western Migrations Fund), a public-private partnership between NFWF and the U.S. Department of the Interior, with funding provided by the U.S. Fish and Wildlife Service, the Bureau of Land Management, the U.S. Forest Service, the USDA's Natural Resources Conservation Service and ConocoPhillips, with additional support this year from Altria and the Bezos Earth Fund. 
"Working cooperatively with state game and fish agencies, tribal nations and organizations and private landowners allows NFWF and our partners to make significant progress on conserving critical migratory corridors," said Jeff Trandahl, executive director and CEO of NFWF. "The species benefitted through this program exemplify the resilience and beauty of the West and we are committed to ensuring the phenomenon of big game migrations will continue across this vast landscape for many generations to come."
The 13 grants announced today will enhance and improve habitats on tribally and state-identified priority winter ranges, stopover areas and migration corridors that are used by migratory species. The program seeks to work with owners who volunteer to participate in conservation efforts to restore degraded habitat, improve fencing to wildlife-friendly specifications, and conserve key bottlenecks through conservation easements. These projects support biodiversity through securing and improving connectivity and facilitating climate resilience. 
"We congratulate this year's Western Big-Game Migration Program winners focused on conserving critical winter range and migration corridors, which are essential for big game survival," said Natalie Riley, ConocoPhillips' director of community relations. "By working together towards a common goal, we can help reverse species decline trends and achieve long-lasting ecological gains."

Examples of projects that will receive grants include:
Pueblo of Sandia – New Mexico ($250,400 awarded)
The Bobcat Ranch project will increase climate-resilient habitat for big game in the Sangre de Cristo mountain range on Bobcat Ranch, a ranch owned and operated by the Pueblo of Sandia Tribe. Project will restore a 247-acre big game migration corridor for the benefit of Rocky Mountain elk and mule deer by implementing forest thinning treatments, prescribed burning, and reseeding of grassland vegetation to link three existing meadows via a migration corridor.
Idaho Fish and Wildlife Foundation – ($289,700 awarded)
This project will improve habitat connectivity for big game species in north Idaho's Panhandle Complex Priority Area where a busy two-lane highway (US-95) transects the valley, impeding wildlife movement. The project will improve big game passage success rates across US-95 from an average of 162 to at least 500 crossings per year and reduce wildlife-vehicle collisions by repairing and extending 2.8 miles of wildlife funnel fencing along wildlife crossing infrastructure.
This slate of 13 projects is expected to:
Protect 5,960 acres of private land from fragmentation through conservation easements 
Restore 6,600 acres of public, private and tribal land through efforts such as invasive weed and conifer removal treatments
Improve management on 63,500 acres of public, private and tribal working lands through efforts such as grazing and wildlife management plans
Remove or improve 300 miles of fencing to wildlife-friendly specifications, reducing direct mortality and increasing landscape connectivity
Reconnect 90 miles of migration corridors for big game species
Reduce wildlife-vehicle collisions by 75 percent at the I-80/I-84 interchange in Utah and U.S. Highway 97 in Oregon
A complete list of the 2022 grants made through the Western Big Game Seasonal Habitat and Migration Corridors Fund is available here.
About the National Fish and Wildlife Foundation
Chartered by Congress in 1984, the National Fish and Wildlife Foundation (NFWF) protects and restores the nation's fish, wildlife, plants and habitats. Working with federal, corporate and individual partners, NFWF has funded more than 6,000 organizations and generated a total conservation impact of $7.4 billion. Learn more at www.nfwf.org.
###
Contact: 
Rob Blumenthal, 202-857-0166, rob.blumenthal@nfwf.org