Image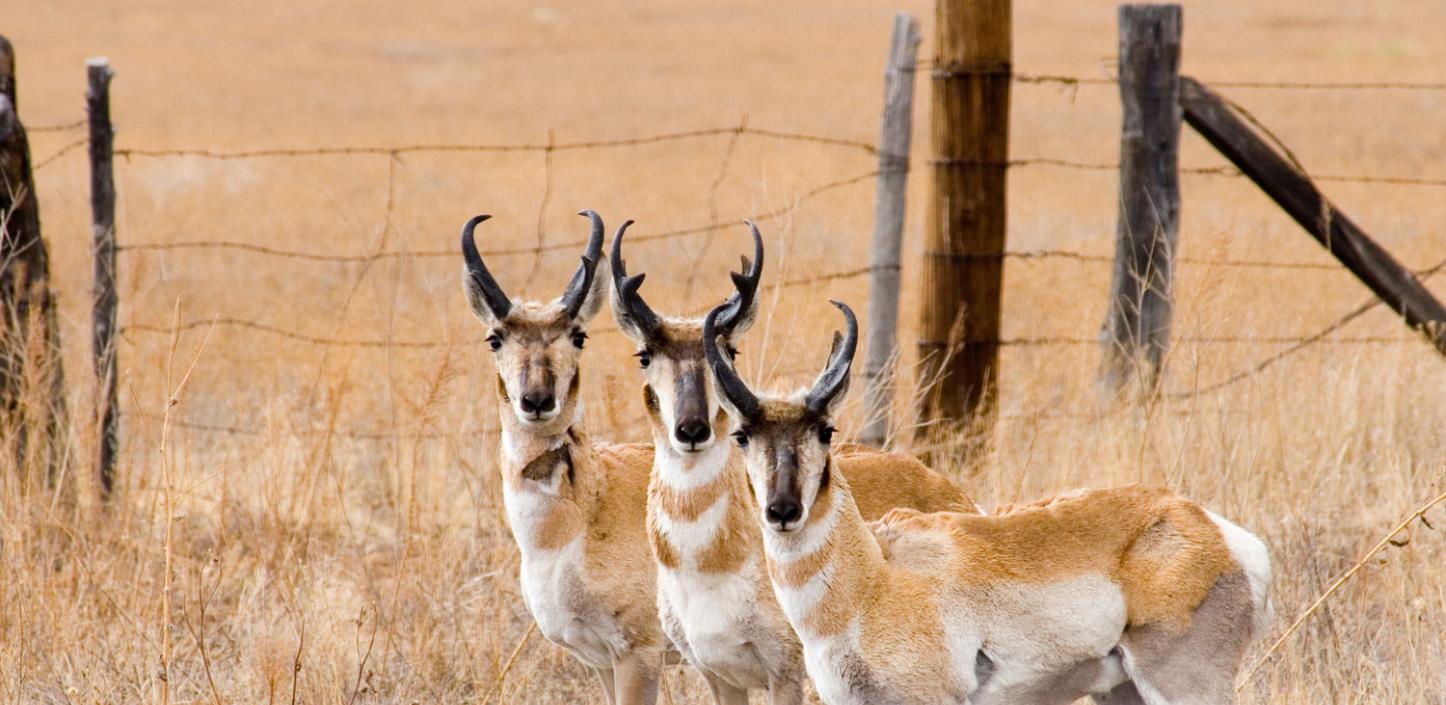 NFWF Announces $3.1 Million in Grants to Conserve Northern Great Plains Grasslands for Wildlife, Ranchers and Farmers
​DENVER (July 23, 2019) –The National Fish and Wildlife Foundation (NFWF) today awarded more than $3.1 million in grants to maintain or improve nearly 800,000 acres of interconnected, native grasslands in Montana, North Dakota, South Dakota and Wyoming, as well as in Saskatchewan, Canada. The grants will generate nearly $5.2 million in matching contributions for a total conservation impact of more than $8.3 million. 
The 16 grants will support species including pronghorn, black-footed ferret, greater sage-grouse and grassland-nesting birds through working with local and state grazing groups to incorporate wildlife-friendly management and restoration practices into ranch planning efforts, while also supporting agricultural and ranching operations through restoration, improved management and conservation easements.
The grants were awarded through the Northern Great Plains Program, a partnership between NFWF and Margaret A. Cargill Philanthropies, the Avangrid Foundation, the U.S. Department of Agriculture's Natural Resources Conservation Services (NRCS), the U.S. Fish and Wildlife Service, the U.S. Forest Service and the Bureau of Land Management.
"The Northern Great Plains represent some of the most productive and awe-inspiring wildlife habitats in the United States," said Jeff Trandahl, executive director and CEO of NFWF. "To conserve and enhance the ecological treasures found there, we need to continue to enlist partners from the public and private sectors, from federal and state agencies, and tribal authorities to energy companies, ranchers, farmers and conservation nonprofits." 
"Our grasslands are often overlooked by the general public, but play a vital role in maintaining Wyoming's agricultural economy, and sustaining open space and wildlife habitat," said Astrid Martinez, state conservationist for NRCS in Wyoming. "Partnering with NFWF is an excellent opportunity for NRCS-WY to leverage its funding with other conservation entities in eastern Wyoming to benefit both wildlife species of greatest conservation need and our partners in the ranching community. The collaborative efforts funded through these grants exemplify conservation from the ground up, allowing local communities and individuals to be involved in the development of the projects that are a win-win for wildlife and ranching."
This year's Northern Great Plains Program grant recipients include:
​Bird Conservancy of the Rockies ($250,000) will build local capacity to implement on-the-ground habitat conservation projects by supporting two Private Lands Wildlife Biologists in two focal areas of the Northern Great Plains. Project will bolster partnerships, provide community outreach and education opportunities and implement grassland habitat projects to restore 500 acres, conserve 1,000 acres and better manage 25,000 acres of private lands.
South Dakota Grassland Coalition ($250,000) will enhance prairie grouse and grassland bird habitat on working grasslands in South Dakota by educating producers about priority grassland bird species and their preferred habitat including instructing about how Holistic Management impacts this habitat and by installing improved grazing systems. Project will result in 300,000 acres under improved management and several hundred acres restored.
Ranchers Stewardship Alliance ($200,000) will use a diverse, community-led partnership to implement restoration and enhanced management in Montana's Milk River Grasslands to improve populations of grassland passerines, pronghorn and greater sage grouse. Project will result in 4,000 acres under improved management and 2,800 acres restored.
A complete list of the Northern Great Plains Program 2019 grant winners is available here.
The Northern Great Plains is facing threats including conversion to cropland, energy development, invasive species and a lack of capacity to manage the grasslands of this vast region. NFWF launched the Northern Great Plains Program in 2013 with the goal to conserve, restore and improve 1 million acres of interconnected, native grassland by 2026.
About the National Fish and Wildlife Foundation
Chartered by Congress in 1984, the National Fish and Wildlife Foundation (NFWF) protects and restores the nation's fish, wildlife, plants and habitats. Working with federal, corporate and individual partners, NFWF has funded more than 4,500 organizations and generated a conservation impact of more than $5.3 billion. Learn more at www.nfwf.org.
About the Natural Resources Conservation Service
Since 1935, the Natural Resources Conservation Service has helped America's private landowners and managers conserve their soil, water, and other natural resources. NRCS provides technical assistance based on sound science and offers financial assistance for many conservation activities.
###