Image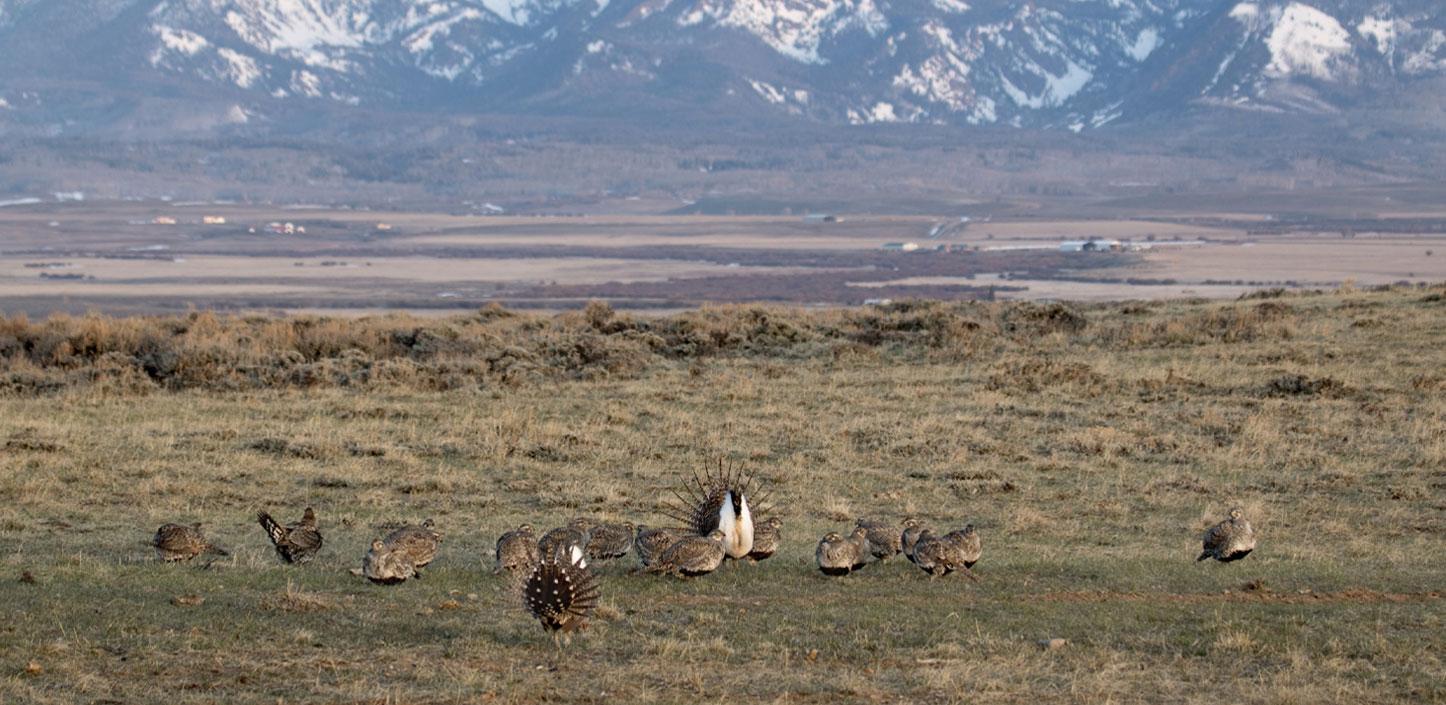 NFWF Announces More Than $1.5 Million in Grants from the Rocky Mountain Rangelands Program
---
Seven grants will improve sagebrush rangelands, big game winter range and stopover sites, and mesic and wet meadow habitat in the Intermountain West
DENVER (March 30, 2021) – The National Fish and Wildlife Foundation (NFWF) today announced more than $1.5 million in grants to restore, improve and conserve sagebrush, mesic wet meadow and big game migratory corridor habitats in Colorado, Idaho, Montana, Nevada, Oregon, Utah and Wyoming. The grants will generate $3.3 million in matching contributions for a total conservation impact of $4.8 million.
"The sagebrush-covered plains of the Mountain West have significant conservation value, and every year we learn more about the incredible wildlife found there," said Jeff Trandahl, executive director and CEO of NFWF. "We're also learning just how sensitive these ecosystems are and how important it is to provide the resources necessary to address the threats they face."
Today's grants were awarded through the Rocky Mountain Rangelands Program, a partnership between NFWF, the U.S. Fish and Wildlife Service, the U.S. Forest Service and the USDA Natural Resources Conservation Service (NRCS).
"The scope of challenges we face on the landscape are complex," said Emily Fife, state conservationist for Utah NRCS. "When we work with our partners, like this exciting new partnership with NFWF, we can create lasting solutions that are a win-win for Utah's landowners, the community, wildlife and the entire landscape." 
Working closely and on a voluntary basis with private landowners, the Rocky Mountain Rangelands Program was established in 2019 to conserve and restore habitat for wildlife adapted to harsh climates that often require large open spaces to sustain their populations.
The projects supported by the seven grants announced today address three program priorities, including: meadow wetland habitat restoration; management and/or local eradication of invasive annual grasses on sagebrush rangelands; and, technical assistance to conserve habitat through easements. Together, these seven grants will:
Protect 12,455 acres of important habitat with permanent conservation easements
Improve management on 13,000 acres by treating annual invasive plants
Restore 800 acres on private working lands and 3,000 acres on public lands
Install 600 in-stream structures to restore hydrology in 288 acres of mesic habitat
Restore 5,010 acres of sagebrush rangeland by removing woody invasive plant species
Remove or improve 10 miles of fencing
Rocky Mountain Rangelands Program 2020 grant recipients include:
Montana Trout Unlimited, to improve overwintering habitat for fluvial Arctic grayling in Red Rock Lakes National Wildlife Refuge in Montana through the construction of an underground pipeline which will transfer and oxygenate water.
The Mule Deer Foundation, to increase cross-jurisdictional coordination with state agencies and other partners to implement projects on big game migration corridors and in sage-grouse core habitats across the Rocky Mountain Rangelands.
Bird Conservancy of the Rockies, to evaluate the impacts of conifer removal and control of annual grasses conservation projects on sagebrush-obligate songbirds in the Rocky Mountain Rangelands region.
The Nature Conservancy, to restore or preserve mesic and wet meadow habitats within arid sagebrush rangelands in the High Divide of southwest Montana. 
Bear River Land Conservancy, to increase the pace and scale of conservation easements in the Bear River Basin of Idaho, Utah and Wyoming.
Idaho Fish and Wildlife Foundation, to work collaboratively across jurisdictions in southern Idaho to implement ecologically based rangeland improvement projects to reduce the threat of annual grass invasion.
Summit Land Conservancy, to increase capacity to place permanent conservation easements on working lands containing sensitive wetlands, key migratory corridors, and critical wildlife habitat in the upper Weber and Provo River watersheds in Utah.
Learn more about the Rocky Mountain Rangelands Program here, and more about the grants announced today here.
About the National Fish and Wildlife Foundation
Chartered by Congress in 1984, the National Fish and Wildlife Foundation (NFWF) protects and restores the nation's fish, wildlife, plants and habitats. Working with federal, corporate and individual partners, NFWF has funded more than 5,000 organizations and generated a conservation impact of $6.8 billion. Learn more at www.nfwf.org.
About the Natural Resources Conservation Service 
Since 1935, the Natural Resources Conservation Service has helped America's private landowners and managers conserve their soil, water, and other natural resources. NRCS provides technical assistance based on sound science and offers financial assistance for many conservation activities.
About the U.S. Fish and Wildlife Service
The mission of the U.S. Fish and Wildlife Service is working with others to conserve, protect, and enhance fish, wildlife, plants, and their habitats for the continuing benefit of the American people. We are both a leader and trusted partner in fish and wildlife conservation, known for our scientific excellence, stewardship of lands and natural resources, dedicated professionals, and commitment to public service. For more information on our work and the people who make it happen, visit http://www.fws.gov/.
About the U.S. Forest Service 
Established in 1905, the Forest Service's mission is to sustain the health, diversity, and productivity of the nation's forests and grasslands to meet the needs of present and future generations. The agency manages 193 million acres of public land, provides assistance to state and private landowners, and maintains the largest forestry research organization in the world. Public lands managed by the Forest Service provide 20 percent of the nation's clean water supply and contribute more than $10 billion to the economy each year through visitor spending alone. The agency has a direct or indirect stewardship role in caring for about 80 percent of the 850 million forested acres in the U.S. This includes 100 million acres in urban areas where most Americans live. The U.S. Forest Service is an agency of the U.S. Department of Agriculture. For more information, visit www.fs.fed.us
###
Contact: Rob Blumenthal, NFWF, 202-857-0166