Image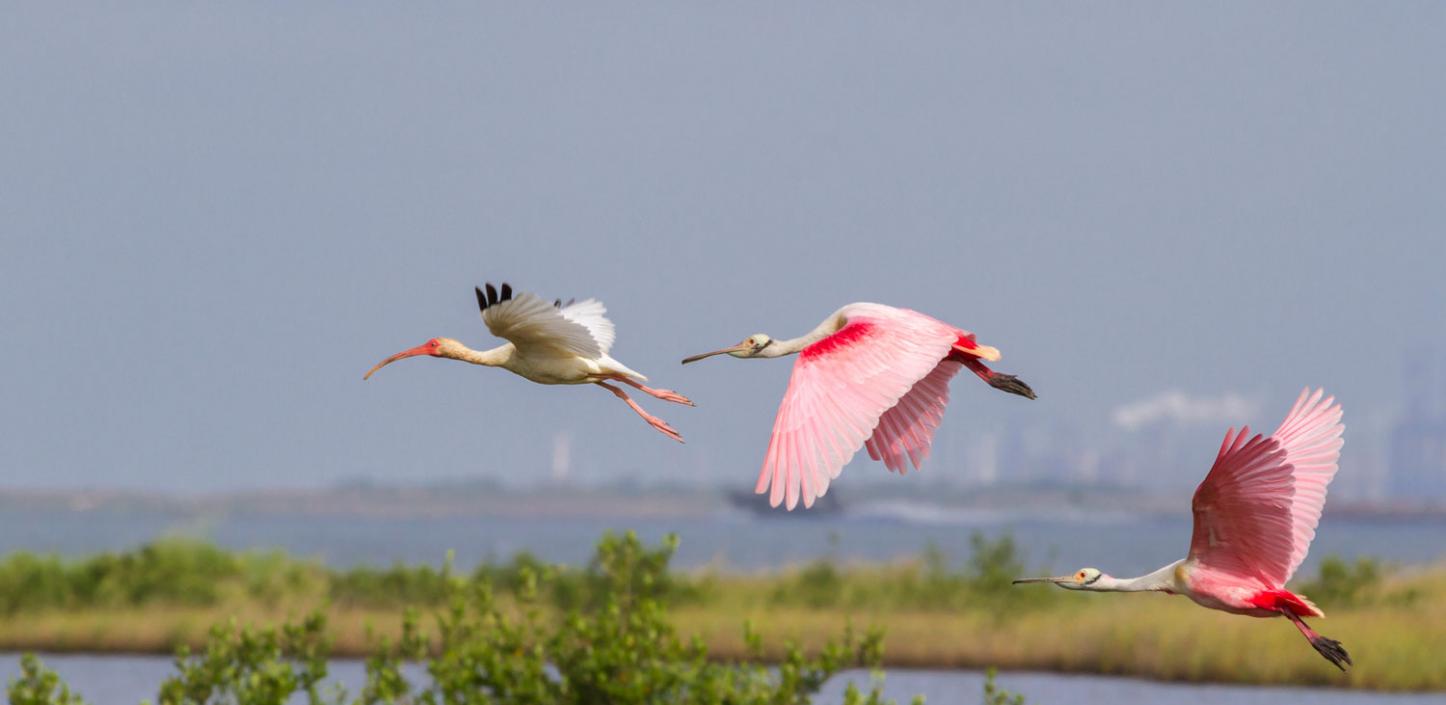 National Fish and Wildlife Foundation Awards $2.3 Million to Restore Marshes along Galveston Bay in Texas
---
Award builds on NFWF-funded projects designed to restore the Gulf of Mexico and boost resilience 
WASHINGTON D.C. (April 19 2019) – The National Fish and Wildlife Foundation (NFWF) today announced the award of $2.3 million to the Galveston Bay Foundation in Texas to protect restore and create marsh habitat in the Dollar Bay/Moses Lake complex in Galveston Bay.
The project will complete coastal habitat restoration initiated under two previously funded phases and will leverage $1 million recently awarded under NFWF's National Coastal Resilience Fund for a total investment of more than $5.7 million.
This latest phase of work will construct breakwaters to protect and restore estuarine emergent marsh along 1500 feet of shoreline and 47 newly created marsh terraces which will support emergent marsh vegetation. Construction work will restore 72 acres of intertidal marsh complex and create suitable habitat for oyster growth within the Dollar Bay/Moses Lake complex in Galveston Bay.
Construction of this phase builds on previous engineering and design work completed under the project's first two phases. Protection of this critical coastal habitat will contribute to the larger landscape scale conservation efforts in Galveston Bay which has lost more than 35000 acres of intertidal wetlands since the 1950s.
This latest award was made through the Gulf Environmental Benefit Fund (GEBF) which NFWF created in 2013 in accordance with the terms of criminal settlement agreements between DOJ and BP and Transocean. The agreements directed a total of $2.544 billion to NFWF to fund projects benefiting the natural resources of the Gulf Coast that were impacted by the spill. Of these funds $203 million are allocated for natural resource projects in Texas.
Additional information on the newly awarded project in Texas can be found here. Additional information on GEBF accomplishments in Texas can be found here.
As required under the plea agreements NFWF consulted with state resource agencies as well as with the U.S. Fish and Wildlife Service and the National Oceanic and Atmospheric Administration to identify potential project priorities and funding needs.
To learn more about the Gulf Environmental Benefit Fund visit www.nfwf.org/gulf.
About the National Fish and Wildlife Foundation
The National Fish and Wildlife Foundation (NFWF) protects and restores our nation's wildlife and habitats. Chartered by Congress in 1984 NFWF directs public conservation dollars to the most pressing environmental needs and matches those investments with private contributions. NFWF works with government nonprofit and corporate partners to find solutions for the most intractable conservation challenges. Over the last three decades NFWF has funded more than 4500 organizations and committed more than $5.3 billion to conservation projects. Learn more at www.nfwf.org.
Contact:
Rob Blumenthal, 202-857-0166