Image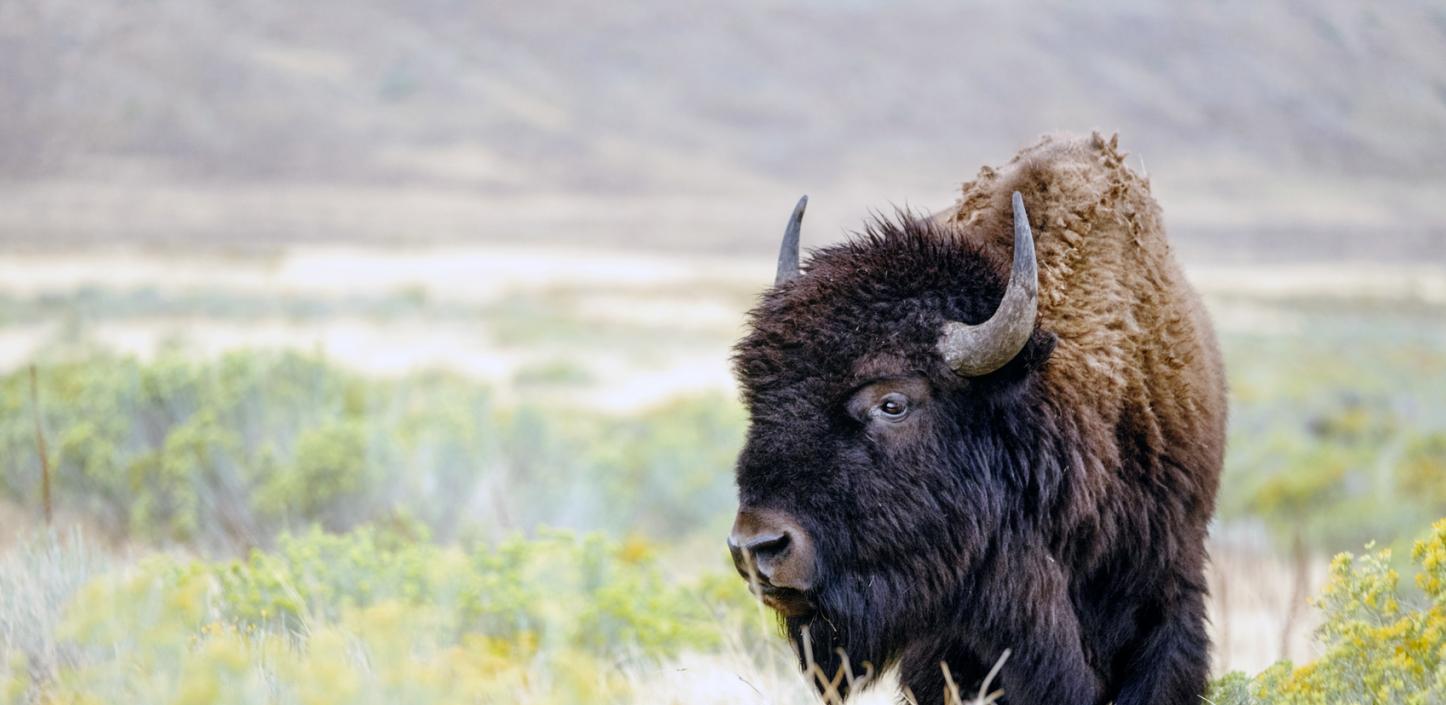 Where the Buffalo Roam
---
Partnership with BNSF Helps Tribes Restore Bison on the Northern Plains
To members of the Lakota tribe, the bison (American buffalo) is a sacred symbol embodying both life and abundance. Its importance to them historically was immense, both in legend and everyday life.

"It provided us our shelter, our food, our weapons, our toys. We played with the toe bones, that we called bone horses, and we made the ribs into sleds," says Charlotte Black Elk, a Lakota of the Pine Ridge Indian Reservation in South Dakota. "So it provided us with everything. And it's also a spiritual connection.... It's impossible to totally explain how important the buffalo is to us. The buffalo is life."

Vast herds of bison have long since vanished from the Great Plains, and many other animal populations that once thrived there are struggling. Yet their cultural significance and role in the ecosystem remain strong.

Now, a restoration action supported by the BNSF Railway Foundation is helping Native Americans on the Pine Ridge Reservation expand their tribal buffalo herd. It's also helping to re-establish the swift fox and black-footed ferret, which were once plentiful in the region. The effort is the first part of NFWF's Northern Great Plains Initiative, which works to bring back native species and their habitats.

In phase one, the BNSF Railway Foundation is helping to underwrite a project by the World Wildlife Fund that will actively involve tribal members at the Pine Ridge and the Fort Belknap American Indian reservations (in South Dakota and Montana, respectively) in community conservation projects. Through the project, members are developing wildlife management plans to protect and restore bison and other wildlife, as well as the habitats they need. The plans also promote job creation and contribute to cultural and economic goals. 

With a major operational footprint in the Northern Great Plains, BNSF Railway has taken an interest in conservation projects that benefit wildlife and their habitats, particularly in tribal communities. "The National Fish and Wildlife Foundation's Northern Great Plains program is truly a unique approach of engaging tribes in South Dakota and Montana as wildlife and prairie stewards," said BNSF Foundation President Zak Andersen.  "BNSF Railway Foundation is honored to support this program that will create widespread benefits for tribal communities, wildlife and the environment for future generations." 

"Tribal lands harbor some of the best remaining biodiversity in the Northern Great Plains," explained Martha Kauffman of World Wildlife Fund. "WWF supports the vision and goals of our tribal partners to restore wildlife like bison and black-footed ferrets and all they represent for their people.  They are making a great contribution to the recovery of these species, and all of us are benefiting from their efforts."

Other partners in the project include the U.S. Fish and Wildlife Service, the Bureau of Land Management, the U.S. Forest Service and Wells Fargo.