Image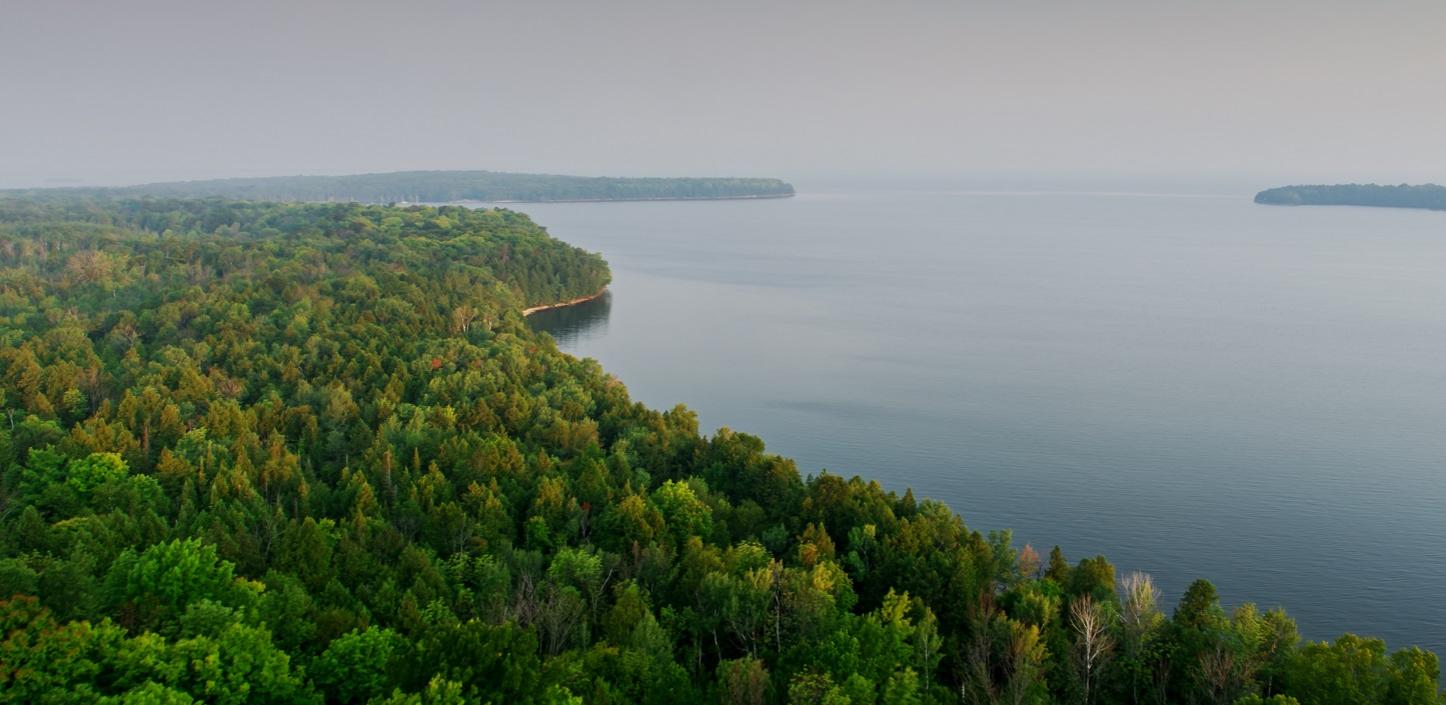 Sustain Our Great Lakes Announces $1.8 Million in Grants to Benefit Wisconsin's Lake Michigan Watershed
---
Funding supports eight projects to improve habitats, green space and water quality 
WASHINGTON, D.C. (October 26, 2022) – A unique Wisconsin-based partnership under the Sustain Our Great Lakes (SOGL) program today announced $1.8 million in conservation grant funding. The grants support eight projects that will restore and preserve natural areas and biodiversity in Wisconsin's Lake Michigan watershed. The grants announced today will leverage approximately $2.2 million in additional project support from grantees, generating a total on-the-ground conservation impact of $4 million. 
This additional funding under SOGL is administered by the National Fish and Wildlife Foundation (NFWF) and supported by the Great Lakes Restoration Initiative, Caerus Foundation, Crown Family Philanthropies, Milwaukee Metropolitan Sewerage District, Walder Foundation, U.S. Environmental Protection Agency and U.S. Fish and Wildlife Service with additional support this year from the Bezos Earth Fund. This unique funder collaboration leverages funds and expertise from public agencies and private philanthropy to significantly increase regional investment in Wisconsin's Lake Michigan watershed and drive meaningful change in the region's habitats, waters and greenspace to benefit wildlife and human communities alike.
"The Wisconsin's Lake Michigan Watershed Partnership is an example of how public-private partnerships can improve the quality and resilience of habitats and waterways at a regional scale," said Jeff Trandahl, executive director and CEO of NFWF. "The eight grants announced today will provide support to local entities in Wisconsin to restore habitat, enhance biodiversity and improve water quality."
"We are proud to work in close collaboration with our funder and nonprofit partners to leverage impact in the Watershed," said Katie Hanson, program officer, environment of Crown Family Philanthropies. 
The eight grants awarded today will support projects across Wisconsin's Lake Michigan watershed that will work to restore and preserve habitats and natural landscapes and improve water quality. The projects will enhance the quality and connectivity of streams habitat, control invasive species, restore wetland habitat, and improve nearshore health and water quality through green stormwater infrastructure to enhance biodiversity and safeguard habitat for critical species.
Collectively, the eight projects receiving grants will:
Control invasive species on 400 acres of wetland, upland and riparian habitat
Add 18 million gallons of stormwater storage capacity
Install more than 46,000 square feet of green stormwater infrastructure
Create or improve 45 acres of green space
Plant more than 4,700 trees for green infrastructure and habitat benefits
"The Wisconsin's Lake Michigan Watershed Partnership has been a great partnership to leverage funds to support efforts to achieve a climate resilient region," said Kevin Shafer, executive director of Milwaukee Metropolitan Sewerage District. "The eight projects being funded in 2022 will accelerate habitat and species recovery along with protecting Lake Michigan and our communities." 
This year's Wisconsin's Lake Michigan Watershed awards include:
Milwaukee Water Commons ($340,000) will collaborate with partners to implement an urban canopy renewal program in the vulnerable Sherman Park neighborhood to plant at least 250 trees, maintain at-risk trees, and plant whips in nearby riparian areas of the Milwaukee River watershed. Project will add 45,000 gallons of stormwater storage annually, and build community engagement for long-term equity environmental, health, and economic benefits and climate resiliency.
Western Great Lakes Bird and Bat Observatory ($231,000) will plant native plants, install rain gardens, educate community members, and expand the Motus Wildlife Tracking System in Lake Michigan communities of Wisconsin. Project will plant approximately 4,400 trees and support bird and pollinator habitat, water quality, research infrastructure, and community needs by implementing multi-faceted projects at 18 locations near the Lake Michigan Coast.
Mequon Nature Preserve, Inc. ($161,000) will restore agricultural fields to historic wetlands and prairies, control non-native, invasive plant species threatening high-quality native habitat, and educate Milwaukee Metropolitan youth at Mequon Nature Preserve. Project will restore roughly 10 acres of wetland and 25 acres of upland habitat, reduce the coverage invasive plant species across 358 acres, engage various local school groups in restoration and monitoring, and increase stormwater storage.
Clean Wisconsin ($200,000) will work with residents to install small-scale green infrastructure practices such as rain barrels, rain gardens, and trees on homes and community areas by partnering with underserved neighborhoods in Milwaukee's 30th St. Corridor. Project will facilitate leadership roles for community members to develop solutions for reducing stormwater runoff pollution and flood risk while improving pollinator habitat and strengthening engagement to implement community-driven plans for climate resilience.
Urban Ecology Center, Inc. ($213,000) will engage neighborhood volunteers to help maintain three public parks in Milwaukee as an urban oasis with diverse native plant communities by removing invasive species and planting plugs of native species. Project will increase biodiversity of new prairie, oak savanna, wetland, ephemeral ponds and a variety of forest ecosystems and facilitate environmental education and community access to green space.
Root-Pike Watershed Initiative Network ($118,000) will restore the Shagbark Recreational Area in the City of Kenosha and underserved Lake Michigan watershed by replacing underperforming, mowed turf grass with climate resilient and native species boosting vegetation. Project will improve management of 44 acres to support habitat for endangered species such as the monarch butterfly, rusty-patched bumble bee, Blanding's turtle, increase stormwater storage, and develop outdoor classroom activities.
City of Milwaukee ($350,000) will rehabilitate a 17-year-old 1-acre bioretention facility, test the performance of several pilot soil amendments, and plant pollinator-friendly plants in the tributary to the Menomonee River in Milwaukee. Project will improve water quality by mitigating stormwater runoff and restoring on-site sediment filtration and provide valuable feedback in designing future bioretention facilities.
Visit Sheboygan STEAM, Inc. ($211,000) will transform a degraded asphalt parking lot in downtown Sheboygan, on the Sheboygan River, into an educational community greenspace with green infrastructure, restored wildlife habitat, and integrated public access features. Project will turn an urban space with 200 feet of riverfront shoreline into a recreational area with public access to greenspace, provide canopy in an urban heat island, and add approximately 764,700 gallons of stormwater storage annually.
The SOGL program today announced an additional 48 grants supporting ecological restoration and green stormwater infrastructure across the Great Lakes basin. For a complete list of the grants announced today by the SOGL program, and to learn more about SOGL, including applicant eligibility, funding priorities and submission requirements, please visit SOGL's home page here. 
About the National Fish and Wildlife Foundation
Chartered by Congress in 1984, the National Fish and Wildlife Foundation (NFWF) protects and restores the nation's fish, wildlife, plants and habitats. Working with federal, corporate and individual partners, NFWF has funded more than 6,000 organizations and committed $7.4 billion to conservation projects. Learn more at www.nfwf.org.
About the Caerus Foundation
The Caerus Foundation aims to expand educational opportunities for young people, alleviate human suffering, cultivate a more inclusive arts community, and preserve the natural world for future generations. The Foundation's environmental efforts include protecting and restoring ecosystems with emphasis on the Midwest. Caerus also supports science education and awareness building to inspire the next generation of environmental stewards and engage communities in safeguarding natural areas.
About Crown Family Philanthropies 
Rooted in the legacy of Arie and Ida Crown, as well as the Jewish tradition of tikun olam—or repairing the world—Crown Family Philanthropies (CFP) is driven by more than 70 years of family commitment to social impact. Crown Family Philanthropies' Great Lakes grantmaking supports efforts to address water quality, habitat conservation, and basin-wide policy to ensure that the Great Lakes are protected and restored for the use and enjoyment of people and wildlife for generations to come. 
About Milwaukee Metropolitan Sewerage District
MMSD is a regional government agency, providing water reclamation and flood management services for 1.1 million people in 28 communities in the Greater Milwaukee Area. Award winning and globally recognized, MMSD is a partner for a cleaner environment. From green infrastructure, watershed planning, technology advancements and energy creation, the District strives to make its cities and villages better, healthier places to live. Learn more at mmsd.com and freshcoastguardians.com.
About the U.S. Environmental Protection Agency
The U.S. Environmental Protection Agency (EPA) leads the nation's environmental science, research, education, and assessment efforts. The mission of the Environmental Protection Agency is to protect human health and the environment. Since 1970, EPA has been working for a cleaner, healthier environment for the American people. For more information, visit www.epa.gov.
About the U.S. Fish and Wildlife Service
The mission of the U.S. Fish and Wildlife Service is to work with others to conserve, protect and enhance fish, wildlife, plants and their habitats for the continuing benefit of the American people. We are both a leader and trusted partner in fish and wildlife conservation, known for our scientific excellence, stewardship of lands and natural resources, dedicated professionals, and commitment to public service. For more information on our work and the people who make it happen, visit www.fws.gov.
About the Walder Foundation
The Walder Foundation was established by Joseph and Elizabeth Walder to address critical issues impacting our world. The Foundation's five areas of focus—science innovation, environmental sustainability, the performing arts, migration and immigrant communities, and Jewish life—are an extension of the Walders' lifelong passions, interests, and their personal and professional experiences. Learn more at www.walderfoundation.org. 
###
Contact:
Rob Blumenthal, rob.blumenthal@nfwf.org, 202-857-0166