Image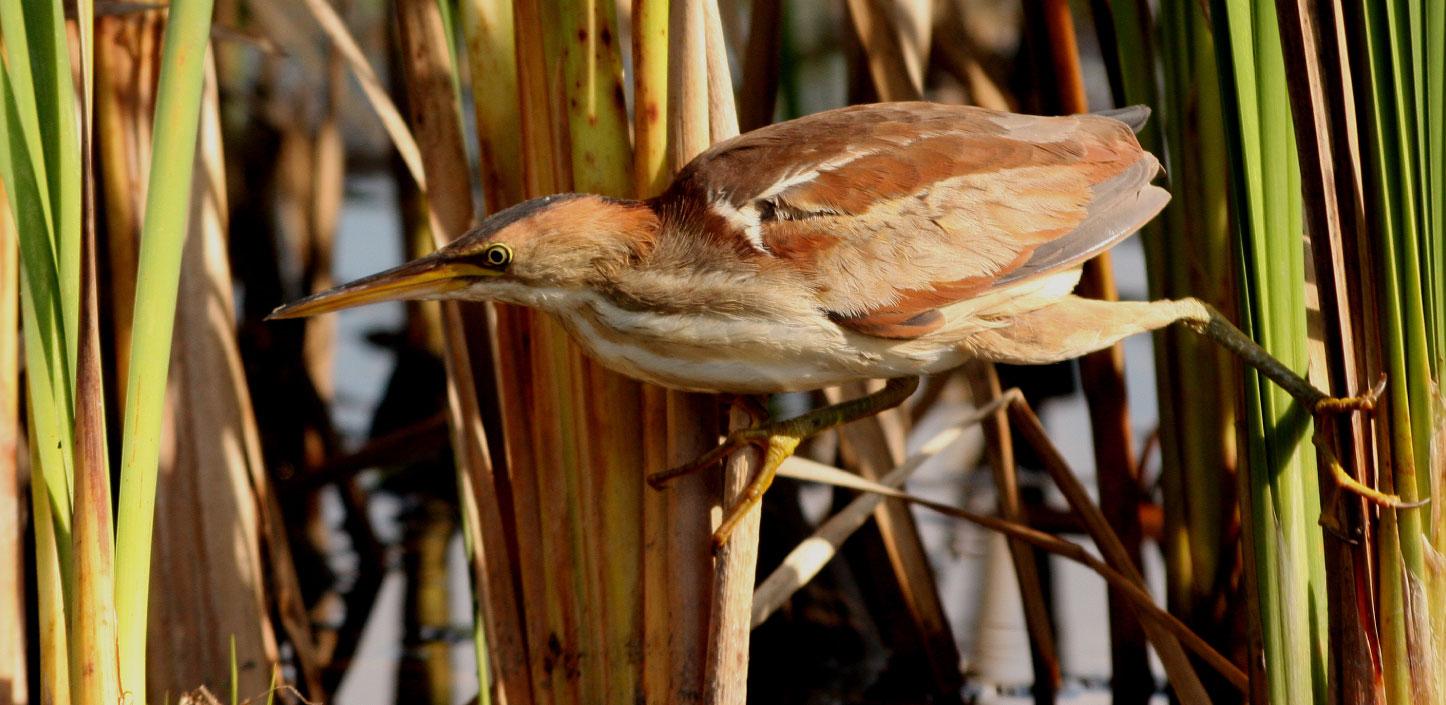 New Public-Private Conservation Partnership to Benefit Wisconsin's Lake Michigan Watershed Celebrates $1.36 Million in Grants Awarded in 2020
---
Funding supports eight projects to improve habitats, greenspace and water quality
WASHINGTON, D.C. (January 11, 2021) – A new partnership formed under the Sustain Our Great Lakes (SOGL) program today celebrated $1.36 million in conservation grant funding awarded in 2020. The grants support eight projects that are restoring and preserving natural areas and biodiversity in Wisconsin's Lake Michigan watershed.
Additionally, the Sustain Our Great Lakes Partners today announced the 2021 Request for Proposals, which will offer $1.36 million specifically for projects in Wisconsin's Lake Michigan watershed. Across the entire Great Lakes region, $8.5 million in total grant funding will be available in 2021 to restore stream, riparian and coastal habitats, improve water quality and reduce the impact of urban stormwater runoff, enhance public greenspace and, new in 2021, accelerate the implementation of conservation practices and regenerative agriculture on working lands.
This new partnership under SOGL is administered by the National Fish and Wildlife Foundation (NFWF) and supported by the Caerus Foundation, Crown Family Philanthropies, Milwaukee Metropolitan Sewerage District (MMSD), Walder Foundation, U.S. Environmental Protection Agency and U.S. Fish and Wildlife Service. This unique funder collaboration leverages funds and expertise from public agencies and private philanthropy to significantly increase regional investment in Wisconsin's Lake Michigan watershed and drive meaningful change in the region's habitats, waters and greenspace to benefit wildlife and human communities alike.
"Sustain Our Great Lakes continues to demonstrate the unique power of public-private partnerships to drive meaningful improvements to the quality and resilience of habitats and waterways at a basin-wide scale," said Jeff Trandahl, executive director and CEO of the National Fish and Wildlife Foundation. "Supported by our new partnership in Wisconsin and the established Sustain Our Great Lakes program, the grants awarded in 2020 represent an even greater investment in critical conservation actions that will help wildlife and human communities thrive. We look forward to continuing to grow this dynamic partnership's impact across the region through the 2021 funding opportunity announced today."
"At a time when there is so much uncertainty, the importance of consistent investment in environmental stewardship remains constant," said Vicki Elkin, executive director of the Fund for Lake Michigan. "The Fund for Lake Michigan is excited to support this new Sustain Our Great Lakes partnership's investments in Wisconsin that will help keep us on track in our efforts to improve water quality, control invasives and enhance biodiversity."  
"Sustain our Great Lakes provided the Milwaukee region a unique opportunity for MMSD to leverage our investments with partners like the EPA and the Great Lakes philanthropic community to improve our region's water quality, said Kevin Shafer, MMSD executive director. "Partnerships like these create the bonds needed for healthier environments and resilient cities." 
The eight grants awarded in 2020 under the Wisconsin's Lake Michigan watershed funding category will leverage approximately $1.33 million in additional project support from grantees, generating a total on-the-ground conservation impact of $2.7 million to restore and preserve habitats and natural landscapes, and improve water quality. These projects are enhancing the quality and connectivity of streams habitat, controlling invasive species, restoring wetland habitat, and improving nearshore health and water quality through green stormwater infrastructure to enhance biodiversity and safeguard habitat for critical species. Collectively, the eight projects receiving grants are:
Controlling invasive species on 440 acres of wetland, upland and riparian habitat
Restoring 825 acres of wetland habitat 
Preventing more than 730 tons of sediment from entering waterways annually
Adding 4.3 million gallons of stormwater storage capacity
Installing more than 11,500 square feet of green stormwater infrastructure
Creating or improve six public access points
Planting more than 100 trees for green infrastructure and habitat benefits
The 2020 Wisconsin's Lake Michigan Watershed awards include:
Wisconsin Department of Natural Resources ($228,569) will conduct ecological restoration through a combination of prescribed fire, selective tree thinning, brush mowing, invasive species control, and revegetation on high-conservation value natural areas and surrounding landscapes in Wisconsin's Lake Michigan watershed. The project will restore 1,800 acres on public and private properties to form protective buffers that expand available habitat and habitat diversity, and improve connectivity.
Harbor District Inc. ($245,500) will improve shoreline habitat in downtown Milwaukee and ensure public access to waterfront development. The project will plant 50 trees and restore habitat to benefit fish, waterfowl, insects and macroinvertebrates by naturalizing portions of dock walls and providing native vegetation.
Root-Pike Watershed Initiative Network ($50,104) will restore prairie, woods and wetland habitat within the Pike River watershed to benefit populations of the rusty-patched bumble bee and other pollinators in Wisconsin. The project will remove invasive species, and improve water quality and public recreation by restoring nearly 30 acres of habitat.
Hunger Task Force, Inc. ($107,139) will restore prairie habitat for wildlife along the Root River in Franklin, Wisconsin, improve habitat connectivity, increase native species competition, decrease runoff and increase critical populations of the rusty-patched bumble bee and other species. The project will restore 20 acres of prairie, including 12 acres of cropland being converted back to prairie and 8 acres of remnant prairie habitat.
Crossroads at Big Creek, Inc. ($189,437) will manage ecological trajectories to transform a patchwork of past rural and agricultural lands into reconnected and thriving high-quality forest and meadow habitat at Big Creek estuary in Wisconsin. The project will restore 125 acres of habitat, control invasive species, and improve habitat connectivity and resilience.
Neighborhood House of Milwaukee, Inc. ($75,000) will install green stormwater infrastructure on Milwaukee's near west side to conserve and improve water resources and reduce sewer overflows that impact the Menomonee River. The project will add more than 7,000 gallons of stormwater storage and use the green infrastructure components as learning tools for an environmental education program.
Village of Elm Grove ($300,000) will convert an enclosed culvert on Underwood Creek in downtown Elm Grove into a bioengineered channel with natural hydraulic function, improved fish passage and restored riparian habitat. The project will rectify one fish passage barrier to improve stream ecology, increase recreational value and improve stormwater management.
Milwaukee Public Schools ($655,000) will conduct detailed design, permitting and construction of green infrastructure at five Milwaukee schoolyards to address stormwater needs. The project will plant 57 trees, build more than 87,000 acres of green space, remove 11,500 acres of impervious surface and add 4 million gallons of stormwater storage annually. * $155,247 of total award amount funded by the new partnership. 
The SOGL program today also celebrated an additional 26 grants awarded in 2020 that support ecological restoration and green stormwater infrastructure across the Great Lakes basin. For a complete list of the grants awarded in 2020 by the SOGL program, and to learn more about Sustain Our Great Lakes 2021 funding opportunity for Wisconsin's Lake Michigan Watershed, including applicant eligibility, funding priorities and submission requirements, visit https://www.nfwf.org/programs/sustain-our-great-lakes-program. Follow the program on Twitter (@SOGL) to keep up with the latest Great Lakes news and program announcements.
About the National Fish and Wildlife Foundation
Chartered by Congress in 1984, the National Fish and Wildlife Foundation (NFWF) protects and restores the nation's fish, wildlife, plants and habitats. Working with federal, corporate, and individual partners, NFWF has funded more than 5,000 organizations and generated a total conservation impact of $6.1 billion. Learn more at nfwf.org.
About the Caerus Foundation
The Caerus Foundation supports organizations and programs that expand educational opportunities for young people, cultivate a more inclusive arts community, preserve the natural world for future generations, and engage communities to alleviate poverty, reduce violence, and build self-sufficiency.  The Foundation's environmental efforts include protecting and restoring ecosystems with emphasis on the Midwest.  Caerus also supports science education and awareness building to inspire the next generation of environmental stewards and engage communities in safeguarding natural areas.  Learn more at www.caerusfoundation.org.
About Crown Family Philanthropies 
Rooted in the legacy of Arie and Ida Crown, as well as the Jewish tradition of tikun olam—or repairing the world—Crown Family Philanthropies (CFP) is driven by more than 70 years of family commitment to social impact. CFP funds vital and sustainable projects and organizations in the areas of education; health and human services; global health; Jewish giving; and the environment, where their grantmaking supports efforts to value, preserve and restore natural ecosystems through innovative science-based approaches, emphasizing collaborative efforts which deliver measurable results.
About Milwaukee Metropolitan Sewerage District
MMSD is a regional government agency, providing water reclamation and flood management services for 1.1 million people in 28 communities in the Greater Milwaukee Area. Award winning and globally recognized, MMSD is a partner for a cleaner environment. From green infrastructure, watershed planning, technology advancements and energy creation, the District strives to make its cities and villages better, healthier places to live. Learn more at mmsd.com and freshcoastguardians.com
About the U.S. Environmental Protection Agency
The U.S. Environmental Protection Agency (EPA) leads the nation's environmental science, research, education, and assessment efforts. The mission of the Environmental Protection Agency is to protect human health and the environment. Since 1970, EPA has been working for a cleaner, healthier environment for the American people. For more information, visit www.epa.gov.
About the U.S. Fish and Wildlife Service
The mission of the U.S. Fish and Wildlife Service is to work with others to conserve, protect and enhance fish, wildlife, plants and their habitats for the continuing benefit of the American people. We are both a leader and trusted partner in fish and wildlife conservation, known for our scientific excellence, stewardship of lands and natural resources, dedicated professionals, and commitment to public service. For more information on our work and the people who make it happen, visit www.fws.gov.
About the Walder Foundation
The Walder Foundation was established by Joseph and Elizabeth Walder to address critical issues impacting our world. The Foundation's five areas of focus—science innovation, environmental sustainability, the performing arts, migration and immigrant communities, and Jewish life—are an extension of the Walders' lifelong passions, interests, and their personal and professional experiences. Learn more at www.walderfoundation.org. 
###
Contact: Rob Blumenthal, 202-857-0166