Image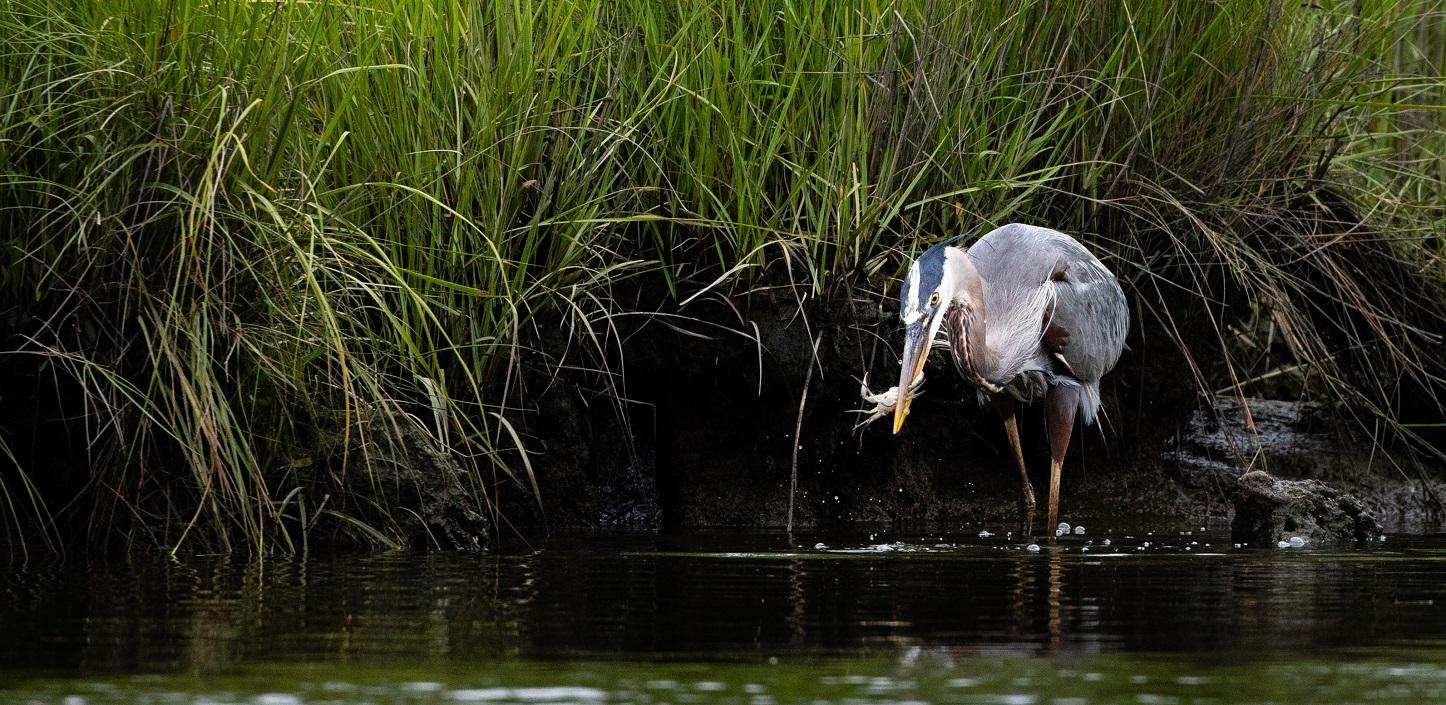 NFWF and USFWS Announce $4 Million in New Available Grant Funding to Support Wildlife and Resilience in the Chesapeake Bay Watershed
---
New "WILD" grant program will focus on the restoration and conservation of wetlands and streamside forest buffers, as well as community engagement and outdoor recreation
WASHINGTON, D.C. (March 22, 2022) – The National Fish and Wildlife Foundation (NFWF) and the U.S Fish and Wildlife Service (FWS) today announced that the recently passed Consolidated Appropriations Act of 2022 includes a first-year funding of $4 million for a new grant program to support fish and wildlife, climate resiliency, and equitable access to the outdoors in the Chesapeake Bay Watershed. 
Grant proposals are now being accepted for the new Chesapeake Watershed Investments for Landscape Defense (WILD) program. Details can be found on NFWF's Chesapeake Bay Stewardship Fund website.
FWS will co-administer the Chesapeake WILD competitive grant program with NFWF, following a successful public-private model that has drawn long-term support by partners and potential grantees throughout the watershed. 
"By focusing on conservation for fish and wildlife and recreational, cultural, and equitable access opportunities for people, Chesapeake WILD complements existing efforts in the watershed, especially those of the Chesapeake Conservation Partnership and EPA Chesapeake Bay Program," said Wendi Weber, Northeast Regional Director for the U.S. Fish and Wildlife Service. "Future Chesapeake WILD projects will build upon years of conservation momentum in the watershed driven by community members, businesses, recreational interest groups, conservation organizations, Tribes, and local, state, interstate, and federal government agencies and coalitions. The grant program will continue to build strong collaboration and coordination and drive collective impact as partners mutually invest in this important conservation work."
The new funding program will be coordinated with and build upon the long-standing Chesapeake Stewardship Fund Small Watershed Grant (SWG) program, through which NFWF and the U.S. Environmental Protection Agency have provided significant funding to help decrease pollution in the Chesapeake Bay.  
"The National Fish and Wildlife Foundation has been involved for decades in efforts to restore the Chesapeake Bay," said Jeff Trandahl, executive director and CEO of NFWF. "This watershed is home to the Foundation, and the roots of our public-private partnerships run deep along the many rivers, streams and coastal marshes that support the health of the Chesapeake Bay ecosystem. The new Chesapeake WILD program presents an exciting opportunity to leverage NFWF's long history of partnership and conservation in this region to decrease pollution in the Bay, sustain wildlife populations, and provide all communities with access to outdoor recreation."
The Chesapeake WILD grant program will complement these investments in clean water for wildlife and people by supporting projects that cannot be funded by existing restoration grant programs, and are of exceptional value for fish and wildlife, outdoor recreation, climate resiliency, community engagement, equitable access to the outdoors and more. 
This new funding is essential to achieve critical habitat restoration goals of the federal-state Chesapeake Bay Program partnership, including restoration, enhancement, and conservation of wetlands and riparian forested buffers. 
"With this program, we'll be able to support more priority actions like planting trees, shrubs and grasses along streams and rivers to capture pollution before it enters our waterways, and improving wetlands that serve as essential habitat for fish and wildlife," said EPA Mid-Atlantic Regional Administrator Adam Ortiz.
To speed delivery of these funds to on-the-ground projects, priorities for Chesapeake WILD funding will be identified through NFWF's current Small Watershed Grants Request for Proposals (RFP).  As a result, initial awards may be announced by late summer 2022, less than six months from securing initial program funding.
NFWF and FWS are working in partnership with the Chesapeake Conservation Partnership, a well-established network that is informing shared priorities and strategies for the Chesapeake WILD program, to improve awareness, coordination, and input in capitalizing on this initial program funding. Thanks to CCP and its extensive network of partners, many partners are already working on grant applications proposing important conservation and restoration projects. 
"The Chesapeake Conservation Partnership is excited to act as the regional collaborative to assist in implementing the new Chesapeake Wild program," said National Park Service Chesapeake Bay Office Superintendent Wendy O'Sullivan, co-convenor of the 13-year-old Chesapeake Conservation Partnership (CCP). "CCP's network of partners has been instrumental in recruiting exceptional WILD proposals to the SWG program, a critical effort in developing a pipeline of projects for future Chesapeake WILD funding."
A revised SWG/Chesapeake WILD RFP is now available on NFWF's Chesapeake Bay Stewardship Fund website, to acknowledge incorporation of WILD funding, as well as clarify important WILD-related eligibility consideration. The Foundation has also scheduled an informational webinar on at 2:00PM on Thursday, March 24 to educate prospective applicants on program priorities and application requirements, particularly as they relate to the Chesapeake WILD program framework, which can be found here. Interested applicants can register for the webinar here. 
About the National Fish and Wildlife Foundation
Chartered by Congress in 1984, the National Fish and Wildlife Foundation (NFWF) protects and restores the nation's fish, wildlife, plants and habitats. Working with federal, corporate and individual partners, NFWF has funded more than 6,000 organizations and generated a total conservation impact of $7.4 billion. Learn more at www.nfwf.org.
About the U.S. Fish and Wildlife Service 
The mission of the U.S. Fish and Wildlife Service is to work with others to conserve, protect and enhance fish, wildlife, plants and their habitats for the continuing benefit of the American people. We are both a leader and trusted partner in fish and wildlife conservation, known for our scientific excellence, stewardship of lands and natural resources, dedicated professionals, and commitment to public service. For more information on our work and the people who make it happen, visit www.fws.gov.
###
Contact: 
Rob Blumenthal w/NFWF, 202-857-0166, Rob.Blumenthal@nfwf.org
David Eisenhauer w/FWS, 413-313-3554, David_Eisenhauer@fws.gov