Image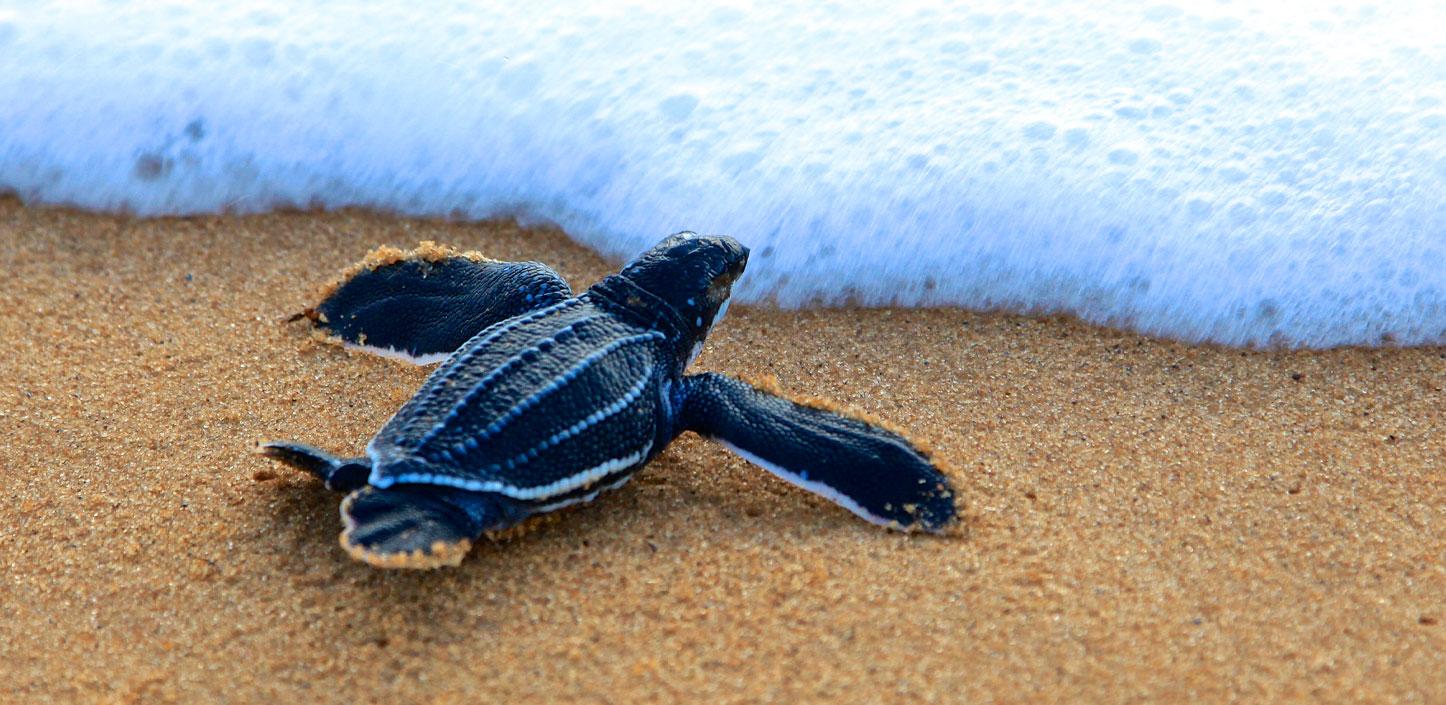 NFWF Announces More Than $1.2 Million to Support Sea Turtle Conservation and Respond to Cold-Stun Event in Texas
WASHINGTON, D.C. (March 17, 2021) — The National Fish and Wildlife Foundation (NFWF) today announced more than $740,000 in grants to conserve populations of endangered sea turtles, as well as an additional $500,000 to help offset financial burdens encountered by organizations that respond to emergency events like February's historic cold-stunning event along the coast of Texas. 
Sea turtles face a number of ongoing threats, including bycatch in fisheries, marine plastics and loss of nesting beach habitat from sea walls. The $740,000 in 2021 grant funding, provided by the U.S. Fish and Wildlife Service, will support eight sea turtle conservation projects to address these threats and leverage more than $770,000 in matching contributions to generate a total conservation impact of more than $1.5 million. 
In addition, there are an increasing number of episodic threats to sea turtles including harmful algal blooms and cold snap events which can rapidly endanger large numbers of turtles. NFWF established a new fund this year to bolster stranding response for these types of events in the United States with initial funding by SeaWorld Parks and Entertainment and the National Oceanic and Atmospheric Administration (NOAA).
"Our sea turtle conservation program is one of the longest-running initiatives we have at the Foundation," said Jeff Trandahl, executive director and CEO of NFWF. "It takes decades before a hatchling turtle matures and returns to the beach to lay the eggs of the next generation. And, for the past 25 years — about a full sea turtle generation — NFWF has been working with communities and governments to bring populations of sea turtles back from the brink of extinction."
"But a cold-stun event like we saw in February can be devastating to a population that is still in recovery, and that is why we have made additional resources available to the organizations that responded to this terrible storm," continued Trandahl. "Without the efforts of the heroes in Texas, thousands of green turtles would not have been rescued and released back to the wild after being cared for."
NFWF approved the additional $500,000 following extreme winter weather that wreaked havoc in Texas and other parts of the United States earlier this year. In such frigid conditions, sea turtles become lethargic, float to the surface and often wash ashore. If they are not rescued and warmed up, they can die from hypothermia. They are also more vulnerable to vessel strikes and predators during such cold-stunning events.   
Almost 11,000 sea turtles were recovered in Texas, both during and after February's historic winter storm. A coalition of federal, state, nonprofit and private partners joined forces to quickly rescue, rehabilitate and ultimately release thousands of sea turtles.
"Dedicated funding to help support the network of facilities and responders that assist with large-scale stranding events like we saw in Texas last month will help immensely to maintain and increase response capacity," said Barbara Schroeder, national sea turtle coordinator at NOAA.
The new funding for stranding and rehabilitation will be held on account to provide for immediate and future emergency funding. Initial priority will be given to reducing unexpected financial burdens to the facilities that responded to the massive Texas cold-stunning event, and to assist with future events where needed.
"Marine animal rescue and rehabilitation has been mission-critical for our professional animal care teams for decades, and we are so proud of our employees from SeaWorld San Antonio who were recently out on the front lines during frigid conditions to help to save turtles," said Dr. Chris Dold, chief zoological officer at SeaWorld. "We are honored to support our long-time partner, the National Fish and Wildlife Foundation, by helping establish this fund to improve response efforts for sea turtles. The need is real, and great, and only seems to be increasing."
Additional information about the Sea Turtles Program can be found here and a list of awarded grants can be found here.
About NFWF
Chartered by Congress in 1984, the National Fish and Wildlife Foundation (NFWF) protects and restores the nation's fish, wildlife, plants and habitats. Working with federal, corporate and individual partners, NFWF has funded more than 5,000 organizations and generated a total conservation impact of $6.8 billion. Learn more at www.nfwf.org.
About NOAA
NOAA's mission is to understand and predict changes in the Earth's environment, from the depths of the ocean to the surface of the sun, and to conserve and manage our coastal and marine resources. Join us on Twitter, Facebook, Instagram and our other social media channels.
About the U.S. Fish and Wildlife Service
The mission of the U.S. Fish and Wildlife Service is working with others to conserve, protect, and enhance fish, wildlife, plants, and their habitats for the continuing benefit of the American people. We are both a leader and trusted partner in fish and wildlife conservation, known for our scientific excellence, stewardship of lands and natural resources, dedicated professionals, and commitment to public service. For more information on our work and the people who make it happen, visit http://www.fws.gov/.
About SeaWorld
SeaWorld Entertainment, Inc. (NYSE: SEAS) is a leading theme park and entertainment company providing experiences that matter, and inspiring guests to protect animals and the wild wonders of our world. The Company is one of the world's foremost zoological organizations and a global leader in animal welfare, training, husbandry and veterinary care. The Company collectively cares for what it believes is one of the largest zoological collections in the world and has helped lead advances in the care of animals. The Company also rescues and rehabilitates marine and terrestrial animals that are ill, injured, orphaned or abandoned, with the goal of returning them to the wild. The SeaWorld® rescue team has helped more than 38,000 animals in need over the Company's history.  SeaWorld Entertainment, Inc. owns or licenses a portfolio of recognized brands including SeaWorld®, Busch Gardens®, Aquatica®, Sesame Place® and Sea Rescue®. Over its more than 60-year history, the Company has built a diversified portfolio of 12 destination and regional theme parks that are grouped in key markets across the United States, many of which showcase its one-of-a-kind zoological collection. The Company's theme parks feature a diverse array of rides, shows and other attractions with broad demographic appeal which deliver memorable experiences and a strong value proposition for its guests.
###
Contact: Rob Blumenthal, 202-857-0166, rob.blumenthal@nfwf.org