Image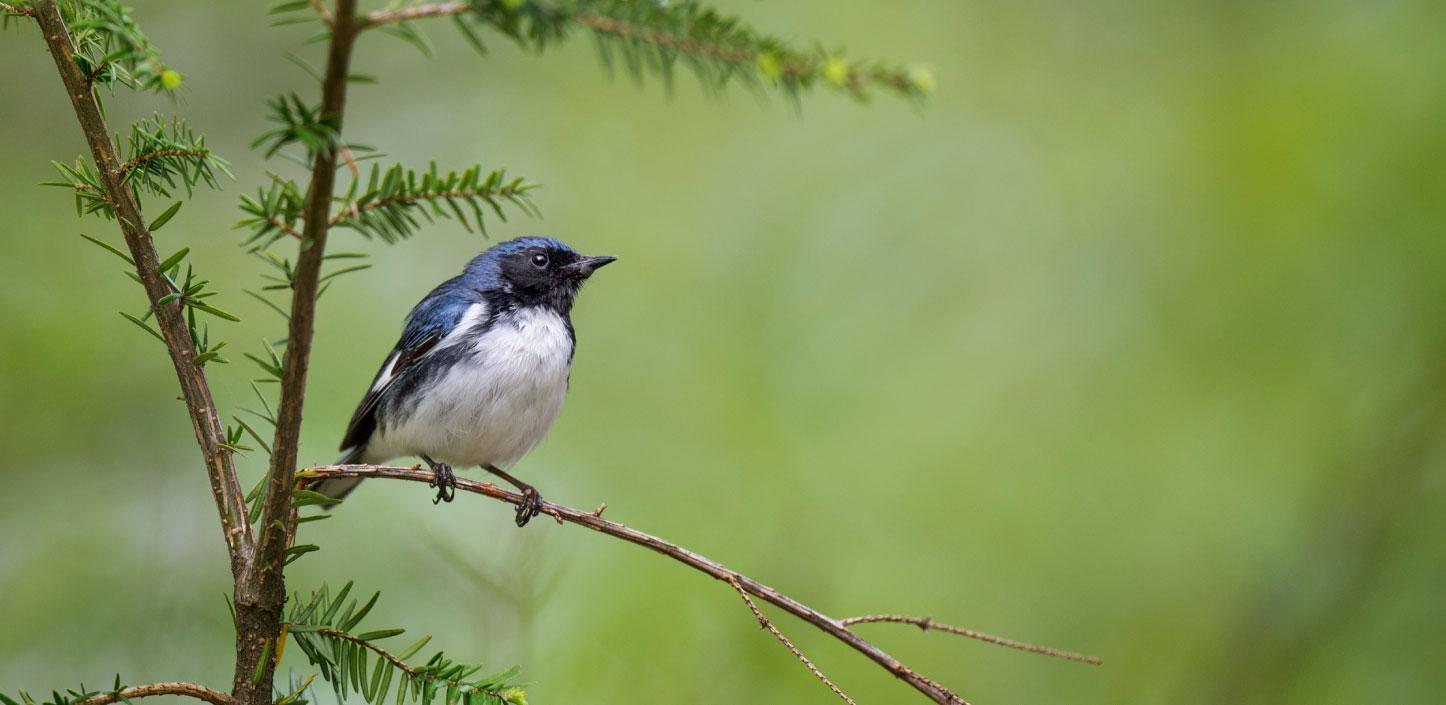 NFWF's New England Forests and Rivers Fund Announces $1.8 Million in Conservation Grants
---
Grants will conserve habitats for the benefit of eastern brook trout, river herring, Atlantic salmon, New England cottontail, black-throated blue warbler and American woodcock
WASHINGTON, D.C. (August 25, 2020) – The National Fish and Wildlife Foundation (NFWF) today announced $1.8 million in grants to restore and sustain healthy forests and rivers that provide habitat for diverse bird populations, as well as freshwater and diadromous fish populations, in Connecticut, Maine, Massachusetts, New Hampshire, Rhode Island, Vermont, and portions of the Lake Champlain and Upper Hudson River watersheds in New York. The grants will generate $2.9 million in matching grantee contributions for a total conservation impact of $4.7 million.
The grants were awarded through the New England Forests and Rivers Fund, a partnership between NFWF and the American Forest Foundation, Eversource, the Avangrid Foundation and the U.S. Department of Agriculture's Natural Resources Conservation Service. Additional funding is provided by the U.S. Forest Service and the U.S. Fish and Wildlife Service.
"In the sixth year of this strategically targeted conservation program, we continue to build strong partnerships in New England that advance key conservation priorities," said Jeff Trandahl, executive director and CEO of NFWF. "The grants awarded today will help improve the availability of essential habitat throughout New England's dynamic forest and river systems, directly benefiting wildlife, as well as reducing flood risk to local communities."
The projects supported by these grants will collectively replace or modify 31 barriers to fish passage that will restore access to 42 miles of historic stream habitat for eastern brook trout, river herring and Atlantic salmon. In addition, more than 33 miles of instream and riparian forest habitat will be created to improve water quality and natural flow.
"We are very excited to partner with NFWF's New England Forests and Rivers Fund, which will expand the scope of our conservation efforts and target critical conservation needs across New Hampshire,"said New Hampshire NRCS State Conservationist Becky Ross.
The grants will also improve forest management practices on more than 1,600 acres of young and mature forest create a mosaic of habitats that support New England cottontail, American woodcock, black-throated blue warbler and wood thrush.
"More than half of the forests across the Northeast are owned by families and individuals," said Tom Martin, president and CEO of the American Forest Foundation. "These individuals care about wildlife and want to do more to improve the habitat on their land. But they need support in order to do so. We are proud to be a part of the New England Forests and Rivers Fund to provide landowners with the guidance and resources they need to steward their land."
NFWF works with public and private partners in New England to invests in strategic, on-the-ground conservation projects that improve the management of public and private forestlands to create a mosaic of mixed-age forests, and that improves the quality and connectivity of rivers and streams, providing high-quality habitat for native fish. 
"That which threatens greater New England's web of ecosystems, unique biodiversity and distinct habitats  - from forests to mountains, to rivers and coastlines -  will only be improved by collaborative and strategic solutions at scale," said Nicole Licata Grant, director of the Avangrid Foundation. "The Avangrid Foundation's investment in the New England Forests and Rivers Fund is one way we can join other leaders in protecting and preserving this precious resource, and way of life, for generations to come."
"For the past six years, we've been proud to support through this grant program numerous conservation projects that protect our environment and have a significant, long-lasting impact on ensuring that future generations can continue to enjoy our natural resources," said Eversource Vice President of Sustainability and Environmental Affairs Catherine Finneran. "The projects selected this year will continue to build upon the success of the program, helping to restore the health of the forests and rivers that make New England such a special place to live. As one of the greenest energy companies in the nation, we are proud to be part of this program and to continue to demonstrate our strong commitment to environmental sustainability."
The New England Forests and Rivers Fund annually awards competitive grants ranging from $50,000 to $200,000 each. Since its creation in 2015, the fund has awarded 75 grants totaling more than $9.1 million. Grantees, in turn, are leveraging an additional $15.2 million in matching contributions, for a total conservation impact of more than $24.3 million. These grants are improving early successional and mature forest habitat, modifying and replacing barriers to fish movement, restoring riparian and instream habitat, and engaging hundreds of landowners and volunteers in on-the-ground conservation throughout New England.
A complete list of the 2020 grants made through the New England Forests and Rivers Fund is available here.    
About the National Fish and Wildlife Foundation
Chartered by Congress in 1984, the National Fish and Wildlife Foundation (NFWF) protects and restores the nation's fish, wildlife, plants and habitats. Working with federal, corporate and individual partners, NFWF has funded more than 5,000 organizations and generated a total conservation impact of $6.1 billion. Learn more at www.nfwf.org.
About the American Forest Foundation
The American Forest Foundation (AFF) is a nonprofit conservation organization that ensures the sustainability of America's family forests by protecting these lands and the many benefits they provide to all Americans: clean water and air, wildlife habitat, sustainable wood supplies, and good-paying jobs that support strong rural economies. AFF works on the ground with families, partners and elected officials to promote forest stewardship that improves biodiversity and habitat, protects critical water supplies, reduces risk of catastrophic wildfire and increases natural carbon sequestration.
About Avangrid Foundation
The Avangrid Foundation is an independent, nonprofit organization that funds philanthropic investments that primarily impact communities where AVANGRID, Inc. and its subsidiaries operate. Since 2002, the Avangrid Foundation and its predecessors have invested more than $24 million in partnerships that focus on building sustainable, vital and healthy communities; preserving cultural and artistic heritage; advancing education; and improving people's lives. The Avangrid Foundation is committed to advancing the United Nations Sustainable Development Goals in the United States. For more information, please visit www.avangridfoundation.org.
About Eversource
Eversource (NYSE: ES) transmits and delivers electricity and natural gas and supplies water to approximately 4 million customers in Connecticut, Massachusetts and New Hampshire. Recognized as the top U.S. utility for its energy efficiency programs by the sustainability advocacy organization Ceres, Eversource harnesses the commitment of its more than 8,000 employees across three states to build a single, united company around the mission of safely delivering reliable energy and water with superior customer service. For more information, please visit the company's website (www.eversource.com) and follow along on Twitter (@EversourceCorp) and Facebook (facebook.com/EversourceEnergy). For more information on water services, visit www.aquarionwater.com.
About the Natural Resources Conservation Service
Since 1935, the Natural Resources Conservation Service has helped America's private landowners and managers conserve their soil, water, and other natural resources. NRCS provides technical assistance based on sound science and offers financial assistance for many conservation activities. www.nrcs.usda.gov
###
Contact: 
Rob Blumenthal, 202-857-0166