Image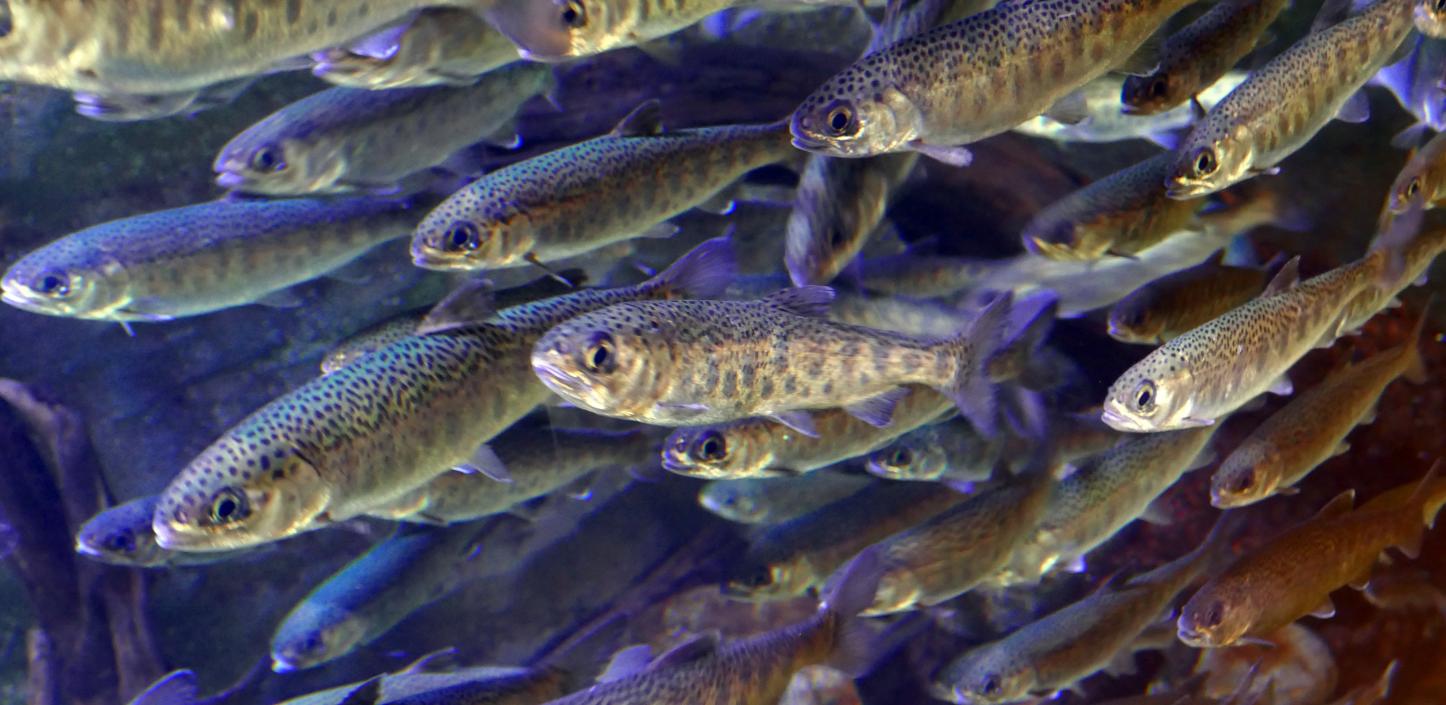 Klamath River Coho Enhancement Fund
The National Fish and Wildlife Foundation's Klamath River Coho Enhancement Fund supports the survival and recovery of Southern Oregon/Northern California Coast Coho salmon.
The Klamath River, which runs through southern Oregon and the northern Californian coast, was once the third most productive salmon river system in the United States. Currently, the Southern Oregon/Northern California Coast (SONCC) coho salmon, native to the Klamath River, is listed as threatened under both California and federal Endangered Species Acts due to issues stemming from dammed water, flow variability, and water pollution.
Primary challenges to SONCC coho are impeded access to their historical habitat; seasonal water quality impairment; water quality and flow-related effects on the incidence of disease in certain populations, and reduced transport of sediment and large woody debris to important habitat. This species is not only fundamental to local ecosystems, but it is also an integral part of our national heritage, an important source of food, and a valuable source of income for many.
PacifiCorp, which owns and operates the Klamath Hydroelectric Project, developed a Habitat Conservation Plan for coho salmon. As part of PacifiCorp's conservation strategy, the Klamath River Coho Enhancement Fund was developed to fund projects that will restore, enhance, and improve habitat, flows, and fish passage for the SONCC coho salmon in the Klamath River and/or its tributaries downstream of Iron Gate Dam. In order to be eligible for funding, projects must have a direct benefit to SONCC coho salmon and address one or more of PacifiCorp's Habitat Conservation Plan for Coho Salmon goals.
Funding priorities for this program include:
Barrier removal projects that improve access to critical habitat;
Rearing habitat creation and enhancement;Water transaction funding to increase instream flows during low water levels to improve water quality and quantity; and
Mainstem and tributary habitat creation, enhancement and protection projects.
This program is a conservation partnership between NFWF and PacifiCorp Energy to assist PacifiCorp in meeting the environmental commitments in its Habitat Conservation Plan for Coho Salmon. In most cases, projects funded under this project also support NFWF's Lower Klamath Basin conservation priorities.
Application Information
---
| | | |
| --- | --- | --- |
| 05/10/2022 | Klamath River Coho Enhancement Fund 2022 Request for Pre-Proposals and Full Proposals | View Now |
| 01/08/2020 | Klamath CEF Monitoring Form for Gravel Augmentation Projects | View Now |
| 01/08/2020 | Klamath CEF Monitoring Form for Mainstem Habitat Projects | View Now |
| 01/08/2020 | Klamath CEF Monitoring Form for Tributary Habitat Projects | View Now |
| 01/08/2020 | Klamath CEF Monitoring Form for Water Transaction Projects | View Now |
| 01/08/2020 | Klamath CEF Monitoring Form for Access Projects | View Now |
| 05/19/2023 | Klamath River Coho Enhancement Fund 2023 Request for Pre-Proposals and Full Proposals | View Now |
| | | |
| --- | --- | --- |
| 12/03/2019 | PacifiCorp Klamath Hydroelectric Project Interim Operations Habitat Conservation Plan | Download the PDF |