Ralph C. Wilson, Jr. Foundation
The Ralph C. Wilson, Jr. Foundation supports the resilience of communities and natural resources through the Southeast Michigan Resilience Fund and Sustain Our Great Lakes by reducing the impact of stormwater, improving water quality, enhancing habitat and increasing accessibility and usability of public green space and natural areas.
Image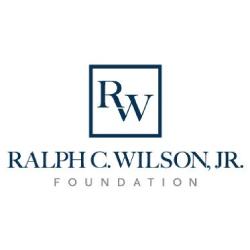 The Ralph C. Wilson, Jr. Foundation is a grantmaking organization dedicated primarily to sustained investment in the quality of life of the people of Southeast Michigan and Western New York.
The two areas reflect Ralph C. Wilson, Jr.'s devotion to his hometown of Detroit and greater Buffalo, home of his Buffalo Bills franchise. Prior to his passing in 2014, Mr. Wilson requested that a significant share of his estate be used to continue a life-long generosity of spirit by funding the foundation that bears his name. The foundation has a grantmaking capacity of $1.2 billion over a 20-year period, which expires January 8, 2035. This structure is consistent with Mr. Wilson's desire for the foundation's impact to be immediate, substantial, measurable, and overseen by those who knew him best.
FOCUS AREAS 
Children and Youth – We're looking for opportunities beyond K-12 education to provide more pathways to success. We focus on strengthening young minds and bodies with early childhood initiatives, sports and recreation programs, and afterschool youth development programs.
Young Adults and Working Class Families – Often weighed down by heavy demands and limited resources, working class families and young adults can often miss out on career opportunities. We invest in skills training and education initiatives that lead to sustainable career pathways and good paying jobs. 
Caregivers – The role of caregiver can be both rewarding and demanding. We support and honor those who care for others – whether family members, friends or professionals – through efforts that provide needed skills, resources, education and respite. Early opportunities are primarily for those caring for older adults. 
Livable Communities – To contribute to strong and sustainable communities, we seek opportunities to support: access and design to public spaces that support healthy living; non-profit support and innovation; and economic development levers that spur regional growth, innovation and equity. 
GEOGRAPHY
The Foundation concentrates its giving within Southeast Michigan and Western New York. Southeast Michigan is defined as Wayne, Oakland, Macomb, Monroe, Washtenaw, St. Clair and Livingston counties. Western New York is defined as Allegany, Chautauqua, Cattaraugus, Erie, Genesee, Monroe, Niagara, Orleans and Wyoming counties.