Quality Assurance Requirements for Chesapeake Bay Stewardship Fund Grantees 
The National Fish and Wildlife Foundation's Chesapeake Bay Stewardship Fund has an EPA approved Quality Management Plan (QMP) for operations, data collection, and grant making. As part of this QMP, certain projects funded through the Chesapeake Bay Stewardship Fund require that grant agreements contain Quality Assurance Statements (QAS) or language requiring project partners complete a Quality Assurance Project Plan (QAPP) before grant activities, particularly data collection, are undertaken.
NFWF uses a Project Evaluation Form to determine if a project requires a QAS in the grant agreement or if a project will need a QAPP. Projects that will undertake a minimal level of environmental engineering, secondary data use, or GIS activities may simply require that Quality Assurance Standard Terms and Conditions be inserted into the grant agreement. Grantees agree to these terms upon signing of the grant contract.
Other projects that are undertaking more extensive data collection require that a QAPP be completed before major grant activities or data collection begin. These projects will have the following Standard Term and Condition entered in their grant agreement:
Quality Assurance Project Plan - The Grantee shall complete a Quality Assurance Project Plan (QAPP) in accordance with the Environmental Protection Agency's requirements as detailed in "EPA Requirements for Quality Assurance Project Plans: EPA QA/5 (http://www.epa.gov/quality/). The QAPP shall be completed and approved by NFWF prior to any data collection activities.
QUALITY ASSURANCE STATEMENT: GIS ACTIVITIES: The NFWF Subrecipient shall incorporate the practices and principles EPA's geographical information systems quality assurance. These quality assurance activities include the following requirements: to, "describe the methods of acquiring, assessing, managing, and processing data from existing sources" (EPA QA/G-5G, p. 22) and, to, "describe the quality assurance and quality control of the instruments, procedures, and methods used to create new geospatial data" (EPA QA/G-5G, p. 21). This includes the completion of FGDC metadata as a required component of all datasets. State and Federal agencies are considered trusted agencies when acquiring datasets, in compliance with EPA's geospatial guidance document. For additional information, please reference the full text of EPA's geographical information systems QA document (https://www.epa.gov/quality/guidance-geospatial-data-quality-assurance-project-plans-epa-qag-5g).
QUALITY ASSURANCE STATEMENT: ENVIRONMENTAL ENGINEERING: The NFWF Subrecipient shall incorporate good engineering principles/practices – a broad set of quality assurance, conservation and safety activities, as well as techniques and approaches that are commonly accepted throughout the engineering profession – into all engineering activities. Engineering work products produced under this Agreement shall bear the appropriate engineering stamp, seal, or other standardized approval.
QUALITY ASSURANCE STATEMENT: SECONDARY DATA USE: The NFWF Subrecipient shall ensure that all secondary data is obtained from known and trusted sources and is accompanied by metadata that lists the reason(s) for the data collection, the methodology employed, and lists the Quality Assurance/Quality Control (QA/QC) standard(s) under which the data collection was completed. The Recipient shall assess such data's "fitness for use" according to the general data quality assessment factors defined by the EPA Science Policy Council (https://www.epa.gov/quality/epa-quality-management-tools-projects). Data assessment and evaluation activities must be documented. Any assumptions, troubleshooting, communications, and other relevant documents and records must be maintained with the Recipient's project files. These records must be organized to allow reconstruction of the process and results, also known as "data mapping." The identity of the individual(s) and organization that performed the "fitness for use" assessment must be clearly noted on the documents.
What is a Quality Assurance Project Plan?
Many organizations, including the U.S. Environmental Protection Agency (EPA), the primary source of funding for Chesapeake Bay Stewardship Fund (CBSF) grants, require Quality Assurance Project Plans (QAPPs) for projects that collect and use environmental data. A QAPP documents the project planning process and serves as a blueprint for how your project will collect and analyze that data. 
Why a QAPP?
A QAPP aims to ensure the credibility of information collected or used and can help ensure that data collected will be used for its intended purpose.
The QAPP documents a project's technical planning process to provide a clear, concise, and complete plan for environmental data collection or analysis.
When is a QAPP Required (or not)?
CBSF grantees whose projects will collect, analyze, or use primary and/or secondary environmental data for the purpose of making decisions, assessment, management or policy recommendations, or drawing conclusions are required to submit a QAPP for review by National Fish and Wildlife Foundation (NFWF) and approval by EPA.
Examples of the types of data collection or use which requires a QAPP includes (but is not limited to): 
New data collection
GIS or secondary data analysis
Water or other environmental media monitoring including volunteer/community-based efforts
Data collection and analysis proposed to support decision-making including site assessment prioritization
Data collection and analysis associated with development or design of plans and projects e.g. fish passage, watershed or water quality/habitat restoration project plans etc. 
Surveying and behavior change work to support decision-making
Model development or use
If your data is only to be used for educational or outreach purposes only, a QAPP may not be needed. For questions about whether a QAPP is required contact Joe Toolan, Manager of Chesapeake Bay Programs, and provide a concise description of the type of data to be collected and how you plan to use the data.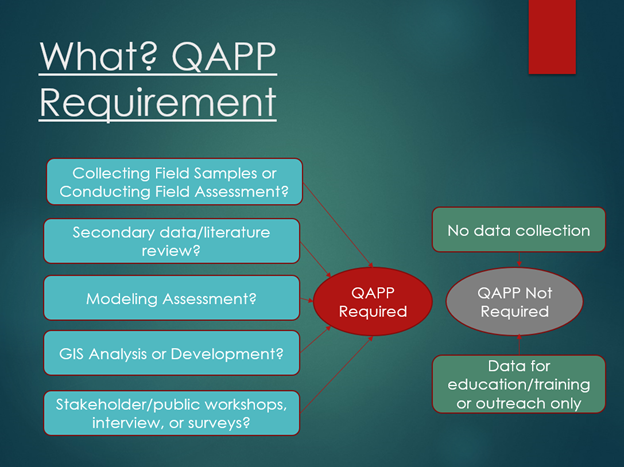 Technical Assistance Support for QAPP Development
NFWF has contracted with Stantec to provide expert guidance to grantees, free of charge, to help them develop their QAPP and answer specific questions. 
QAPP Templates
Multiple QAPP Templates are available to assist CBSF Grantees. If you are uncertain about which QAPP template to utilize, contact Joe Toolan for additional assistance.
QAPP Training Webinars 
QAPP Training Webinar Recording - For Projects Involving Lab Analysis and/or Field Sampling - This webinar is appropriate for grantees conducting field sampling and laboratory analysis as part of their data collection and assessment activities. Example activities include projects conducting soil sampling or macroinvertebrate assessments where samples collected in the field are taken to a lab for further analysis or field-based collection of in-situ water sampling or fish counts/measurements. 
QAPP Training Webinar Recording - Field Assessment, Stakeholder, Geospatial, Modeling, and Secondary Data Projects - This webinar is appropriate for grantees conducting any data collection or analysis other than sample analysis in a lab or as part of fieldwork. The types of projects this webinar is geared towards include projects with any of the following components: field assessment activities (including site inspections and analysis, photo documentation, and visual assessment), secondary data assessments, modeling, geospatial/GIS analysis, and/or stakeholder/public outreach activities requiring a QAPP. Example activities include site assessments for BMP success/failure, field visits to verify a GIS desktop analysis, desktop mapping assessments, literature reviews, and stakeholder or public workshops to gather opinions or neighborhood mailer surveys. 
Timing & Coordination for QAPP Development and Approval
Please plan to submit a draft QAPP to NFWF at least three to four months in advance of starting your data driven project activity. The QAPP approval process is as follows: 
Prepare a draft QAPP: Grantees submit their draft QAPP for review by the external QAPP consultants at Stantec. Submission to Stantec initiates a 30-day review and comment period.
QAPP comments addressed and QAPP is revised: Comments from Stantec are returned and need to be addressed in the revised QAPP draft. Comments are dependent upon the quality of the QAPP submission and may involve several iterations prior to submission to EPA. Each resubmission of the draft QAPP to Stantec will initiate another 30-day review and comment period.
QAPP is technically approved and signed by grantee and NFWF: Once a revised QAPP is deemed sufficient by Stantec the grantee and NFWF Program Manager sign and NFWF submits to EPA for final approval.
EPA review and approval: EPA will have a chance to review and comment on the QAPP prior to providing a signature. Submission to EPA initiates a 45-day review and comment period. It is NFWF's goal that QAPPs submitted to EPA receive no additional feedback and are technically sound enough to be signed without further revisions. 
QAPP requirement completion: NFWF will circulate the final, signed QAPP and add to the project's grant files. The QAPP tag restricting payment on data collection activities will then be removed.
Other Resources: