Image
"Here in Texas, we've used GEBF dollars to leverage additional private and nonprofit funds to restore and preserve thousands of acres of coastal habitats and wetlands, while at the same time working with communities and private landowners to voluntarily participate in conservation efforts. Not only have we been able to restore oyster, fish and bird habitats for both commercial and recreational enjoyment, we've bolstered resiliency efforts by enhancing the marshes, bays, dunes and barrier islands along the Gulf Coast to help protect our communities from the next storm." — Texas Governor Greg ​Abbott
Current Projects
To date, the total number of awards from the Gulf Environmental Benefit Fund (GEBF) in the state of Texas now stands at 55, with a total current value of more than $182 million. These projects leverage or compliment other conservation investments worth more than $135 million, creating a total impact of more than $317 million for the Texas coast. These projects were selected for funding following extensive consultation with the Texas Parks and Wildlife Department, the Texas Commission on Environmental Quality, the Texas General Land Office, the U.S. Fish & Wildlife Service (FWS), and the National Oceanic and Atmospheric Administration (NOAA).
The projects in Texas address high-priority conservation needs. They represent important efforts to protect and enhance natural and living resources along the vast Texas coast.
To learn more about the projects the GEBF has funded in Texas, view the comprehensive list of projects​.
Project Highlights
 
A Conservation Legacy: Powderhorn and Sabine Ranches
Nearly $70 million invested in the conservation of 50,000 acres of Texas lands will leave a conservation legacy for both the public and for wildlife. Acquisition of the 17,350-acre Powderhorn Ranch permanently protects more than 11 miles of tidal bay front and thousands of acres of emergent wetlands and tidal marshes that support dozens of species of waterfowl, shorebirds and wading birds. Powderhorn's unique beauty will soon be open for public access, giving generations of people the ability to enjoy this iconic coastal landscape. Similarly, acquisition of the 12,000-acre Sabine Ranch – once part of the historic McFadden Ranch - expands protection of the largest contiguous marsh system in Texas, spanning more than 135,000 acres of protected lands on the Texas Chenier Plain.
Rookery Island Restoration and Enhancement
Texas has more than 180 rookery islands that provide critical nesting habitat for vast populations of more than 26 species of colonial waterbirds and a variety of other coastal flora and fauna. Enhancing the quality of nesting habitat and reducing disturbances on these islands is crucial to helping these species survive and thrive. To date, the GEBF has awarded $4 million to conservation partners to restore or enhance nearly one-third of the rookery islands across the coast of Texas, including 60 that suffered devastating impacts from Hurricane Harvey in 2017.

Coastal Habitat Restoration and Protection
The GEBF has invested nearly $60 million toward the restoration and protection of priority landscapes across the Texas coast, including Galveston and Matagorda bays. In the southern reaches of the vast Texas coast, projects to enhance and restore critical wetland habitat in the Laguna Atascosa National Wildlife Refuge, a globally unique and ecologically significant area, will contribute to a long-standing priority to bring back a healthy Bahia Grande wetland complex. Other projects protect miles of South Padre Island's important sea turtle nesting beaches.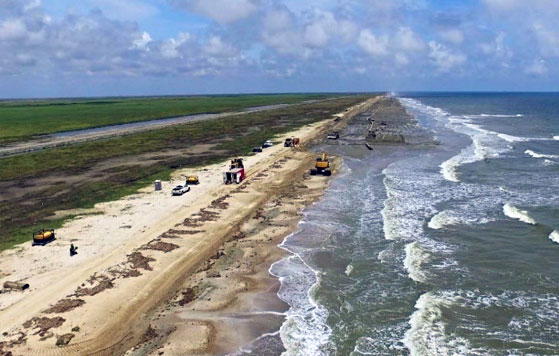 Building a More Resilient Texas Coast
GEBF projects restore and protect Texas's coastal marshes and wetlands, dune and beach systems, oyster reefs, and barrier islands. These large-scale projects create a more resilient coastal landscape that minimizes the impacts of storms and other naturally occurring events on nearby communities, while enhancing and sustaining important wildlife habitat. Restoration of 17 miles of the beach dune ridge system along McFaddin National Wildlife Refuge from High Island to Sea Rim State Park will protect the largest estuarine marsh complex in Texas, as well as a region vitally important to the security of the nation's energy sector. Similar efforts to restore miles of eroding shorelines of Galveston Bay and the Gulf Intracoastal Waterway will strengthen the front lines of defense against threats to vulnerable areas of the Texas coast
 
Future Projects
NFWF is engaged in consultation with the Texas Parks and Wildlife Department, Texas Commission on Environmental Quality, Texas General Land Office, FWS and NOAA to identify priority conservation projects for consideration under the GEBF. Review of the 2020 cycle proposals is expected to begin in the spring of 2020.
About the Gulf Environmental Benefit Fund in Texas
Under the allocation formula and other provisions contained in the plea agreements, the GEBF has received $203 million for project expenditures in the state of Texas.
To learn more about Texas' process for identifying priority Gulf Coast restoration projects visit: www.restorethetexascoast.org