Image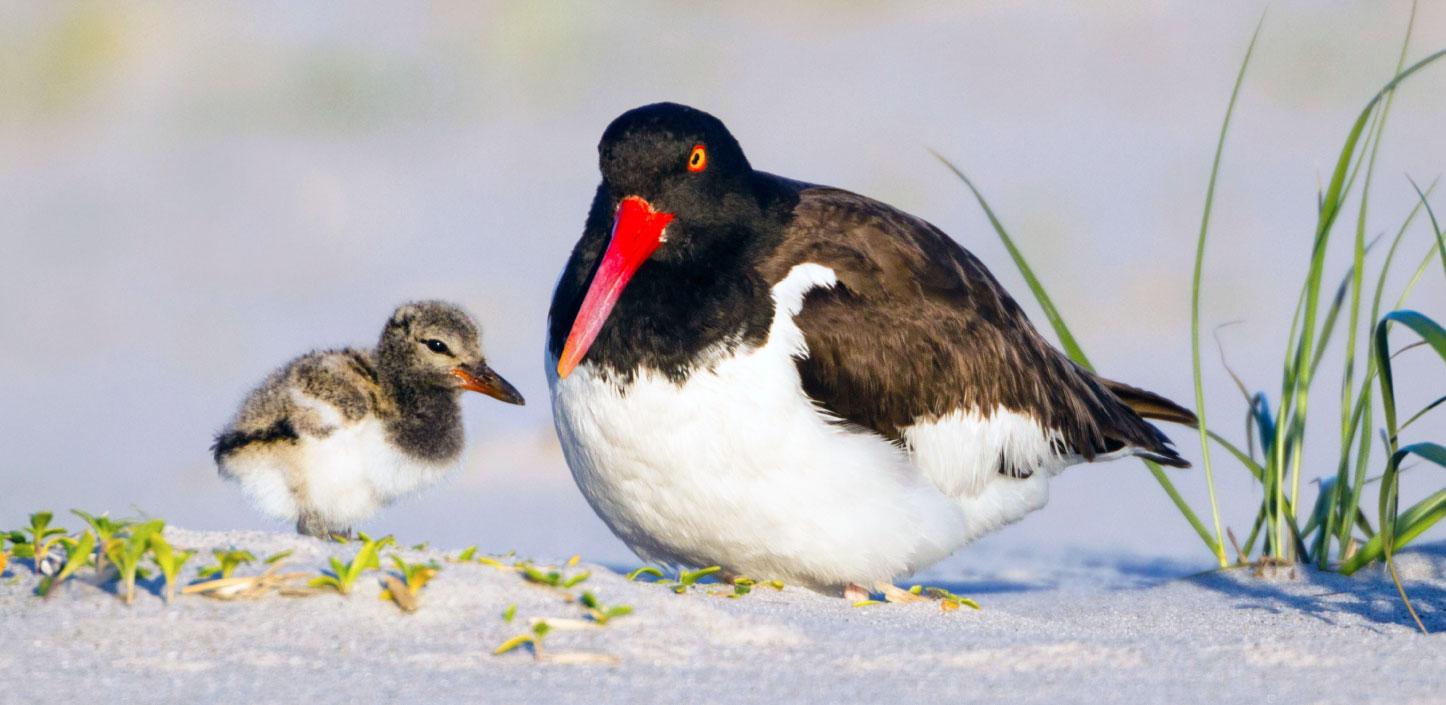 Atlantic Flyway Shorebird Initiative
Building on its success to reverse declines in American Oystercatcher along the U.S. Atlantic coast, NFWF is expanding its support to a broader, multi-species effort – the Atlantic Flyway Shorebird Initiative – that aims to increase 15 focal shorebird population levels within the flyway by 10 to 15 percent over a 10-year period. To achieve this, NFWF will support five overarching strategies outlined in the Atlantic Flyway Shorebird Business Plan: (1) manage and protect critical habitat; (2) minimize predation impacts, (3) reduce human disturbance, (4) reduce hunting pressure, and (5) fill information gaps.
Each year shorebirds use habitats across a vast geography, undertaking some of the longest migrations of any animals on earth. Within the Atlantic Flyway, many shorebird species breed on the Canadian Arctic tundra and winter along the eastern shores of South America, stopping over at a number of critical migratory sites in between, particularly along the east coast of the United States. Atlantic Flyway shorebirds are exposed to a diverse set of human-induced threats across this network of sites.
While the nature and severity of the threats may vary, each site plays a critical role in shorebird survival. Therefore, effective shorebird conservation requires a wide-ranging approach to identify and ameliorate threats that shorebirds face at multiple locations throughout the flyway. Such an approach must attempt to coordinate research, conservation, and management efforts of many groups across many political boundaries and consolidate resources to undertake efficient conservation activities. Only with a collaborative flyway-scale approach can we reverse the serious declines we are witnessing in many of our shorebird populations.
Funding Priorities
In the first phase of this initiative, NFWF will focus on the following specific areas further detailed in the Atlantic Flyway Shorebird Business Plan:
Address human disturbance, predation and habitat and management protection for American Oystercatcher throughout the U.S. Atlantic coast (from Massachusetts to Florida);
Address hunting threats in the Caribbean and northern South America (including Barbados, Caribbean French Overseas Territories, Suriname, French Guyana, and northern Brazil);
Support the development and implementation of planning efforts targeted at protecting and conserving critical staging areas for Red Knot and Semipalmated Sandpipers (with a focus on staging areas that have completed WHSRN site assessments); and
Fill key information gaps on species populations that will result in improved monitoring and management, particularly for focal species (with an emphasis on Red Knot, Semipalmated Sandpiper, American Oystercatcher, Whimbrel and Wilson's Plover). Efforts to strengthen the International Shorebird Survey, Caribbean Waterbird Census and the Neotropical Waterbird Census will also be considered.
NFWF support will complement where possible, ongoing efforts of partner organizations actively engaged in shorebird conservation throughout the flyway. Priority will be given to projects supporting partnerships between U.S. and southern organizations.
For information on how to apply please review the Business Plan and the Application Guidelines for Conservation Initiatives under Application Information, or contact the staff representative.
Senior Scientist, Bird Conservation