Image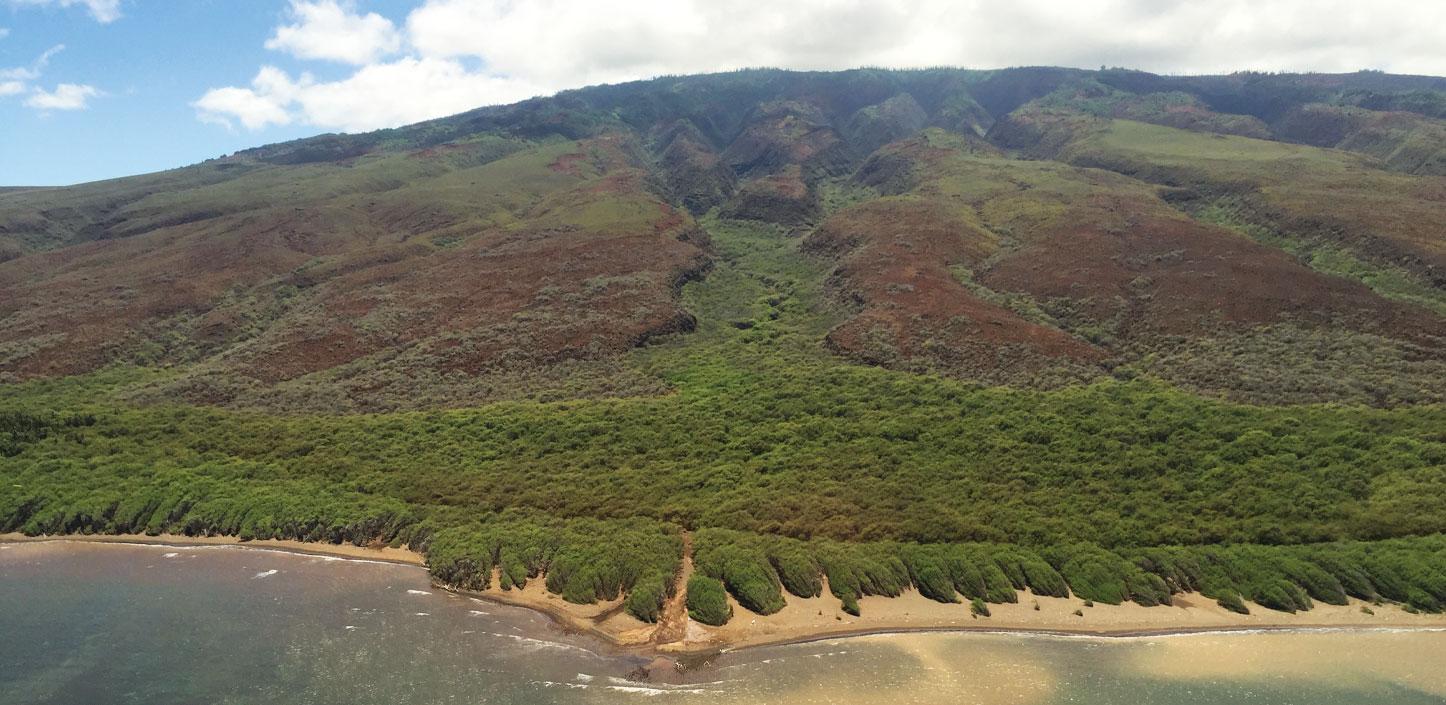 Kuahiwi a Kai: Lānaʻi Watershed Conservation Program
The Kuahiwi a Kai: Lānaʻi Watershed Conservation Program was launched in 2019 to protect and enhance Lāna'i's coral reefs, native plants and animals, endangered Hawaiian petrel habitat, and sensitive coastal cultural sites, while fostering coordinated connection between Lāna'i's community and the land.
Lāna'i is home to unique natural and cultural resources, stretching from the island's mountains to its surrounding ocean. However, the landscape faces threats from sedimentation runoff, invasive plants, uncontrolled ungulate populations and non-native predators.
Over the past 150 years, mismanagement of and overgrazing by non-native ungulates, including axis deer, has led to unnatural erosion patterns, burying historic cultural sites near the coast, smothering the island's coral reefs and white sand beaches with sediment, and destroying terrestrial habitats that are home to native fauna. Invasive plants, such as strawberry guava and fire-tolerant grasses, have changed the hydrology of the watershed, increasing soil compaction and flash flooding, and decreasing water infiltration to the island's aquifers.
The Kuahiwi a Kai: Lānaʻi Watershed Conservation Program employs a landscape-level approach to preserving and enhancing the Island of Lāna'i's resources. The goals of the program are to:
Restore native vegetative cover to increase watershed health;
Reduce sedimentation run-off to nearshore reefs;
Bolster populations of endangered and endemic species like the Hawaiian petrel; and
Increase quality of the landscape for local community and visitors through the preservation of nearshore resources, beaches, and cultural sites.
Application Information
---
| | | |
| --- | --- | --- |
| 10/29/2020 | Hawaiʻi Conservation Program (Kuahiwi a Kai and Hawaiian Forest Birds) 2021 Request For Proposals - CLOSED | View Now |
Director, Western Regional Office
Manager, Alaska and Hawaii Programs
Coordinator, Regional Programs (Western Region)