Conservation programs funded by the National Fish and Wildlife Foundation benefit hundreds of species and the habitats they depend on across the United States. NFWF has developed conservation strategies with measurable outcomes that track progress for many of these species. These species are good indicators of healthy habitats.
These strategies and metrics can be found in NFWF's business plans developed by scientists and other experts, and approved by the Foundation's Board of Directors. NFWF programs fund conservation grants that implement the strategies and actions identified in the business plan.

Click on the species to learn a little about it, and which programs fund grants to conserve the species and its habitat.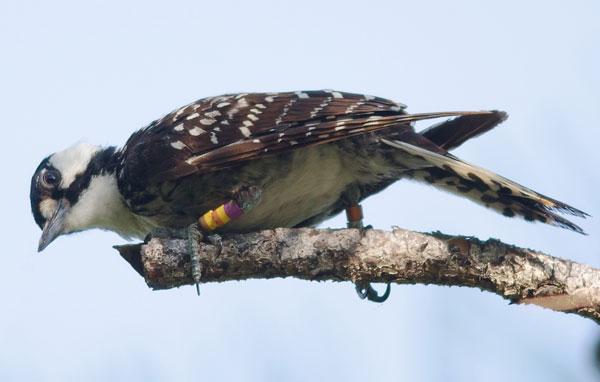 Red-cockaded woodpecker
---
The red-cockaded woodpecker is a territorial, highly social bird that inhabits mature fire maintained mature pine forests throughout the southeastern United States. Population declines coincided with extensive logging of longleaf pine stands in the early 20th Century, and led to the species being placed on the Endangered Species List by 1970.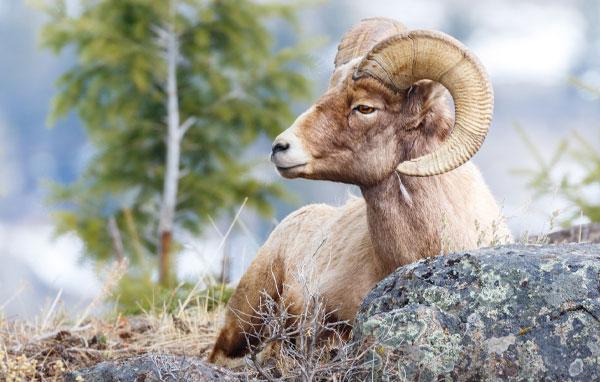 Bighorn sheep
---
Bighorn sheep are agile climbers with specialized hooves that allow them to navigate rugged, rocky slopes where they forage on a variety of seasonal plants and shrubs. Found in the western United States, bighorn sheep live in social groups, but males, or rams, and females, or ewes, only meet to mate.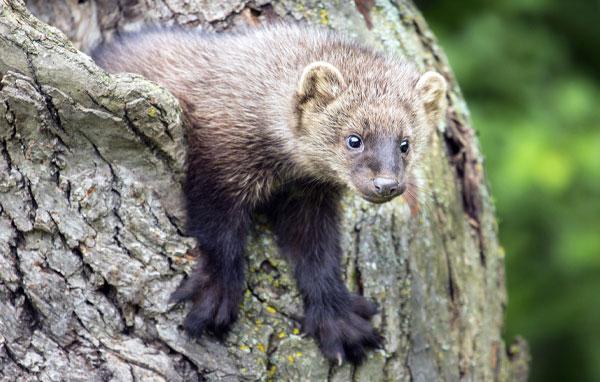 Fisher
---
Fishers are a forest-dwelling member of the Mustelidae, or weasel family, and have reclaimed much of their historic range after unregulated fur trapping and forest clearing caused severe population declines. They are specialized predators of porcupines and the only carnivore species that deliberately target them as prey.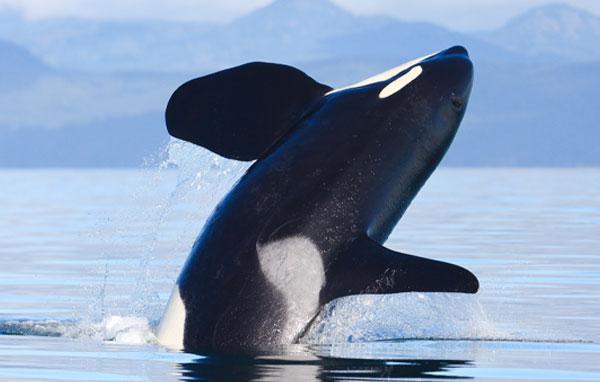 Killer whale
---
Weighing as much as 11 tons and measuring up to 32 feet in length, killer whales are the largest oceanic dolphins and a top marine predator. While they are widely distributed throughout the world's oceans, the endangered Southern Resident population, which spend most of their time in the inland waters of the Salish Sea, is declining significantly with just 73 animals remaining.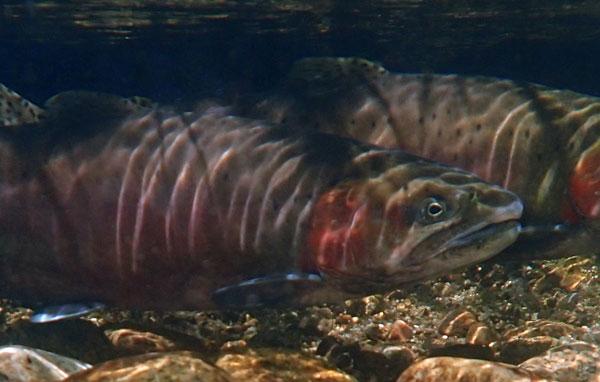 Lahontan cutthroat trout
---
The Lahontan cutthroat trout is a distinct species of cutthroat trout, native to cold-water habitats throughout the Lahontan Basin of northern Nevada, eastern California, and southern Oregon. Lahontan cutthroat trout have been listed as "threatened" under the Endangered Species Act since 1975, with key threats identified as habitat fragmentation and degradation that have led to genetic isolation and increased competition.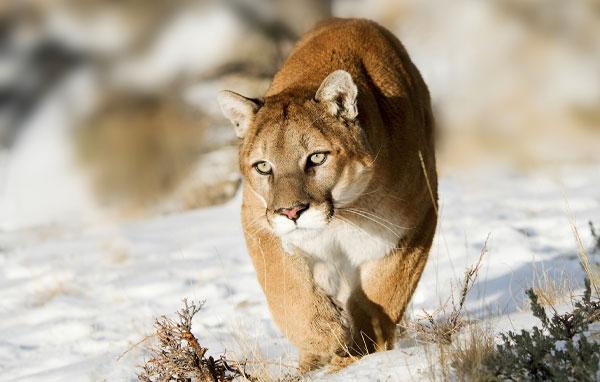 Cougar
---
The cougar, also known as mountain lion or puma, is a powerful predator that is found in a variety of habitat types from Canada into South America. Cougars are stealthy ambush hunters that can exploit many prey types, although their primary food source is deer. Cougars active patrol large home territories and survive in low densities.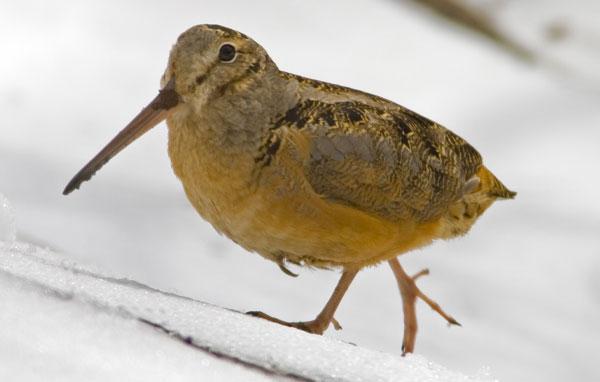 American woodcock
---
The American woodcock is a well-camouflaged migratory woodland shorebird. The bird feeds on earthworms, is a popular game species, and requires early successional forest habitat for feeding and nesting. Woodcocks are harbingers of spring, with returning males conducting elaborate aerial courtship displays along old field edges as the last winter snows recede.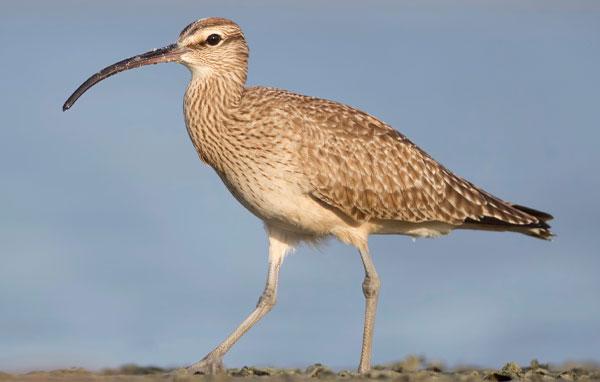 Whimbrel
---
The whimbrel is a large shorebird that uses its long, curved bills to feed on crabs and other invertebrates in the sand or mud. The most widespread of the curlew species, these birds winter throughout the Caribbean and northern South America and nest in the low-Arctic. Restoring and protecting critical foraging sites is an important strategy for maintaining a healthy population.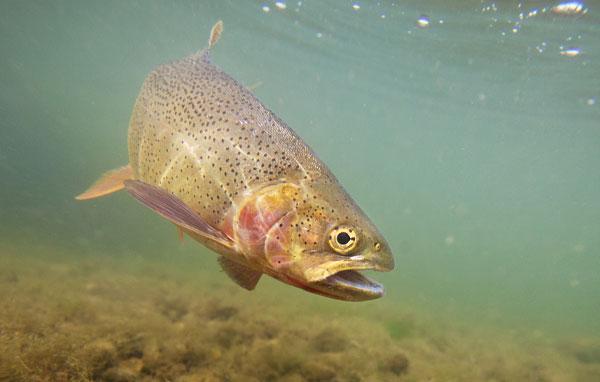 Cutthroat trout
---
Cutthroat trout (Oncorhynchus clarkii) encompass a number of distinct trout subspecies. These are iconic denizens of western landscapes, known for the red "cutthroat" under their jaw. They are associated with cold, highly oxygenated streams, though many of the forms live in lakes and one is anadromous. Cutthroat trout are impacted by stream barriers, invasive fish and de-watering of their habitat.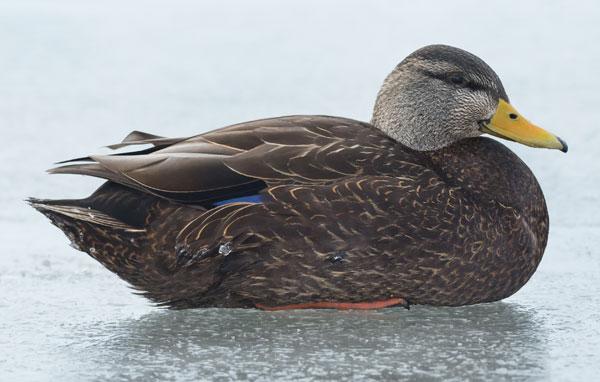 American black duck
---
The American black duck is large dabbling duck who resemble the closely-related mallard, but are darker in appearance and much less common. Black ducks nest in wetlands throughout the Eastern Seaboard, including freshwater and salt marshes where restoration and protection are vitally important to maintaining black duck populations.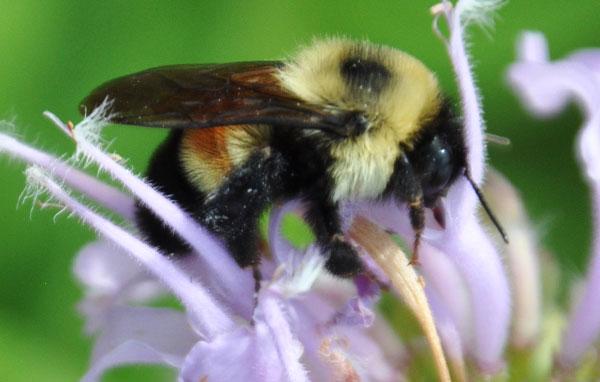 Pollinators
---
Pollinators are a group of insect, avian and mammalian species that fertilize many flowering plants and agricultural crops by transferring pollen from the male structures (anthers) to the female structures (stigma) during foraging. More than 80 percent of flowering plants on earth need pollinators to produce the next generation, and it is estimated that they add hundreds of billions of dollars to the global economy, highlighting their extreme importance to human food security.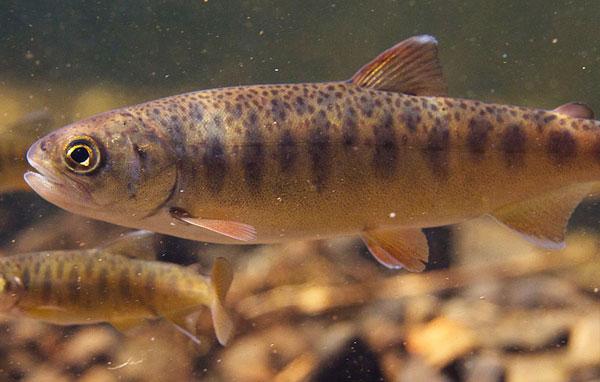 Central California Coast coho salmon
---
The central California coast coho salmon is an evolutionarily significant unit of coho salmon that are found from central California near Punta Gorda to the northern border of California. They are an endangered species that rely on proper timing of streamflows in rivers to allow individuals to spawn and increase juvenile survival.