Conservation programs funded by the National Fish and Wildlife Foundation benefit hundreds of species and the habitats they depend on across the United States. NFWF has developed conservation strategies with measurable outcomes that track progress for many of these species. These species are good indicators of healthy habitats.
These strategies and metrics can be found in NFWF's business plans developed by scientists and other experts, and approved by the Foundation's Board of Directors. NFWF programs fund conservation grants that implement the strategies and actions identified in the business plan.

Click on the species to learn a little about it, and which programs fund grants to conserve the species and its habitat.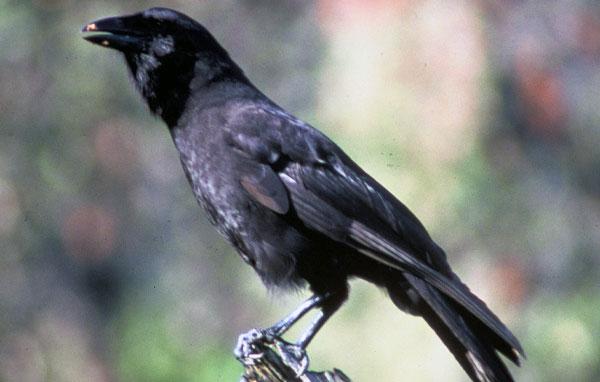 Alalā
---
Fossil record shows that the Alalā, or Hawaiian crow, is the only one of the original five species of crow in Hawaii to survive extinction thus far. While the bird has been extinct in the wild since 20002, a captive rearing program has been successful in growing the global population from 10 to more than 120 individuals. In 2016, an ambitious re-introduction program launched with the goal to re-establish a self-sustaining population of Alalā in native forests on the island of Hawaii.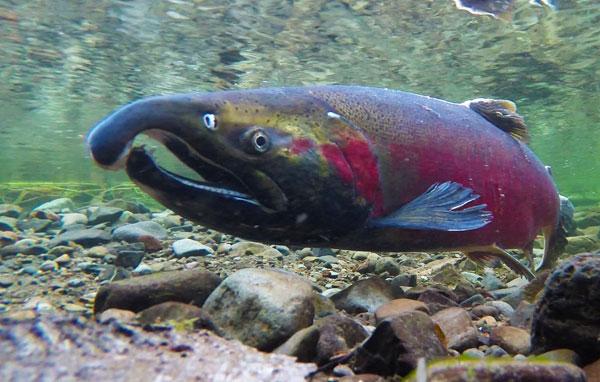 Coho salmon
---
Coho salmon is one of five salmon species along the west coast of the United States, from the Alaskan arctic to Santa Cruz, California. The species is anadromous and populations in the lower portion of its range are severely affected by barriers to stream passage and ocean conditions, freshwater availability and land-use practices.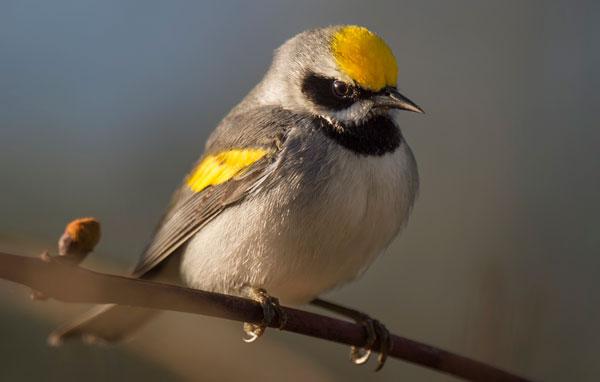 Golden-winged warbler
---
The golden-winged warbler is a striking, neotropical songbird with bright yellow plumage on the crown and wings. Their breeding range formerly extended across the Midwest to the east, but is now restricted to two isolated subpopulations: one in the higher-elevation areas of the Appalachians and the other around the Great Lakes into Manitoba. Loss of early succesional has resulted in population declines especially for the eastern population.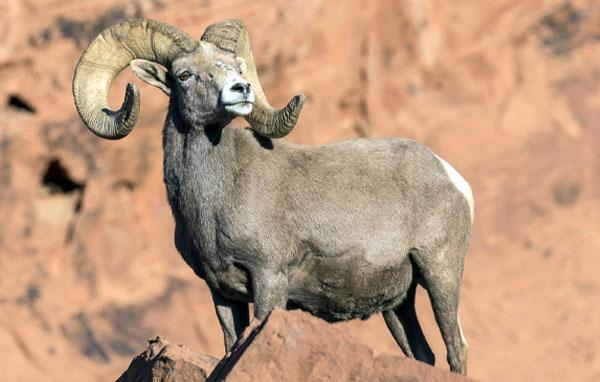 Desert bighorn sheep
---
Desert bighorn sheep are a distinct subspecies of bighorn sheep that inhabit hot, dry mountain ranges in North America and are well-adapted to survive in these extreme environments, including the ability to go several days without water. While both sexes develop horns, the horns of an adult male are much larger, and used for fighting and as tools to break open cacti while foraging.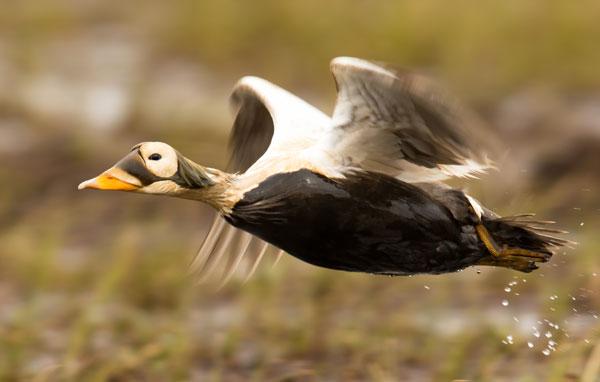 Spectacled eider
---
Spectacled eiders are a stunning and relatively rare seaduck, nesting on coastal tundra locations of the Yukon-Kuskokwim Delta and north slope of Alaska, as well as Russia. Spectacled eiders were listed as threatened under the Endangered Species Act in 1993 due to observed population declines, and are currently at risk to oil and gas development in the NPRA, as well as climate change-induced impacts in breeding season, food availability and north slope predator populations.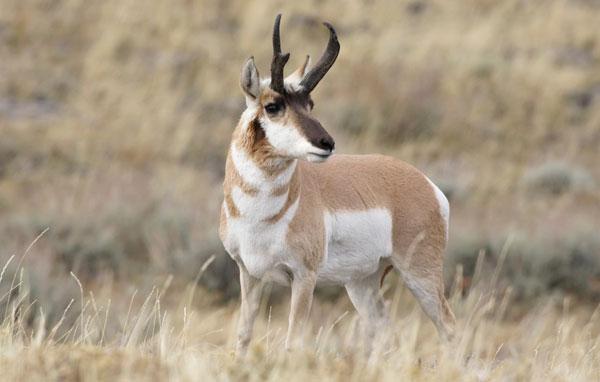 Pronghorn
---
Pronghorn, also known as "antelope," are sagebrush-dependent ungulate known for their incredible speed. They are the sole-surviving member of their taxonomic family. With an evolutionary history rooted in open-grasslands, pronghorn are reluctant to leap over fences that have been constructed across the west for rangeland management, causing disruptions of their ancient migration routes and reducing access to high-quality habitat.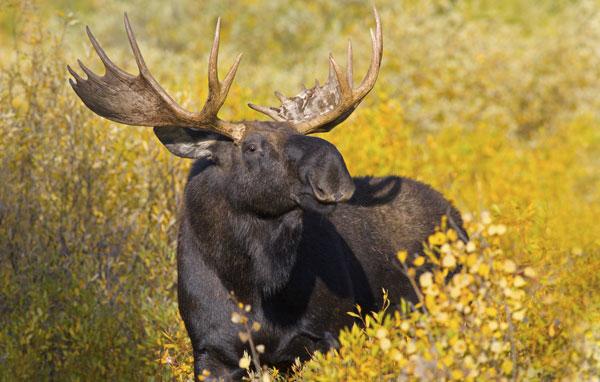 Moose
---
Moose are the largest of the deer species and the tallest mammals in North America. Their populations are limited to the northern forests of the United States and Canada, and they have thick, insulating fur to thermoregulate during the winter months. Moose forage on a variety forest plants and trees, and will also incorporate aquatic vegetation in their diet at certain times of the year.
Blue crab
---
With their distinctive bright blue claws, blue crabs are one of the most iconic species of the Chesapeake Bay, where an estimated 594 million were found in 2019. These bottom-dwelling omnivores have a very wide geographic distribution that supports an important blue crab fishery in the Gulf of Mexico.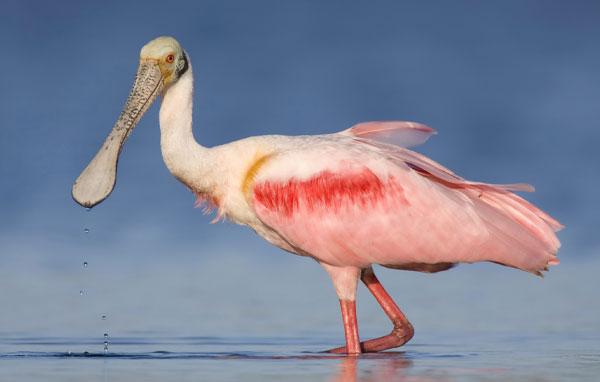 Roseate spoonbill
---
The striking roseate spoonbill is found in tropical and subtropical wetlands throughout the Americas. In the United States, it is found within the Gulf states where it remains uncommon and local.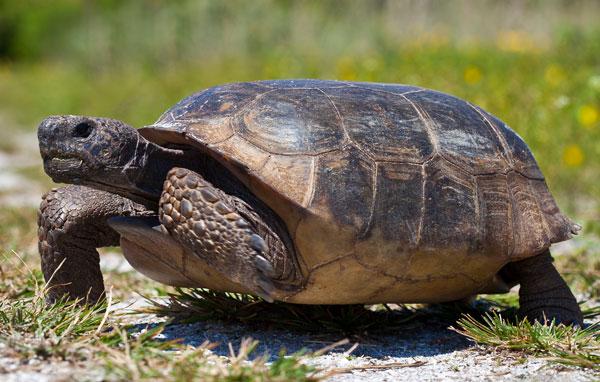 Gopher tortoise
---
Gopher tortoise are long-lived reptiles native to the upland pine forests of the southeastern United States. Considered a keystone species, more than 350 species of wildlife rely on their their complex burrow systems for shelter and protection, which makes widespread population declines of gopher tortoise of special conservation concern.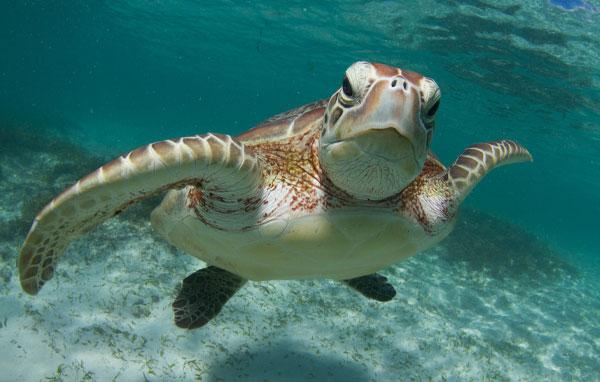 Green sea turtle
---
Green sea turtles are found around the world, nesting in more than 80 counties including on U.S. beaches, where sustained conservation efforts have contributed to increasing populations in Florida, Hawaii and across all five U.S. territories. Reaching more than 300 pounds, these gentle giants feed almost exclusively on seagrasses and algae.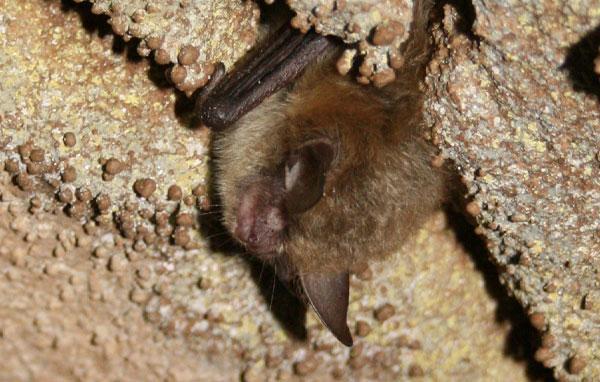 Northern long-eared bat
---
Northern long-eared bats are native to the old growth forests of the eastern and north-central United States. Populations in the northeastern United States have been severely affected by white-nose syndrome, a fungal disease that affects their hibernation, which led to their listing as an endangered species in 2015.