Conservation programs funded by the National Fish and Wildlife Foundation benefit hundreds of species and the habitats they depend on across the United States. NFWF has developed conservation strategies with measurable outcomes that track progress for many of these species. These species are good indicators of healthy habitats.
These strategies and metrics can be found in NFWF's business plans developed by scientists and other experts, and approved by the Foundation's Board of Directors. NFWF programs fund conservation grants that implement the strategies and actions identified in the business plan.

Click on the species to learn a little about it, and which programs fund grants to conserve the species and its habitat.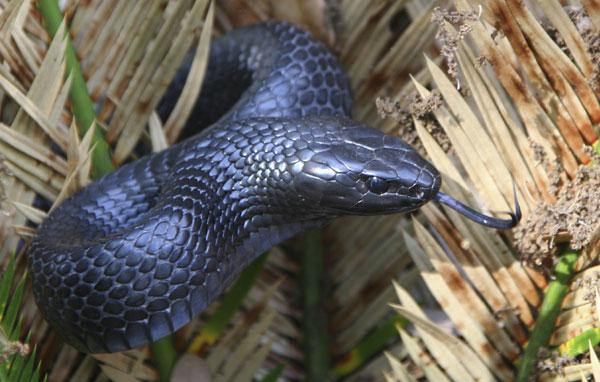 Indigo snake
---
Indigo snakes are native to coniferous forests of the southeastern United States and prefer mature longleaf pine habitat. These non-venomous snakes which can be identified by the blue-black sheen to their scales are listed threatened under the Endangered Species Act due to population declines as a result of habitat loss and removal of individuals for pet trade.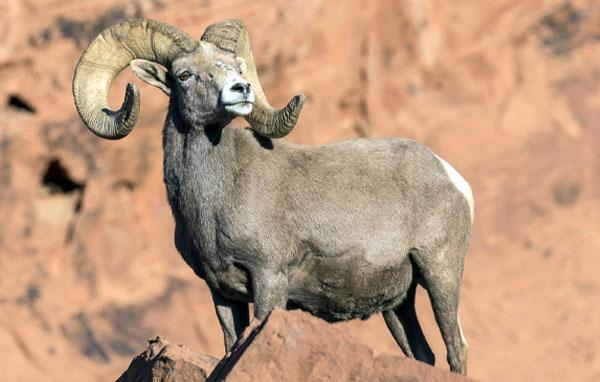 Desert bighorn sheep
---
Desert bighorn sheep are a distinct subspecies of bighorn sheep that inhabit hot, dry mountain ranges in North America and are well-adapted to survive in these extreme environments, including the ability to go several days without water. While both sexes develop horns, the horns of an adult male are much larger, and used for fighting and as tools to break open cacti while foraging.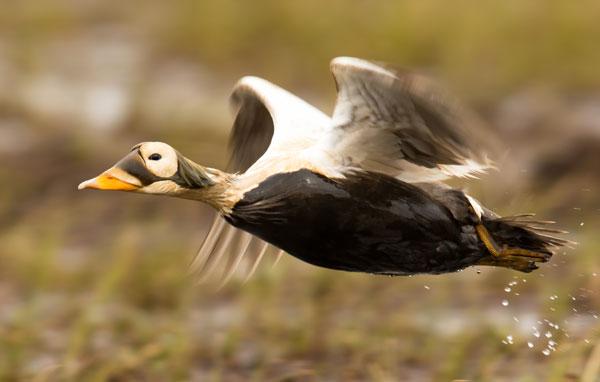 Spectacled eider
---
Spectacled eiders are a stunning and relatively rare seaduck, nesting on coastal tundra locations of the Yukon-Kuskokwim Delta and north slope of Alaska, as well as Russia. Spectacled eiders were listed as threatened under the Endangered Species Act in 1993 due to observed population declines, and are currently at risk to oil and gas development in the NPRA, as well as climate change-induced impacts in breeding season, food availability and north slope predator populations.
Black skimmer
---
Black skimmers are a beach-nesting, tern-like member of the gull family found across the Americas. The North American population migrates to the warmer waters of the Gulf of Mexico and Caribbean during the non-breeding season. Skimmers are aptly named for their unique foraging strategy of skimming the water's surface with their lower beak, or mandible, and snapping shut when it contacts a fish.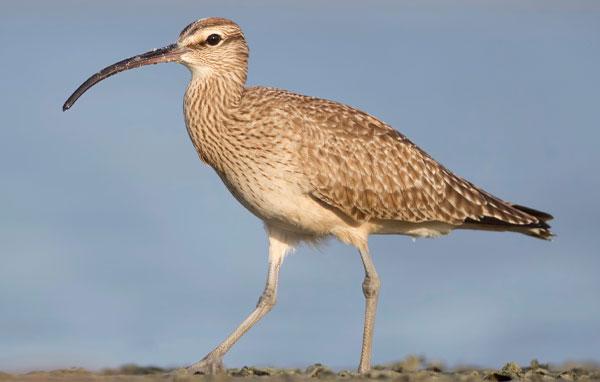 Whimbrel
---
The whimbrel is a large shorebird that uses its long, curved bills to feed on crabs and other invertebrates in the sand or mud. The most widespread of the curlew species, these birds winter throughout the Caribbean and northern South America and nest in the low-Arctic. Restoring and protecting critical foraging sites is an important strategy for maintaining a healthy population.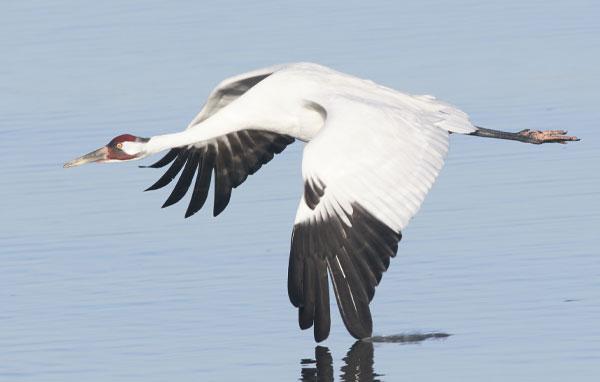 Whooping crane
---
The whooping crane is the tallest and one of the most threatened birds in North America. The only wild population winters along the Texas coast and migrates up to 2,500 miles to breed in or near Wood Buffalo National Park, Canada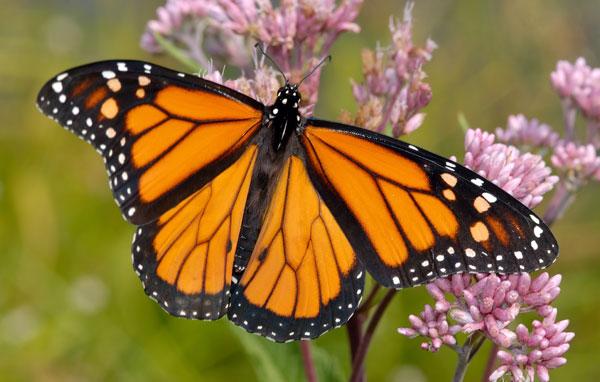 Monarch butterfly
---
One of North America's most iconic species, the monarch butterfly is best known for it's spectacular 3,000-mile annual migration from their northern breeding grounds to wintering grounds in central Mexico. A distinct, western monarch population migrates between the western states and their winter range in coastal California; both the eastern and western populations have been negatively affected by habitat loss and reduction in milkweed plants that serve as the sole food source for monarch caterpillars.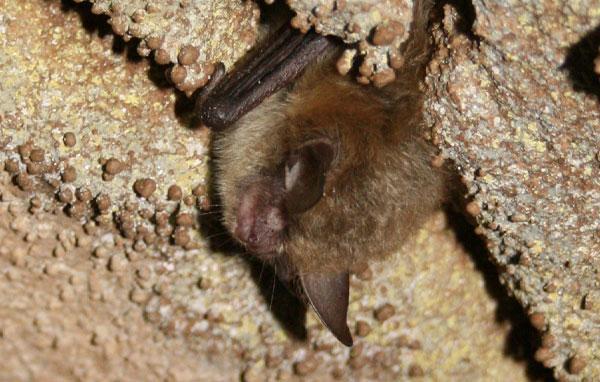 Northern long-eared bat
---
Northern long-eared bats are native to the old growth forests of the eastern and north-central United States. Populations in the northeastern United States have been severely affected by white-nose syndrome, a fungal disease that affects their hibernation, which led to their listing as an endangered species in 2015.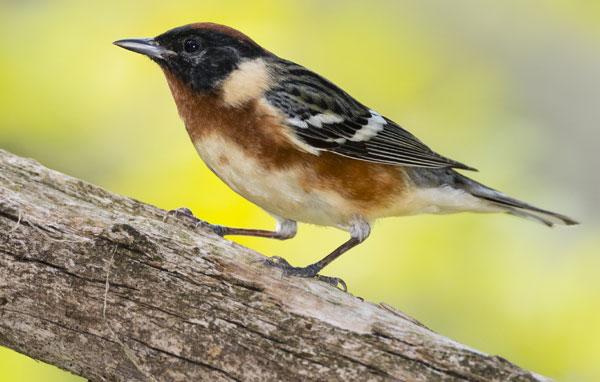 Bay-breasted warbler
---
Bay-breasted warblers nest in spruce and fir forests across Canada, and can be found in Maine, New Hampshire, Vermont and the Adirondack Park of New York. While they occupy similar habitats as Cape May and blackpoll warblers, bay-breasted warblers in particular forage at the inner mid-level, and nest in the lower third-level, of trees.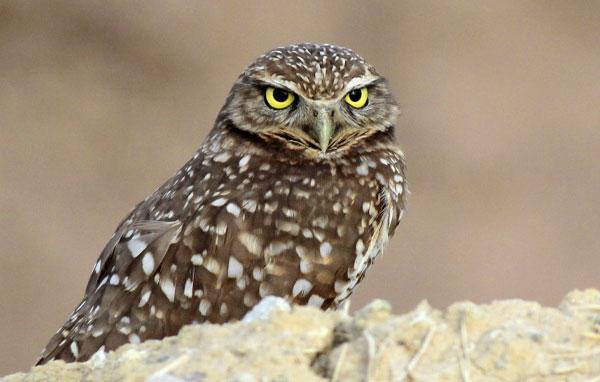 Burrowing owl
---
The burrowing owl is small with long legs, and found in open country throughout the Americas. Within the United States it is largely a western bird, with an isolated population in Florida. While the species is associated with burrowing animals, the Florida population digs its own burrows.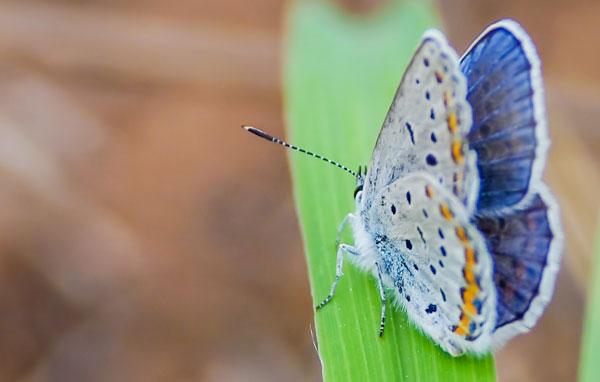 Karner blue butterfly
---
Karner blue butterflies measure only 1 inch wide, and are native to the Oakland Savannahs, stretching from New York to Minnesota. The species requires specialized habitats where wild blue lupine is abundant, the exclusive food plant for Karner caterpillars. Populations were in steep decline following habitat loss and modifications, which prompted their listing as an endangered species in 1992.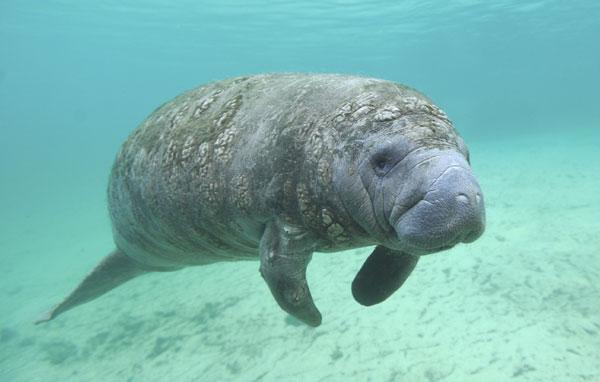 West Indian manatee
---
West Indian manatee have earned their nickname of "sea cows," consuming about 32 pounds of aquatic plants each day and weighing more than 3,000 pounds. Found throughout the Caribbean, manatees are common in Florida where the populations have increased significantly in recent years, resulting in the species being downlisted from endangered to threatened in 2017.