Conservation programs funded by the National Fish and Wildlife Foundation benefit hundreds of species and the habitats they depend on across the United States. NFWF has developed conservation strategies with measurable outcomes that track progress for many of these species. These species are good indicators of healthy habitats.
These strategies and metrics can be found in NFWF's business plans developed by scientists and other experts, and approved by the Foundation's Board of Directors. NFWF programs fund conservation grants that implement the strategies and actions identified in the business plan.

Click on the species to learn a little about it, and which programs fund grants to conserve the species and its habitat.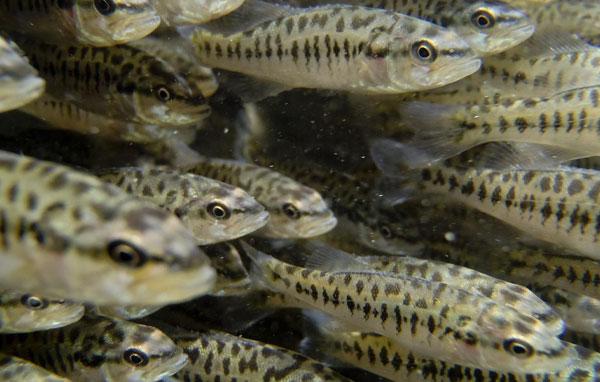 Guadalupe bass
---
The Guadalupe bass is the state fish of Texas - the only place on earth where the species is found. The main threats to the species are reduced stream flow and hybridization with non-native smallmouth bass.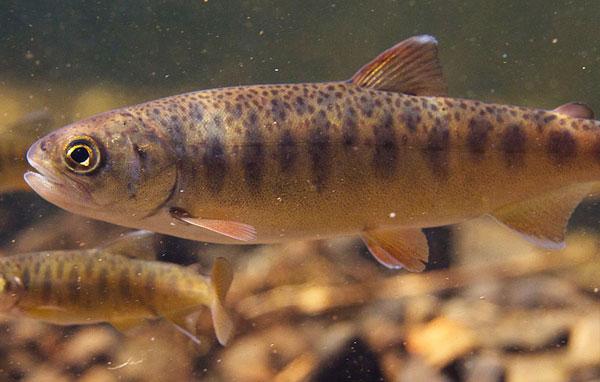 Central California Coast coho salmon
---
The central California coast coho salmon is an evolutionarily significant unit of coho salmon that are found from central California near Punta Gorda to the northern border of California. They are an endangered species that rely on proper timing of streamflows in rivers to allow individuals to spawn and increase juvenile survival.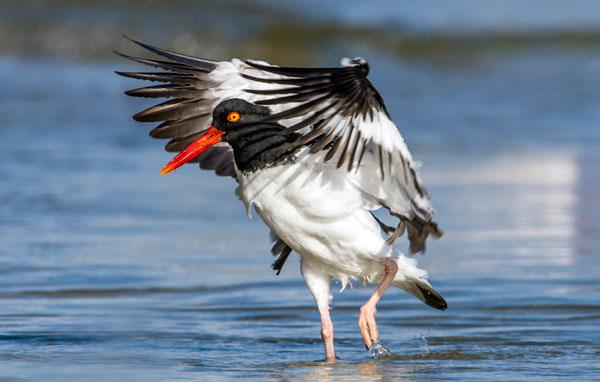 American oystercatcher
---
The American oystercatcher is a stocky shorebird who is characterized as a short-distance migrant whose movements are confined to the United States and adjacent Caribbean islands. The oystercatcher wades in shallow water and uses its powerful bill to pry open and feed on mollusks, so protecting and restoring near-shore feeding grounds are critical for this species.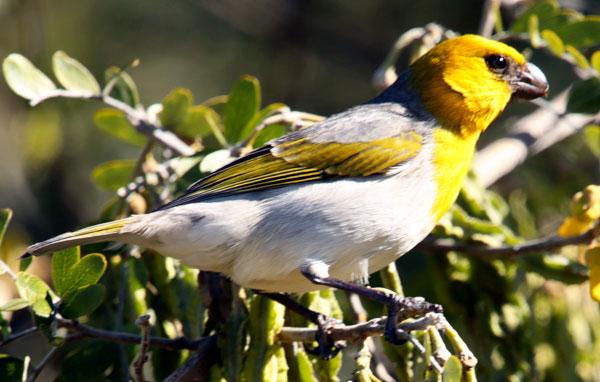 Palila
---
The palila is a unique finch-billed Hawaiian honeycreeper currently restricted to a narrow range of dry-forest forest on the volcano of Mauna Kea on Hawaii's big Island. Palila are ecologically dependent on māmane, an endemic dry-forest tree that produces seed pods which are the primary food source for this species.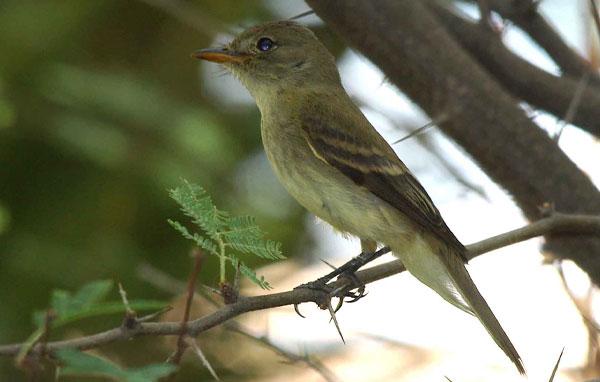 Southwest willow flycatcher
---
The southwestern willow flycatcher, a subspecies of the broadly distributed willow flycatcher, is a small songbird that is currently listed as "Endangered" under the Endangered Species Act and breeds in densely vegetated riparian buffers throughout the southwest. The loss of these native riparian habitats along with water diversion for agriculture, invasive vegetation and brood parasitism by brown-headed cowbirds have caused major declines in abundance for this subspecies.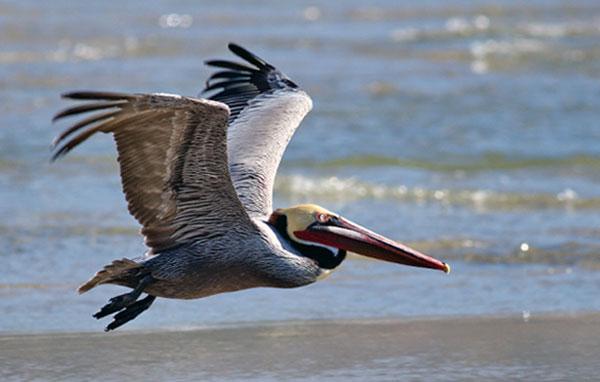 Brown pelican
---
Brown pelicans are a colonial nesting coastal seabird with five recognized subspecies found throughout the Atlantic and Pacific coasts of the Americas. Pelicans are well known for their plunge diving strategy—falling from heights above the sea's surface they stun small fish before scooping them up in their expandable throat pouch.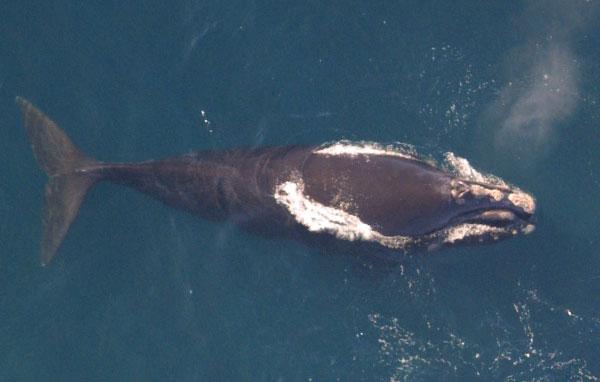 North Atlantic right whale
---
North Atlantic right whales are one of the most endangered large whales in the world, with fewer than 100 breeding females in the entire population. Living up to 70 years, these large baleen whales migrate from New England to the shallow coastal waters of South Carolina, Georgia, and northern Florida, which serve as important feeding and calving areas.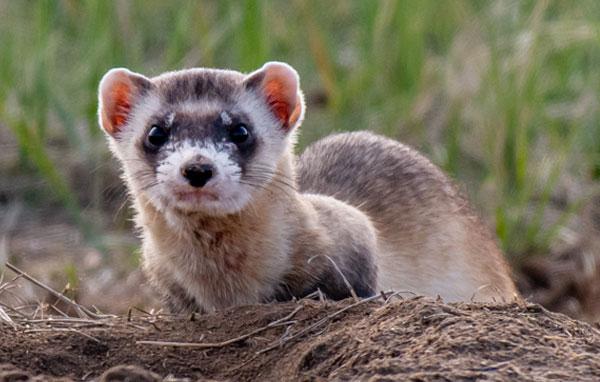 Black-footed ferret
---
Thought to be extinct in the wild until 1981, the critically endangered black-footed ferret is North America's only native ferret species and a member of the weasel family. Loss of native grasslands, disease, and declines in prey abundance contributed heavily to their decline, but captive breeding and reintroduction programs have helped this species reestablish small portions of their historic range.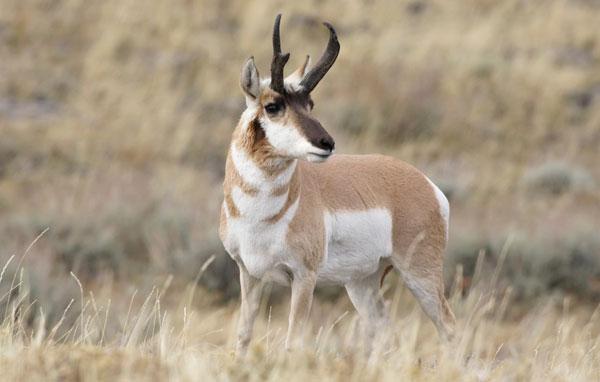 Pronghorn
---
Pronghorn, also known as "antelope," are sagebrush-dependent ungulate known for their incredible speed. They are the sole-surviving member of their taxonomic family. With an evolutionary history rooted in open-grasslands, pronghorn are reluctant to leap over fences that have been constructed across the west for rangeland management, causing disruptions of their ancient migration routes and reducing access to high-quality habitat.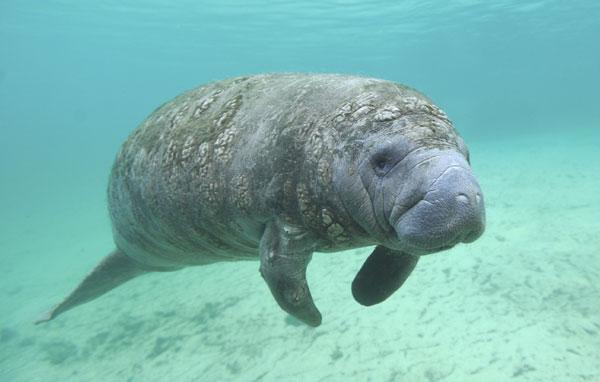 West Indian manatee
---
West Indian manatee have earned their nickname of "sea cows," consuming about 32 pounds of aquatic plants each day and weighing more than 3,000 pounds. Found throughout the Caribbean, manatees are common in Florida where the populations have increased significantly in recent years, resulting in the species being downlisted from endangered to threatened in 2017.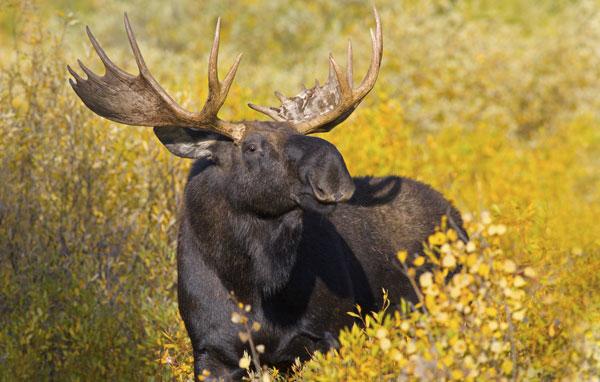 Moose
---
Moose are the largest of the deer species and the tallest mammals in North America. Their populations are limited to the northern forests of the United States and Canada, and they have thick, insulating fur to thermoregulate during the winter months. Moose forage on a variety forest plants and trees, and will also incorporate aquatic vegetation in their diet at certain times of the year.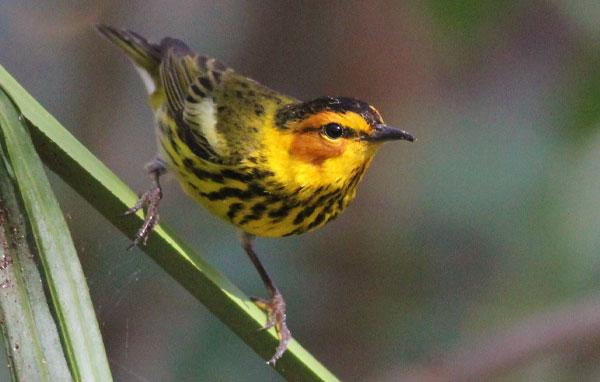 Cape May warbler
---
Cape May warblers are a spruce-fir boreal forest-nesting neotropical migrant that spends the breeding seasion in northern North America and non-breeding period in the Caribbean. They are often seen as a flash of brilliant yellow and rust as they forage actively in the tops of trees where they are dependent on spruce budworm caterpillars.