Conservation programs funded by the National Fish and Wildlife Foundation benefit hundreds of species and the habitats they depend on across the United States. NFWF has developed conservation strategies with measurable outcomes that track progress for many of these species. These species are good indicators of healthy habitats.
These strategies and metrics can be found in NFWF's business plans developed by scientists and other experts, and approved by the Foundation's Board of Directors. NFWF programs fund conservation grants that implement the strategies and actions identified in the business plan.

Click on the species to learn a little about it, and which programs fund grants to conserve the species and its habitat.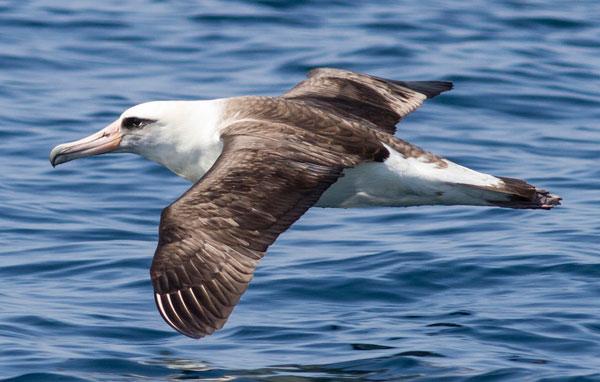 Pacific seabirds
---
Seabirds are a diverse group of species that disperse over vast ocean distances to seek food, often travelling far from breeding colonies on oceanic islands. They are able to live for decades and take three to eight years before starting to breed, after which they produce only 1 to 2 eggs every other year or so. Seabirds are impacted by their interaction with humans both on islands and in the ocean, which has driven many species to the brink of extinction.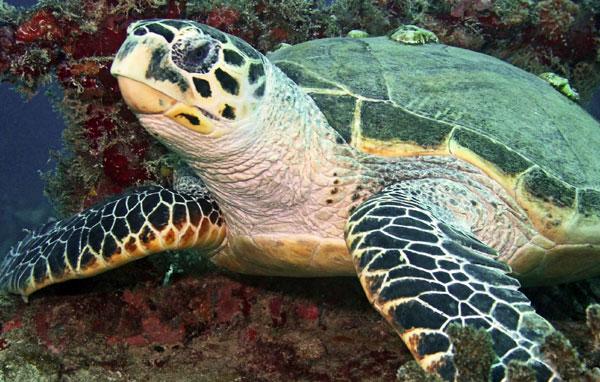 Northwest Atlantic loggerhead
---
Migrating far distances throughout the Atlantic Ocean from the Caribbean to Canada to the Mediterranean Sea, 90 percent of nesting activity for northwest Atlantic loggerhead sea turtles occur in Florida and the southeastern United States. The northwest Atlantic population has grown over the years showing positive signs of recovery, but loggerhead sea turtles continue to face threats from fishing and coastal development.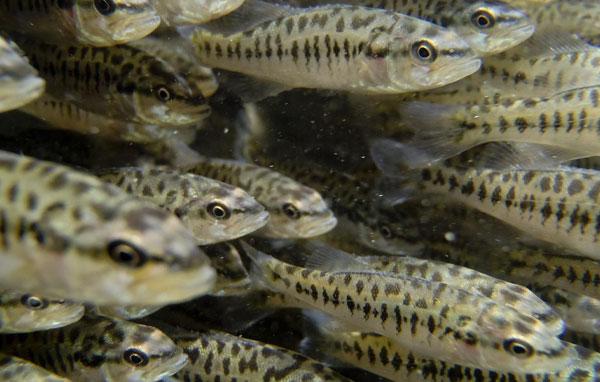 Guadalupe bass
---
The Guadalupe bass is the state fish of Texas - the only place on earth where the species is found. The main threats to the species are reduced stream flow and hybridization with non-native smallmouth bass.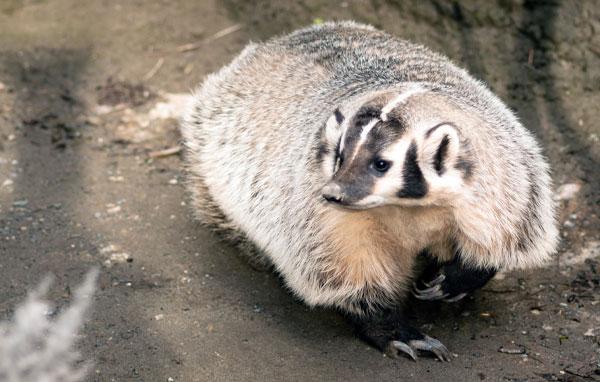 American badger
---
The American badger is a member of the Mustelidae, or weasel family, and is native to grasslands of North America. This fierce carnivore is an excellent excavator and digs burrows in pursuit of prey, raising young and sleeping.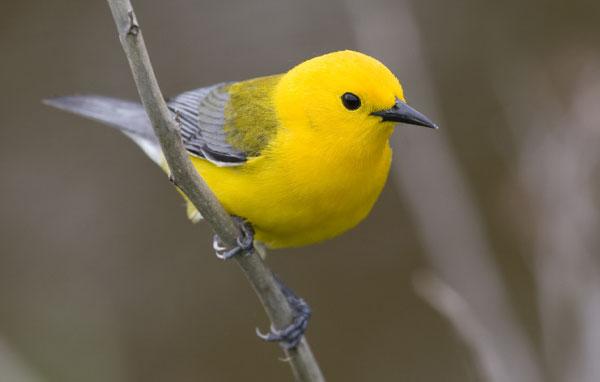 Eastern hardwood forest birds
---
Eastern deciduous forests provide important habitat for forest birds, which can reside in them year-round, or rely on them as breeding grounds or stop-over sited during migration. Deciduous forests have been subject to fragmentation from extractive activities and development for many years, putting the wide variety of bird species they support at risk.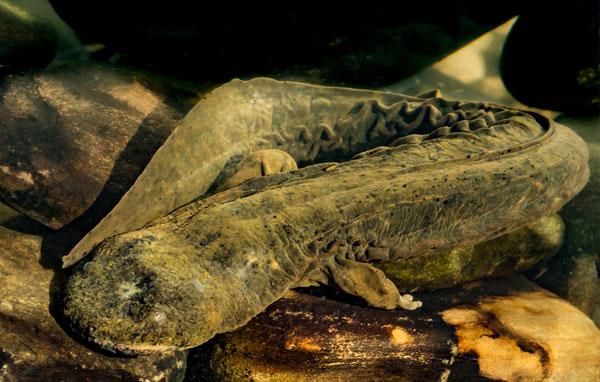 Eastern hellbender
---
The eastern hellbender is a large, fully-aquatic salamander that breathes entirely through their skin making clean, oxygen-rich water critical in sustaining populations. Increased nutrient runoff and sediment desposition has decreased habitat quality for hellbenders leading to widespread population declines.
Black skimmer
---
Black skimmers are a beach-nesting, tern-like member of the gull family found across the Americas. The North American population migrates to the warmer waters of the Gulf of Mexico and Caribbean during the non-breeding season. Skimmers are aptly named for their unique foraging strategy of skimming the water's surface with their lower beak, or mandible, and snapping shut when it contacts a fish.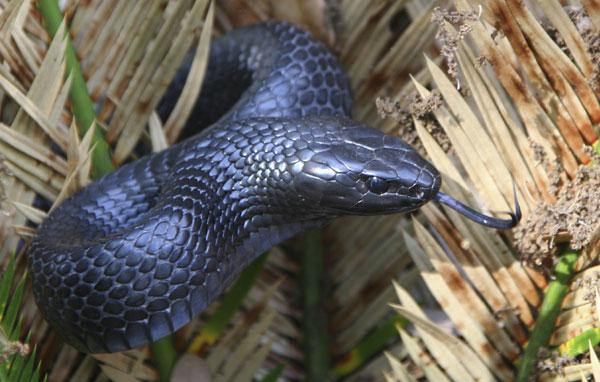 Indigo snake
---
Indigo snakes are native to coniferous forests of the southeastern United States and prefer mature longleaf pine habitat. These non-venomous snakes which can be identified by the blue-black sheen to their scales are listed threatened under the Endangered Species Act due to population declines as a result of habitat loss and removal of individuals for pet trade.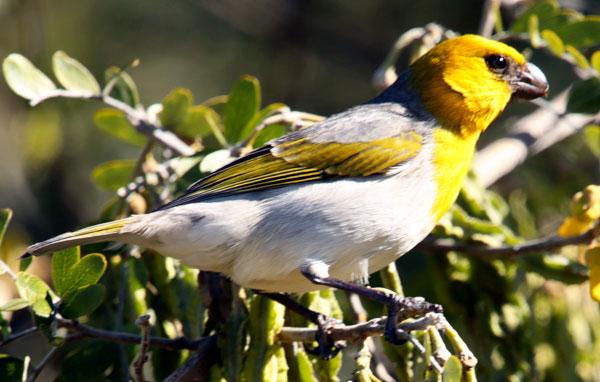 Palila
---
The palila is a unique finch-billed Hawaiian honeycreeper currently restricted to a narrow range of dry-forest forest on the volcano of Mauna Kea on Hawaii's big Island. Palila are ecologically dependent on māmane, an endemic dry-forest tree that produces seed pods which are the primary food source for this species.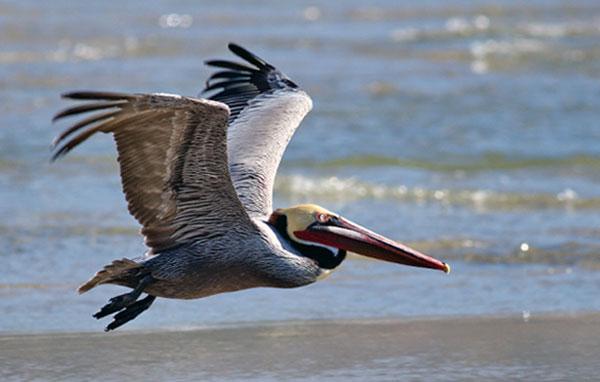 Brown pelican
---
Brown pelicans are a colonial nesting coastal seabird with five recognized subspecies found throughout the Atlantic and Pacific coasts of the Americas. Pelicans are well known for their plunge diving strategy—falling from heights above the sea's surface they stun small fish before scooping them up in their expandable throat pouch.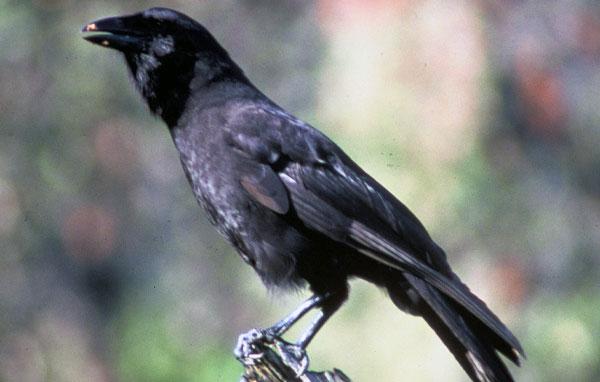 Alalā
---
Fossil record shows that the Alalā, or Hawaiian crow, is the only one of the original five species of crow in Hawaii to survive extinction thus far. While the bird has been extinct in the wild since 20002, a captive rearing program has been successful in growing the global population from 10 to more than 120 individuals. In 2016, an ambitious re-introduction program launched with the goal to re-establish a self-sustaining population of Alalā in native forests on the island of Hawaii.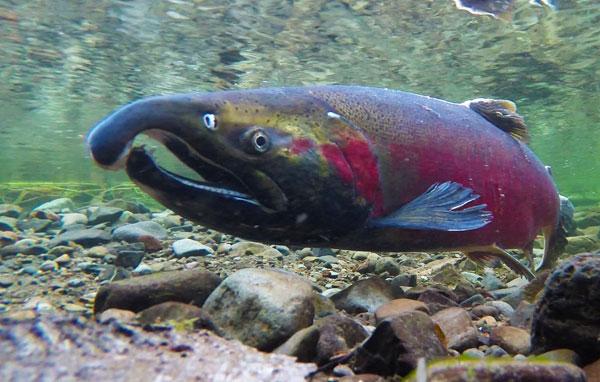 Coho salmon
---
Coho salmon is one of five salmon species along the west coast of the United States, from the Alaskan arctic to Santa Cruz, California. The species is anadromous and populations in the lower portion of its range are severely affected by barriers to stream passage and ocean conditions, freshwater availability and land-use practices.